OUR FAVOURITE GAMES # 1 SARACENS v LEICESTER TIGERS 28.5.11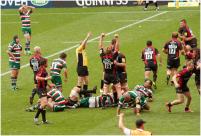 By Darraghgirl
March 21 2020
With no rugby in sight for months, I thought this was a good excuse to take a trip down memory lane and republish reports of some of our favourite games. I've started with that first Premiership title back in 2011. If you have a favourite game please post below and over the next few weeks/months I'll republish the report
Like most of us the week leading up to the final was a mixture of excitement and anticipation with a small measure of dread remembering last year. (At times I almost envied Mr DG (who I'm afraid isn't of the faith) who couldn't understand why it mattered!) Saturday dawned cool but dry and we set off in plenty of time for Twickers. Of course it was a Saturday and the first day of half term and the M25 had reached car park status. Fortunately a bit of nifty navigation through Uxbridge bypassed the worst of the jam and we reached Twickenham in good time just after the team and with The Gathering in full swing!
As always there was a wide array of rugby shirts on view from the disappointed (Northampton, Gloucester) to the optimistic (Newcastle, Leeds) and a few hangers on to boot (Edinburgh Reivers for example). I went off to the West Gate to meet Little DG only to watch Prince Harry walk by 3 feet in front of me! (The female members of my party didn't believe me until they found him in the posh seats attired exactly as I described – boy were they jealous!)
We took our seats as the atmosphere built. There seemed to be more Tigers' supporters than Sarries' although if anything the Londoners seemed to be making more noise and it certainly appeared that any neutrals present were siding with the Men in Black. Sgt "Little" and Flt Sgt"Large" delivered the enormous trophy, the teams took the field along with Mr Barnes and our "World Cup Refereeing Team" and suddenly the previews were over, the serious stuff had begun – we were underway!
Leicester kicked off and the ball was taken by the magnificent Botha as he has done every match this season. Within 2 minutes Brits was showcasing his extraordinary skills putting up a high ball into the Leicester half. He was then intrinsic in winning a penalty which Farrell kicked to touch. From the lineout de Kock found Barritt who sidestepped neatly round Mafi (look out Strictly Come Dancing) and off loaded to de Kock who headed for the line only to feel Youngs' arm around his neck. No try but Sarries had a penalty and Youngs was in the bin after just 5 minutes. Farrell was the nominated kicker and slotted a lovely penalty to give the Men in Black a 3-0 lead.
The restart produced a superb take by Matt Smith who outjumped Joubert and set up the first Leicester attack and although little ground was made Brits conceded a penalty when he failed to release and Flood levelled the scores 3-3. Thus far Leicester had made light of being a man down but they almost paid heavily when stand-in scrum half Anthony Allen lofted a back pass to Flood and in retrieving the situation carried the ball over and conceded a 5 metre scrum. Surely now was the time to capitalise on our superior numbers but no! Sarries were penalised for early engagement and Leicester cleared their lines.
Youngs returned to the fray and Agulla attempted the most bizarre of drop goals from way out on the right wing (which landed nowhere near and earned him a few choice words from Flood). Short made a couple of decent breaks but eventually Sarries conceded an unlucky penalty when Brits over ran a loose pass leaving De Kock in an offside position. Flood converted and Leicester, against the run of play, took a 6-3 lead. 4 minutes later Farrell evened the scores with a straightforward kick when Chuter came in from the side. A late (but probably legal) challenge on Farrell by Newby led to anxious times as the young fly half appeared to be limping heavily but they make 'em tough in Wigan and he managed to run it off. Then followed a sustained Saracens' attack which ended perhaps inadvisedly, with another poor attempt at a drop goal, this time by Alex Goode (leave these things to Brits for goodness sake!) Sarries continued on the offensive with Brits again sparkling, this time making a break, running into 3 Tigers, producing a fabulous off-load and getting injured for his efforts. But this was not a day on which Brits was intending to make an early departure, he picked himself up, smiled cheerfully as he always does and got on with the game.
Leicester forced a brief attack until Botha turned the ball over. Tuilagi latched on to the clearance and ran dangerously through 3 Sarries' defenders before somehow giving the ball to Wyles. For a moment it looked like a try was on as Wyles and Flood raced for the line. Wyles kicked ahead and Flood just managed to get in the way and clear the ball. Goode took the throw quickly and found Brits (who else) who ran the width and half the length of the pitch and off loaded to Short who beat Hamilton and Ayerza and touched down in the corner. Try? Again the TMO was called upon to adjudicate but this time Short knew exactly where the touchline was and kept his feet in play. The try was awarded and Farrell kicked a brilliant touch-line conversion, 13-6. Only later on would it become apparent just how important that kick was. There might be a few things young Farrell can learn from Hodgson next year but Farrell can teach him a thing or two about holding your nerve!
Joubert went off for the quickest blood bin I've ever seen. His replacement Andy Saull came on, was almost immediately involved in a breakout on the right wing (put there by- you guessed it- Mr Superman Brits) and had Strettle stayed out wide instead of coming inside it would almost certainly have resulted in a try. As it was Saull was limping heavily and Joubert reappeared with a huge shiner which got bigger and bigger as the match progressed so that he must have been completely monocular by half time. With just 4 minutes to go to the interval Sarries won another penalty, this time in front of the posts and Farrell gratefully kicked the points but Leicester weren't finished. They had been getting the upper hand in the last couple of scrums and Castrogiovanni put the pressure on Matt Stevens to concede. Flood narrowed the gap to 7 points but Leicester revealed their fragile mentality when they ran down the clock and kicked the ball out for half time.
The concern at the break was that for all their territory and all their superiority, Sarries lead was just 7 points and there was always the feeling that against Leicester that might not be enough.
Farrell started the second half and the front row, reinvigorated by their half time oranges won a penalty at the scrum. Farrell again obliged and Sarries stretched the lead to 10. Leicester attempted to attack but struggled to make any progress forward. Eventually Goode acrobatically kept a long touch kick in play but from the resulting ruck Short put his hands on the ball and Leicester had another penalty. Flood ensured the difference was back to 7.
With half an hour to go the pre-ordained switch took place and Wigglesworth changed places with de Kock. Player of the year Thomas Waldrom also joined the fray as a blood replacement for Crane. Brits was in the wars again after tackling Hamilton with his face but again smiled through. Gill replaced Stevens and immediately came off worse against Castro in the scrum. Amazingly Flood missed a very kickable penalty and Sarries' fans breathed a collective sigh of relief. Front row victory achieved, Cole replaced Castro. Sarries conceded yet another kickable penalty and again, having missed the kick-to-nothing drop goal, Flood put the kick wide. A quick count up on the fingers showed that Leicester could have been within a point had they not been so profligate.
Hugh Vyvyan became the Premiership's most capped player when he replaced the brilliant Botha. Brits demonstrated yet more versatility appearing at both scrum half and centre. The sun came out and Leicester won yet another penalty (when did we last concede so many in a game?) but carelessly missed touch. Leicester ran the ball back at Sarries and for the first time in the match managed a sustained attack although territory was gained very slowly, the Saracens defensive line holding true with Brits anchored in the middle. Both sides were running the ball with more freedom than we had seen so far. Eventually Vyvyan conceded another kickable penalty and this time Flood pulled himself together and got the ball over the crossbar. Just over 10 minutes left and only 4 points difference. From the restart Brits made another fabulous run passing half of the Leicester team. Joubert juggled his pass (I'm amazed he could see anything at all) but Wigglesworth retrieved and passed out to Barritt and Farrell with Strettle on the wing looking for a score. Agulla stuck out a hand and knocked the ball forward. Deliberate knock on? Penalty surely? Mr Barnes got very cross and only gave the scrum. As soon as Leicester cleared the ball Goode found a fabulous touch deep in the Leicester 22. We were now inside the final 10 minutes. Just stay up that end boys! Better still Sarries won a penalty wide out on the right. Farrell lined up the kick. There was various argie-bargie and comings and goings and Barnes was heard to say "25 seconds left". Was Farrell bothered? Was he heck. Calm and composed he took his time and the ball never looked like missing. 22-15. A tiny bit of breathing space. 7 minutes left. From the restart Sarries conceded another unlucky penalty when Borthwick found himself offside from Joubert's touch. Oh no not again! Too much to hope that Flood would miss this one. Too much indeed. 22-18 and down to the last 5 minutes. Leicester brought on "36" (aka Twelvetrees) for Hamilton. This time the long kick wasn't going to be enough though.
Farrell thumped the ball into the Leicester 22. Stay up there lads, they can't score from there. Two minutes passed but eventually Croft broke out to half way. Tuilagi, who had been strangely subdued for much of the game, broke free on the right. Surely not! Never fear, Brits is here. Tuilagi crashed to earth beneath the smiling assassin. With 2 minutes 50 seconds to go Twelvetrees knocked the ball forward. Sarries scrum on their own 10m line. Surely we can hang this out for a couple of minutes. 2 or 3 resets, win the ball, run the clock down, easy! Leicester played their final card replacing Ayerza with Stankovich. 2 resets. Less than 2 minutes. Barnes holding his arm up – penalty! Heck to Leicester, how did we do that? Flood kicked to touch. Leicester line out about 8m out. This would be a good steal. No challenge from Saracens – Croft gathered the ball and then began the longest 9 minutes of my life. The clock ticked down to zero but Leicester weren't dead yet. It was as if they suddenly realised that their title was on the line, literally!. Attack after attack followed. 5 metres out, then 4, then 3. Final surge to within a metre of the line! I can't watch this, my heart is beating so fast. I need the loo but my legs have turned to jelly. I'm watching through my fingers. Surely not again! 20th phase – Croft has almost got the ball down against the post but The Men in Black are standing firm. How can they do this? How can they have any strength left? My friend who was sitting down the front said the sound of body on body was like the slap of wet meat – thud, thud, thud. Into the 23rd phase, is it me or are we pushing them backwards? Definitely, now 5 metres back and still the forwards surge. Surely someone will knock the ball on in a minute? 30 phases and suddenly the forwards have had enough, the ball come out to Flood, to Youngs, the Sarries forwards power over him. Must be our ball????? No, penalty Leicester – I can't watch this any more! Thankfully Barnes stops the quick tap and everyone gathers their breath. After 32 phases I'm surprised they have any breath left to gather.
10 metres out now and Leicester try again – a couple of drives then Flood picks a pass off his toes and heads for the line. Oh no you don't – Farrell is in his way, the ball disappears into a mele and Barnes is holding his arm up again. It takes a second to realise that this time the penalty is ours and we have won!!!!!!! Fortunately Farrell has the presence of mind to kick the ball out then everyone goes crazy.
Like thousands of other Sarries' fans I have no voice. We were there with them in those last 9 minutes, the 16th man. What fabulous defence. What amazing commitment. I guess on the day we just wanted it more than they did. The rest of the afternoon is all a blur. We spoke to loads of people we'd never met before. We were on cloud 9 10 and 11! As Borthwick lifted that enormous trophy we cheered as never before. What a day. What a team. Barritt, Botha, Burger, Borthwick, Brown, Brits – Brilliant. And Farrell – Fantastic!
And so finally with apologies to those who might have already read it and especially to Fiddler's Dram:-
Didn't we have a lovely time the day we went to Twickers
A beautiful day, we had lunch on the way and all for a tilt at the title you know
We made lots of noise to welcome our boys and we opened a bottle of cider
Singing a few of our favourite songs as the wheels went round.

Didn't we have a wonderful time the day we played the Tigers
We shouted so loud we outshouted their crowd and all for a chance to be Champs you know
We cheered on the guys and ate a few pies and we opened a bottle of Guinness
Singing some more of our favourite songs as the meals went down.

Didn't we have a marvellous time the day we scored at Twickers
Brits wasn't caught and passed out to Short who touched it down in the corner you know
And Faz kicked it true as he added the two and we opened a bottle of bitter
Singing along to our favourite song as the beers went round.

Didn't we have a horrible time as the clock ticked down to zero
Tigers umpteenth attack but the Men in the Black were not gonna give them a try you know
Our hearts missed a beat, couldn't think of defeat so we opened a bottle of whiskey
Shouting out loud our favourite song as the clock ticked down.

Didn't we have a fabulous time when he blew the final whistle
The title was won, the job had been done and didn't our boys deserve it you know
As they raised the cup high there's a tear in our eye so we opened a bottle of champers
Too hoarse to sing our favourite song as we all rolled home.
Saracens:
Goode, Strettle, Wyles, Barritt, Short, Farrell, De Kock (Wigglesworth), Stevens (Gill), Brits, Nieto (Du Plessis), Borthwick, Botha (Vyvyan), Brown, Burger, Joubert (Saull)
Leicester:
Hamilton (Twelvetrees), Agulla, Smith, Allen, Tuilagi, Flood, Youngs, Ayerza (Stankovitch), Chuter (Hawkins), Castrogiovanni (Cole), Mafi (Slater), Skivington, Croft, Newby (Crane), Crane (Waldrom)
Scores (Saracens first) 3-0 3-3 3-6 6-6 13-6 16-6 16-9 19-9 19-12 19-15 22-15 22-18
Scorers:
SARACENS Try: Short, Conv: Farrell, Pen: Farrell (5)
LEICESTER Pen: Flood (6)
Referee Wayne Barnes
Attendance 80,016
pqs: qs: