OUR FAVOURITE GAMES # 8 DOUBLE SCOTCH! 13.5.17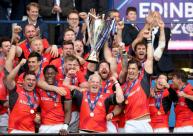 By TheSaracens.com
April 3 2020
In conjunction with the club who plan to livestream this match at 5.00pm tomorrow (saturday), here is the story of that fabulous weekend in Edinburgh when Saracens took on Clermont in the 2017 European Final. ASM CLERMONT AUVERGNE v SARACENS, European Champions Cup Final, Sat 13th May 2017, Murrayfield I am not by nature superstitious, however when it comes to something like a European final, it's not unnatural to check the omens are favourable. And it was looking good. An uneventful journey on Friday night to our hotel in Peebles, a French Team beat an English one in the Challenge Cup (sorry Gloucester), a Curlew seen out of the car window within 5 minutes of me saying "we're in Curlew country", it was raining and best of all a fabulous little Dipper outside my bedroom window on Saturday morning. It felt as if the Gods were smiling on us.
We drove to Straiton Park-and-Ride where we met a lovely couple of Clermont supporters who had been ejected from Lothian buses for the heinous crime of not having the exact money. If you've ever been to Straiton, it's the end of the world and no place to abandon our friends from Gaul so we duly swept them up, paid the (exact) fare and had a jolly if tricky conversation in pidgeon French and (on their part) rather better pidgeon English all the way to Tollcross where we were lunching at Henrick's Bar. Of course we invited them to join us but sadly (for us) they were off to Murrayfield for hospitality, so armed with their (£4.00 all day on the bus) tickets we pointed them in the right direction and with grateful thanks they headed off to join their friends.
Any suggestion that the Clermont fans wouldn't travel proved unfounded – Edinburgh was full of them! Bleu et jaune everywhere. Clermont fan's in kilts, chicken costumes, pokemen, faceless men, big yellow drums, cowboy hats, hats with plaits, hats with horns, yellow wigs, blue wigs, even bagpipes ....and flags, flags everywhere. The yellow army was marching on Scotland. And so, suitably replete after a splendid lunch we joined them on the road to Murrayfield. No need to ask the way, just follow the band!
The morning rain had largely cleared leaving glimpses of the sun and occasional threatening clouds but a cold win had got up which seemed particularly swirly in the stadium. We took our seats and absorbed the atmosphere. Murrayfield may not have been completely full but there were lots of rugby fans, not just from Barnet and Clermont Ferrand, but a fair smattering of Irish, plenty of Scots and representatives from most of the premier teams. Many of those would have bought their tickets, hoping to see their own team on the pitch but hopefully the 2 teams who made the Final would give them a game to remember.
Both teams were as expected with any doubtful players (Barritt for Sarries and Parra for Clermont) taking their places. The game was refereed by the King of Referees himself, Mr Nigel Owens, who was awarded his 100th European cap by Joel Jutge before the start of the game.
Sarries appeared to be playing into the wind in the first half so presumably won the toss. It could have been a dream start with Billy claiming the kick off and forcing a Sarrie's line out on half way from which Bosch put Ashton through on the left wing only for Abendanon to make an important and huge tackle just short of the tryline.
Within a few minutes, Sarries were awarded a penalty for a high tackle on Barritt by Fritz Lee which rearranged his nose. It looked ominous for the Captain for a while but he groggily rose to his feet and carried on. The first 5 minutes it was all Saracens but so far no points to show for the effort and eventually Lee won the turnover. Then, as they do, Clermont broke down the wing with Spedding and Yato heading for the Sarries' try line but Lopez knocked on. More pressure from Saracens, a long kick from Farrell was chased by Ashton and his harassment forced Clermont to knock on. More waves of attack from Saracens with both Vunipolas carrying well but the Clermont defence held firm and a promising move ended with a pass from Goode going into touch. But finally something had to give. Sarries forced another line out and playing advantage, Goode, reading the play so intelligently, put an inch perfect grubber kick through which Ashton, almost telepathically, ran onto and scored the try which gave him the European try-scoring record in his own right ahead of Vincent Clerc, 37 tries in European games. He finished it with his classic swallow dive and for once even the most churlish couldn't deny him that flamboyant celebration. How fitting he achieved the record in a Saracen's shirt. We will miss him next season. Farrell clipped the post with the conversion so it was just 0-5 after 13 minutes.
Saracens seemed to be getting the upper hand at the scrum and won a penalty on half way. Interestingly Farrell rather than Bosch lined up the kick – which into the wind looked optimistic and the kick, though on target, fell short. From the drop out, Clermont were penalised again for an off the ball tackle on Wigglesworth by Strettle after some lovely hands from Billy. This time Farrell plonked the ball into the corner. The catch and drive didn't quite work out but the ball went into touch again off a Clermont player. This time the ball went through the phases – Wiggy, a juggle from Mako, Barritt, Wyles, was there any man in red who didn't touch the ball, a scything run from Goode, picked up by Wiggy and a lovely pass which Kruis ran on to. Unlike Munster, he made no mistake this time with the grounding and Farrell kicked the extras making it 0-12 as we moved into the second quarter. So all going to plan so far!
We should have known that Clermont weren't going to lie down and die. Clermont were awarded a penalty when Barritt didn't roll away. Lopez found a superb touch with the wind behind him right onto the Sarries' 5m line. Sarries just about defended the catch and drive but Maro was caught offside and Lopez, with a far simpler kick this time, put the ball back in the corner. This time the ball was driven over the line but held up. (Nige called it himself without reference to the TMO). So back for a 5m scrum this time, the ball came quickly out the back, a half break from Rougherie and on to Lamerat who scored. Parra was never going to miss with a tricky conversion and now at 7-12, despite all the Sarries' possession, things were not looking quite so comfortable.
Both sides upped the pace. Jamie George made a break into the Clermont 22 but was penalised for not releasing. Clermont got back into Sarries' half but were running into the brick wall that is the Saracens' defence with eventually a huge hit from Farrell forcing Lamerat to knock on. The kicking game followed with Sarries coming out on top and winning a scrum. Back came Clermont with some lovely handling between Lopez and Lamerat but it ended in a Saracens' penalty after Lopez hurt his nose when he ran into the back of his own ruck. No sympathy there then. Bloodied, he stayed on the field. As half time approached Sarries attacked again only to be frustrated once more when Rhodes was guilty of a push and then conceded 10m for crossing Nigel. There followed a bit of handbags and a lecture for the captains. Jackson Wray made a promising break on half time but Nigel was kind to the Frenchmen, awarding the knock-on rather than a Sarries' penalty when Clermont seemed to go off their feet.
So 15 minutes to catch our breath after a pulsating first half which Sarries seemed to have the better of and yet Clermont wouldn't lie down. Clermont fans out numbered Sarries' but we made plenty of noise and mostly held our own. As the teams emerged for Part 2, Sarries would have the wind behind them and hopefully that would be enough. But almost immediately it seemed Clermont had been drinking Red Bull while Sarries had been downing the Horlicks. Clermont had pushed their game up another level. Clermont stole the ball following a dodgy Sarries lineout and a lovely cross field kick ahead found Spedding on the wing. Eventually the ball came back to Lopez who went for his speciality (almost unknown in Barnet) the drop goal. Mercifully he missed. But Clermont definitely had the upper hand with some delightful offloads and 3 or 4 turnovers in loose play. And with that possession came French confidence – a dangerous combination.
A limping Vahaamahina was replaced by Jedrasiak. Sarries relieved the pressure by winning a messy scrum on half way and getting up to the Clermont 22. Some kick tennis gave Sarries a lineout when Clermont carried the ball back into their 22. A catch and drive from the line out and Sarries were attacking again. Clermont defended well but the red tide kept flowing and Clermont conceded the inevitable penalty when they killed the ball in front of the posts. Farrell wasn't happy but kicked the points to extend the lead to 7-15. Brits replaced Jamie George on 50 minutes. Spedding gathered the ball deep in the Clermont 22. Lovely hands through Parra, Lopez, Lee and Yato powered the ball into danger territory. Lee bounced off an Ashton/Farrell tackle and got the ball out to Abendanon who finished off a lovely team try. Parra inevitably landed the conversion and somehow Clermont were back within a point at 14-15. The Yellow Army began celebrating again.
Clermont made an error from the restart, knocking the ball on in their own 22. Barritt finally succumbed to the inevitable and took his battered body off the pitch to be replaced by Duncan Taylor – finally a Scot on the pitch at Murrayfield. Clermont also began to ring the changes with Falgaux replacing Chaume and Penaud replacing Rougerie. This was a better scrum and Sarries were again driving for the line through Brits and Mako. Goode almost got there and with a penalty advantage being played as once again Clermont killed the ball, Wiggy threw a long looping pass out to the right wing which Abendanon attempted to intercept. It seemed like a deliberate knock-on, but Nigel was in generous mood and just came back for the original penalty. Farrell, now Saracens' captain, remonstrated but Nigel was having none of it as Farrell kicked the points. 14-18
Still, Clermont weren't lying down. Bosch couldn't hang on to the restart and Clermont won a penalty from the scrum. It was a tricky kick into the wind but Parra never looked like missing and it was back to a one point game. The Yellow Army sensed that maybe, just maybe, the tide was turning in their favour and began to sing louder and louder. Burger replaced Jackson Wray. Both teams attacked and there was some lovely hands from both sides but Saracens were definitely feeling the pressure. It felt like this was the real crux of the game. Which team was the strongest? Who would crack first?
With 15 minutes left, lovely hands from most of the Sarries team almost put Billy through and as the ball went wide, it looked like a deliberate knock on from Lopez which stopped a certain try. Nigel went to the TMO and decided he went for the ball so it was only a scrum deep in the Clermont 22. Ulugia replaced Kayser at hooker. Billy came off the back of the scrum on the blind side and headed for the line but was forced into touch by Abendanon, Lee and Parra just as he tried to ground the ball (it took all 3 of them!). Pressure was lifted when Itoje tackled his opposite number in the air from the line out. Clermont still had a shout at ending their Cup final hoodoo. Good play from Brits and Goode regained possession and a Bosch kick forced Spedding to knock the ball on in his own 22 under pressure from Wyles, his last contribution as he was replaced by Fernandez. Wave after wave of red shirts attacked the Clermont line but again the tiring defence held until finally Farrell found Alex Goode out wide and with 8 minutes left he scored in the corner. There was a suggestion of a knock-on in the build-up but Nigel said "backwards". Farrell landed a difficult but crucial conversion to make it 17-25. A huge kick but as we know, when the pressure's on, Farrell thrives and he delivered.
Almost immediately Clermont won a penalty from the same place Parra kicked one earlier. This time Camille Lopez stepped up to take the kick and as they say "the other guy blinked". He missed it. A huge turning point in the game. Had he landed it, Clermont were back within 5 points and it was game on. Now with just 5 minutes left, they needed 2 scores. The first sign of a Clermont choke. Parra had just been substituted. Who knows whether that decision cost Clermont the title.
Somehow that missed kick seemed to signal the French capitulation. Even the Yellow Army fell silent. As the clock wound down, Clermont never looked like scoring again. On the other hand, with 3 minutes left, Sarries won yet another penalty as Clermont didn't release the ball in their own 22 and Farrell was never going to miss that one either to take the lead out to 11 and safety. With just 2 minutes left, it was Jim's big moment. A second Scot on the field to make the game safe. Spencer, Titi, Lozowski and Du Plessis all had their minute of glory and there was a huge cheer as Sarries won yet another penalty. All that was needed was to win the lineout and kick the ball out and Saracens were Double Champions of Europe.
I had thought that if we lost to Clermont I wouldn't mind too much. Clermont, afterall, are a great team with fabulous supporters. But as that final whistle blew I knew I would have minded, I would have minded a lot. Saracens are once again, deservedly, Champions of Europe. Just the 4th team in history to retain the title and in doing so they sealed their place among rugby's greats. Farrell deservedly was named European Player of the year, the first winner of the Anthony Foley Memorial Trophy (presented by Axel's wife Olive). Billy was named Man of the Match after a truly immense performance, a titan among giants.
What a lovely evening. As the players were joined on the pitch by the rest of the squad, the coaches, physios, fitness trainers etc, their families and friends, Mark McCall and Nigel Wray it was clear that the gods of rugby were smiling down on the Men in Black (or red) today. In retaining the European cup, Saracens set a new record of 18 European Games unbeaten. This team is something else, something special and the scary thing is, they can still get better. We are so lucky to support these guys. Exeter beware, this team can move mountains.
SARACENS
Goode, Ashton, Bosch, Barritt (Taylor), Wyles, Farrell, Wigglesworth (Spencer), M Vunipola (Lamositele), George (Brits), Koch (Du Plessis), Itoje (Hamilton), Kruis, Rhodes, Wray (Burger), B Vunipola
ASM CLERMONT AUVERGNE
Spedding (Fernandez), Strettle, Rougerie (Penaud), Lamerat, Abendanon, Lopez, Parra (Radoslavjevic), Chaume (Falgoux), Kayser (Uluga), Zirakashvili (Jarvis), Iturria, Vahaamahina (Jedrasiak), Chouly, Yato (Lapandry), Lee
SCORERS:
Saracens (28) Tries: Ashton, Kruis, Goode; Conv: Farrell (2); Pens: Farrell (3)
ASM Clermont Auvergne (17) Tries: Lamerat, Abendanon; Conv: Parra (2); Pen: Parra
Attendance: 55,272
Referee: Nigel Owens (WRU)
pqs: qs:
OUR FAVOURITE GAMES # 8 DOUBLE SCOTCH! 13.5.17
Posted by: TheSaracens.com (IP Logged)
Date: 03/04/2020 17:45
Time to relive that amazing weekend in Edinburgh when saracens retained their European trophy. Enjoy!
(The game is being livestreamed on saracens.com at 5.00pm on saturday)



Edited 2 time(s). Last edit at 2020:04:11:07:43:29 by Darraghgirl.
Sorry, only registered users may post in this forum.