OUR FAVOURITE GAMES # 9 MEN V BOYS 26.4.14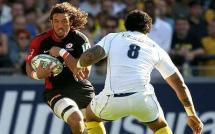 By TheSaracens.com
April 5 2020
King Zak takes us back to that remarkable match at Twickenham when Saracens took on Clermont Auvergne in the Heineken Cup semi-final
Men v boys part deux 25.4.14 King Zak
Even 24 hours after the event, I can still barely comprehend what took place at Twickenham yesterday. I've written quite a few match reports over the last three years but I don't think I've ever been so stuck for where to start!
Should it be the precision and accuracy of the attack? The sheer determination, physicality and brutal nature of one of the most effect defensive displays I've witnessed? Should it be the almost perfect management and execution of the game plan? Perhaps I should start with the reflections amongst the supporters of total disbelief at what took place? But, I think I'll start with the last thing I saw as I left the Stadium. We happened to walk past Nigel Wray; I shouted across to say "thank you" for all that he's done to get Saracens to where they now are. He looked up, with a grin even wider than mine, and in true Nigel fashion replied, "No, thank you!"
That one moment of humble acknowledgement reminded me why I love rugby, support Saracens and how fortunate we are that Nigel does too!!
As for the game, it is without doubt the most complete performance I can recall watching, not only from Saracens, but any club side (and possibly higher level too). From first whistle to last they played at such tempo, physicality and accuracy that a side as good as Clermont were made to look like school boys. Make no mistake, whilst Clermont may have a few players coming to the end of their illustrious careers, they are no European lightweight. They possess arguably the most potent attacking force in the competition in Sivivatu, but the quite staggering statistic yesterday that in 9 carries he made just 5 metres is a true reflection of the ferocity of Saracens defence. Over 150 tackles made, only 3 (THREE) missed!
At the forefront of the brutality was the phenomenon that is Jacques Burger. In a game of hard men, he is quite possibly the hardest of the lot. Some of his tackling almost defied the laws of nature as huge men were sent hurtling back whence they came. But he was not alone in this regard, the 'Killer Bees' (Barritt, Bosch, Brown, Botha, Borthwick and Brits, plus Burger) were everywhere and inflicting deadly stings.
The brothers Vunipola and Johnston were tireless at the breakdown – I lost count of the number of turnovers they won. And behind this forward effort was the marshalling of De Kock, Farrell and Goode. Add to this the work rate and running lines of Ashton & Strettle and you have the complete team performance, reflected by the last ditch tackle from Ashton to prevent a Clermont score with the game already comfortably won. It is hard to imagine that 'The Splash' will not feature for Stuart Lancaster over the summer and beyond.
It was Ashton who set the ball rolling as he equalled the record for most tries scored in a Heineken Cup season (10) after just 7 minutes. It followed fine interchange work between Goode, Brits (twice) and Barritt (twice!) that saw the winger dive into the left hand corner. There was a glimmer of 'the splash' but then it was almost as if he thought better of it and settled for a simpler dive in. With Farrell still troubled by his foot injury, kicking duties fell to Goode and he made no mistake with the conversion. I don't think any team is so blessed with goal kickers as Saracens. In Farrell, Hodgson and Goode, they have three men quite capable of averaging 80% plus at the highest level. Add into that the power boot of Bosch, who nailed another from over 50 metres yesterday and you get the impression that opposition sides must be terrified of conceding penalties anywhere within 60 metres of their own line. (Wigglesworth and Spencer aren't too shabby either!)
Clermont opened their account following a scrum penalty (an area that Saracens actually DID struggle in) courtesy of Parra but from the restart came the game's first moment of controversy. The restart from Goode, combined with the chase of Strettle left Parra under immense pressure 5 metres from his own line. Clermont did work the ball back but when the pass went to Byrne inside his own goal area he found himself under enormous pressure from Mako. The kick was half charged down and as the ball rebounded towards Bosch he jumped to take what in my opinion (and that of referee Nigel Owens) was a scoring catch. Brock James obviously thought something similar because he elected to slap the ball away from the Argentine and over the dead ball line. Following consultation with the TMO, Mr Owens showed James a yellow card and awarded the penalty try. Goode converted easily and at 14 – 3 after 14 minutes things could not have started better for The Men in Black.
Then, another moment of controversy. Clermont reduced to 14 men finally got some front foot ball and it appeared they had scored through Stanley only to have the effort ruled out for crossing in midfield by Chouly. Watching it in real time I was fairly certain that he had obstructed Farrell from making the tackle – replays confirmed that to be the case and the score was denied. Another Parra penalty gave Clermont some brief hope but that was extinguished as the first half drew to an end. Another scintillating break by Ashton, this time down his more customary right wing, saw him cut inside and pass to Barritt. He was unable to take the pass as he was being impeded by a Clermont tackler prior to the ball arriving. As luck would have it, the ball bounced towards Farrell, hit his right knee and then up into his arms for Sarries third try of the afternoon. It took another consultation with the TMO to confirm the score before Goode converted again. He added a penalty just before the break to give a score of 24-6 at half time, we could scarcely believe what was happening. In my usual pessimistic way, all I could think about was how embarrassing it would look if we lost from this position!
Sarries continued their strangle hold in the second half. Bosch's monster penalty was followed by my highlight of the game – another try for Ashton. Yet again, it was the ferocious defence that earned a turn over, Ashton hacked the ball on twice before dotting down to become the leading scorer in a Heineken Cup season. As most people will know, I'm a huge Ashton fan, the smile on his face was only matched by that of Nigel Wray later in the day. Goode actually missed the conversion but the sense that we really were going to the Heineken Cup final was overwhelming.
Sarries fifth try of the afternoon was the pick of the bunch. Yet another marvellous break from Ashton, with that trademark inside line of his saw him burst through the defence. His awareness to look for support rather than going for 'hat-trick glory' spoke volumes for the man as a team player. He fired out a superb pass to Barritt, he fed onto replacement Streather who in turn gave the ball to Wyles who dived gleefully into the left corner. It was a wonderful score – made all the better by Goode's touchline conversion.
The final score of the day belonged to the Championship. Former Jersey prop Barrington made the initial line break and as the ball was moved to the right, ex-Nottingham man Streather slid in for the score. From Championship to European final in less than 12 months – outstanding! Final score, 46-6 – the highest score and biggest winning margin in a Heineken Cup semi-final.
Man of the Match went to Jacques 'the bulldozer' Burger and you couldn't argue with that. From 1 – 23 they were all outstanding! On any other day Ashton would have taken the accolade but it would be wrong to deny Burger the honour given all he has been through in the last three years.
It's back to league business for the next three weeks and then we can 'descend' on Cardiff for what promises to be a memorable weekend. Have Sarries peaked too early? Can they possibly replicate that performance when it matters for the remainder of the season? Only time will tell, but if they do, it will take one heck of an effort to stop them!!
Saracens: 15 Alex Goode, 14 Chris Ashton, 13 Marcelo Bosch, 12 Brad Barritt, 11 David Strettle, 10 Owen Farrell, 9 Neil de Kock; 1 Mako Vunipola, 2 Schalk Brits, 3 James Johnston, 4 Steve Borthwick (c), 5 Mouritz Botha, 6 Kelly Brown, 7 Jacques Burger, 8 Billy Vunipola.
Replacements: 16 Jamie George, 17 Richard Barrington, 18 Matt Stevens, 19 Alistair Hargreaves, 20 Jackson Wray, 21 Richard Wiggleworth, 22 Tim Streather, 23 Chris Wyles. Clermont: 15 Lee Byrne, 14 Sitiveni Sivivatu, 13 Benson Stanley, 12 Wesley Fofana, 11 Naipolioni Nalaga, 10 Brock James, 9 Morgan Parra; 1 Thomas Domingo, 2 Benjamin Kayser, 3 Davit Zirakashvili, 4 Jamie Cudmore, 5 Nathan Hines, 6 Julien Bonnaire (c), 7 Damien Chouly, 8 Fritz Lee.
Replacements: 16 Ti'i Paulo, 17 Vincent Debaty, 18 Clement Ric, 19 Julien Piere, 20 Gerhard Vosloo, 21 Thierry Lacrampe, 22 Mike Delany, 23 Noa Nakaitaci.
Referee – Nigel Owens
TMO – Gareth Simmonds
Attendance – 27,000 (according to Sky website!)
pqs: qs: