OUR FAVOURITE GAMES # 10 GOODBYE VICARAGE ROAD 20.1.13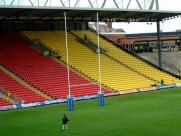 By TheSaracens.com
April 9 2020
Today we go back to one of our old Alma Mater's (sorry can't get back to Bramley Road - the site isn't old enough!) for our last game at "The Vic" when Sarries took on Edinburgh in the snow
This was not supposed to be the last hurrah at Vicarage Road. The plan was to play this Heineken Cup game against Edinburgh in the sunshine of Cape Town rather than the blizzards of Hertfordshire but Edinburgh declined to travel to the Southern Hemisphere and so this game became our swansong in Watford and Edinburgh brought their Scottish weather with them too!
Thanks to the efforts of Watford Football Club on Saturday and the volunteers who turned up at 8.30 on Sunday morning, the pitch was cleared of snow (although by 10.00 it was falling as fast as it was being cleared) and the game was on. By the 12.45 kick-off, Saracens pretty much knew what was needed. A win would get us into the quarter finals for the second successive year, a five-pointer would probably give a home tie unless something remarkable happened up at Welford Road.
I only just made kick-off thanks to the arctic weather in deepest Hertfordshire but along with 5671 others, little DG and I were there to say goodbye to the old place which has been our home since we beat Richmond in the good old Allied Dunbar League back in 1997 (and before my time I'm afraid).
Right from the start our pack looked strong and following a nice drive Sarries won their first penalty. Farrell slotted his 25th successive successful kick to put us into the lead. Vunipola was causing problems and Sarries won another scrum penalty which Farrell again converted. After 20 minutes Charlie put a superb clearance way down the right touchline with no angle. Ultimately this brought a third penalty after excellent work by Fraser and although this kick was a bit wider, Farrell never looked like missing to take his tally to 27 on the bounce. So far so good. We were clearly the better side but thus far no tries.
That changed when Sarries attacked from a line out and Wiggy managed to thread the ball towards the corner flag where Ashton touched down and seemed as surprised as the crowd that we had scored a try! Farrell's touchline conversion hit the upright to end his long sequence but we were on our way and 14-0 ahead.
Edinburgh, to give them credit, showed some spirit which ultimately paid dividends. Tonks chipped the ball into the Sarries 22 where Wiggy made a bit of a hash of picking it up in the ice only for Tonks, following up, to score a try, just getting the ball down in the reduced in goal area. Laidlaw converted and Edinburgh were back in it. The 10 minutes up to half time were the Scots' best period of the match. Charlie put the restart straight out (maybe he needed a scumcap to keep his head warm) only for Rees to do exactly the same from the resulting scrum! But from then on it was all Edinburgh and Sarries would have been pleased to hear the half time whistle, and not just because of the lure of a warm changing room!
Half time saw the final appearance of the Sensations and Sarrie reprising his Gangnam Style before the players reappeared for another icy blast. Farrell missed a second kick then Sarries were awarded another penalty in front of the posts which persuaded Charlie to attempt the drop goal but he was no "Huge" and the kick went wide. Mr Garces wished to speak to the Edinburgh captain so there was no opportunity to take a quick tap. Owen was lurking around the spot and Mr Garces could be heard calling out "Captain" to a strangely deaf Borthwick. Then Farrell seemed to have decided to kick for the corner except it was the far corner and the kick was too low. And then we saw the plan. In memory of the legendary Glenda who did something similar with Richard Haughton, Faz chipped the ball point perfect into the corner where it bounced beautifully for Ash in full flight to collect the ball, run through 2 surprised Edinburgh defenders and ground the ball just inches the right side of the in-goal area. Faz again missed the conversion but it was now 19-7 and a bit of breathing space.
Both sides exchanged high balls (and it was a day when literally, the ball came down with snow on it!) Charlie again put his penalty right into the corner and from the line out the Sarries forwards were unstoppable with Matt Stevens emerging from the bottom of the pile to score the 3rd try. This time Farrell got the conversion and with almost half an hour left Sarries led 26-7 and had scored 3 tries. Surely it was only a matter of time before the 4th came along?
Laidlaw tried a similar chip to the corner but the danger was cleared and once again a superb touch find from Charlie put the ball back into the Edinburgh 22. Smit and Gill replaced Brits (who was looking pretty blue by now) and Vunipola and shortly afterwards Botha, making his 100th appearance, replaced Joubert and Taylor replaced a bandaged Ashton. Charlie threaded a ball down the touchline for Strettle to chase (good to see him fit to play after last week) but Stretts had set off a fraction of a second too soon and Mr Garces blew for offside. Du Plessis replaced the excellent Stevens to complete a reshuffle of the front row. Sarries continued to attack but some of the shine seemed to have gone – maybe it was the substitutions, maybe frostbite was setting it. Whatever it was there were now only 10 minutes left and that 4th try was proving elusive.
At last Sarries won another penalty in front but instead opted for a lineout on the Edinburgh 5m line. The catch and drive broke down but after a series of drives it looked as if Brad Barritt had wriggled over the try line. It went to the TMO who decided he had wriggled too much and gave Edinburgh a penalty for a double movement. There was a loud cheer when Sarries were finally awarded a scrum from an Edinburgh knock-on (The Edinburgh white shirts seemed to camouflage a number of their transgressions – either that or Mr Garces is used to driving on the right!) Tomkins and Fenton Wells replaced Barritt and Fraser and it was Tomkins who seemed to give the team the extra boost. Almost at once he made a break and Sarries had another penalty but the attack continued until finally Charlie saw the gap, dummied to pass to the dangerous Tomkins before scoring that fabulous 4th try with just 5 minutes to spare. Farrell converted and the relief both to the players and the fans was palpable.
As Sarries entered the final minute of the final game at Vicarage Road Borthwick won yet another lineout ball. The ball came to Charlie and this time his sublime dink ahead fully justified his selection as Man of the Match and allowed Wyles to touch down for the 5th try. It was fitting that the final kick at the old ground should be a successful conversion by Farrell which meant we had a home quarter final in the Heineken Cup. Where that home tie might be is another question. Presumably Allianz is too small. Maybe Wembley or Milton Keynes? Or maybe, just maybe that quaint old place called Vicarage Road!
As the players completed a final lap of honour, Auld Lang Syne resounded from the speakers. How appropriate. Brits appeared with a hot water bottle and indulged in a snowball fight with Vunipola and lots of farewell photos were taken. It was a shame only 5673 spectators turned up but given the weather that was probably not a bad crowd.
We all have our memories of Vicarage Road. Some are shared by most of us – that win over Ospreys, Huge's drop goal, Rodd the God's pitch-length try, Sarrie in the hovercraft, the little car that used to carry the kicking tee, the 4th try against Sale that ensured we escaped relegation, the Clermont fans, Richard Hill and Kyran Bracken with the World Cup, the Premiership semi final win over Gloucester. Some are more personal – being 5 yards away from Jonny's bum in that rearranged Monday-night game against Newcastle, the day (?against Bucharest?)when everyone converted their own tries, Tevita Vaikona's early days, sitting in front of Jason Robinson in the old East Stand, Darragh giving little DG a kiss and thanking her for her support, Andy Blyth's injury at my first ever match. Some great players (and some not so great) have graced the turf over the years – Sella and Lynagh were before my time but my particular favourites were Thomas Castaignede, Thierry LaCroix, HRHRH, Kyran Bracken, Cobus Visagie, Kevin Yates, Glenda, and of course Darragh. The team of today is probably the best we have ever had. Already Premiership Champions they now aspire to become Champions of Europe. And finally we have a home of our own. After years of being tenants we now have the key to our own front door. And as the gates of Vicarage Road close behind us we enter a future that is brighter than any of us could have hoped.
And so with thanks to Barnet Sarrie for the idea and apologies to Elton John:-
Goodbye Vicarage Road
There are some called you a black hole
But Rodd the God scored his try there
And Huge nailed his drop goal.
We're off to the wonders of Allianz Park
Barnet is our new abode
But part of me will always be
Down at Vicarage Road
Saracens
Wyles, Ashton (Taylor), Farrell, Barritt (Tomkins), Strettle, Hodgson, Wigglesworth (De Kock), Vunipola (Gill), Brits (Smit), Stevens (Du Plessis), Borthwick, Kruis, Brown, Fraser (Fenton Wells), Joubert (Botha)
Edinburgh
Tonks, Fife, Cairns, Scott (Atiga), Visser (Jones), Laidlaw (Francis), Rees, Hislop (Titterell), Lawrie (Allan), Nel (Cross), Gilchrist, Cox (Parker), McInally, Basilaia, Talei
Scores (Saracens first)
3-0 6-0 9-0 14-0 14-7 19-7 26-7 33-7 40-7
Scorers:
SARACENS Tries; Ashton (2), Stevens, Hodgson, Wyles. Convs Farrell (3) Pens Farrell (3)
EDINBURGH Try: Tonks Conv: Laidlaw
Referee: Jerome Garces
Attendance 5,673
pqs: qs: