OUR FAVOURITE GAMES # 15 SARACENS ENJOY FINAL BATH TIME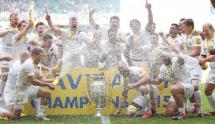 By TheSaracens.com
April 22 2020
Lock down goes on and with no rugby on the horizon we continue to relive games from the past. This time let's go back to twickenham at the end of May 2015 when Saracens took on Bath in the Premiership Final
What a difference a year makes. 12 months ago Saracens, running on empty, heroically lost the Premiership Final in the last minute of added time in the worst possible way. Run the clock forward to May 2015 and it was a very different story.
This was Sarries' 4th appearance in the Premiership Final in 6 years. Bath have appeared just once, losing in 2004 to Wasps. But even more, Twickenham is almost a home ground for Sarries. Many may dislike the Double Header but its existence means Saracens play on Twickenham's wide expanses, in front of a big crowd every year. If you add in the "Big Game" against Quins and the various European quarters & semis, Sarries have played at Twickenham 14 times in the past 6 years, whereas Bath haven't featured at all. Experience is priceless. They may have been wearing the away strip, but Saracens were definitely the home team!
Walking down to the ground, there appeared to be a sea of blue shirts. The whole of the City of Bath were in town today. Twickenham was looking at its best. The sun shone, the weather was warm and the parakeets flew noisily overhead (well I had to get the birds in somewhere!). We were all set for huge game. Bath, widely touted as the best rugby team since sliced bread, versus Saracens, all Saffer grit and busted salary caps. George Ford the prince versus Owen Farrell, the pauper. The irresistible force against the immovable rock.
Bath had somewhat flattered to deceive with a demolition of Leicester Tigers in the semi-final whereas Sarries had put up probably their best performance of the season beating Northampton Saints on their own ground at their own game. Mark McCall stuck with the same team which was fully understandable if a little harsh on those who were on the sick-list the week before last. Could the team lift itself one more time to win their 4th, and most prestigious, trophy of the season against a very different team, reliant on their classy England backs but maybe just a tad vulnerable up front.
The game kicked off and there was an early scare when the ball broke loose to Rokoduguni on the right wing but Wigglesworth put the after-burners on and got back in time to clear the danger. Then came the first controversy. Farrell tackled Anthony Watson. He was a bit careless and left an arm trailing but Watson also appeared to duck into the tackle. Watson sadly came off worse and left the field shortly afterwards. Wayne Barnes, that most sensible and competent of referees, decided it was worth a penalty only. It was early in the game and he was well aware of the occasion. I have seen yellow cards given for such tackles, but I have also seen them go unpunished. Whatever, for once Sarries got the rub of the green with the referee (and subsequently confirmed by the citing commissioner).
Bath launched another attack from the lineout but from our position behind the goal we could clearly see that despite all Bath's vaunted flamboyance, Sarries were pushing them steadily backwards and eventually Jamie George, emulating the multi-talented Brits, kicked the ball into the Bath half. This generated Sarries' first real attacking chance of the match and unlike Bath they took the opportunity. Chris Wyles found Goode who put Strettle clear. He was stopped just short of the line. The ball was recycled with some lovely hands including a little tap from Farrell onto Taylor who passed the ball on again to Farrell, now in space, and he knew where the try-line was. He gave himself a tricky conversion but Farrell has nerves of steel and Sarries were in a 7-0 lead after just 6 minutes. Shades of Franklin's Gardens last week.
Watson left the field for a head injury assessment but did not return so Ollie Devoto took his place at full-back. Sarries were soon on the attack again, this time a delightful crossfield kick from Farrell found Strettle on his wing. He just couldn't hold on to the ball and knocked-on what would have been a certain score. Bath messed up the clearance and Jamie George pounced on a loose ball on half way and powered to the try line leaving Eastmond and Ford trailing in his wake to score a lovely try in the other corner. (I just loved Brits' twitter post comparing it to "Run Pumba run!"). This time Farrell didn't get the conversion but a 12-0 lead after 14 minutes was beyond our wildest dreams.
The force was with Saracens. Bath won themselves a scrum in their own 22. The Sarries forwards put down a huge marker, pushing the Bath scrum backwards and winning a penalty in front of the posts which Faz kicked. A quarter of the game gone and already a handy 15-0 lead. From the restart Ford finally managed to find Rokoduguni on the wing. Goode was heading towards him so he kicked the ball ahead just before Alex clattered him into touch allowing Sarries to clear the ball. From where we were sitting, I thought Goodey could have pulled out of the tackle and was lucky not to get a yellow card. Barnes discussed the matter with JP Doyle and Graham Hughes but they decided a penalty would suffice. The Bath fans in front of us were howling for a penalty try but that was never going to be given. George Ford landed a good kick for Bath to get them up and running.
Goode made amends straight away with a beautiful kick which found touch deep in Bath's half. Sarries made a mess of the Bath lineout. Taylor got the ball out to Strettle in the corner but not close enough. The ball came back infield via a lovely juggle from Billy to Wyles who touched down in the other corner. Farrell again nailed the conversion to take the score to 22-3. Hargreaves left the field for a head injury assessment and like Watson, didn't return, Wray taking his place and Itoje moving to the 2nd row. Sarries wisely kept pressing as the clock ran down winning another easy penalty for Farrell. The final scrum also resulted in a Sarries' penalty but too far out for a goal attempt so wisely it went into touch and everyone departed for a cup of tea.
Most of us could barely believe what we had just seen. Sarries had a game-plan, carried it out clinically, prevented Bath from getting any usable ball while taking advantage of the inevitable Bath lapses to score 3 tries themselves. But we also felt the second half could be a different game. Mike Ford was bound to have changed tactics surely and anyone who has supported Sarries for as long as we have knows how they can sometimes snatch defeat from the jaws of victory.
Sarries seemed determined to show Bath that they were in for more of the same and the half began with a 50m rolling maul from Bath's 22 to the half way line. Sadly Maro knocked on and Bath won a penalty from the resulting scrum then a second for a high tackle which Ford knocked over for 25-6. Then the subs started to come on. Bath replaced their front row and won a penalty from the next scrum. Sarries brought Figallo on for Petrus and stopped the rot. Bath finally launched a determined attack and Jonathan Joseph showed a nice sidestep and crossed the try line in the corner. Ford again nailed the conversion and the score was 25-13. Not only that, for the first time in the match Bath were starting to believe maybe they could get something out of this after all.
Brits came on for the fabulous Jamie George (England call-up well deserved and overdue) and De Kock replaced Wiggy. Goode put a kick straight out. Ford slotted another penalty for a line-out offence and Bath were now within touching distance at 25-16. We were getting nervous. Into the final quarter and Sarries hadn't added to their half time score. At this rate Bath could yet do it. Ashton came on for a blooded Barritt with Wyles moving into the centre and glory-be Bath went off-side in front of goal giving Farrell an easy kick to restore the lead to 12. Barritt returned briefly, this time for Strettle. If this is the last time we see Stretts in Saracens colours then I for one will be sorry. He is now Sarries all-time leading try scorer (over taking Richard Haughton) and has been a revelation in black. It remains a travesty that he didn't get an England recall sooner. He is still the most dangerous finisher in England with an uncanny knack for knowing exactly where the touch-line is. His friendly rivalry with Ashton has been great to see and probably spurred both of them to greater things. If the rumours are true, Clermont will get a real gem.
As the game entered its final 10 minutes Hamilton replaced Itoje and Barritt finally succumbed to the inevitable and was replaced by Hodgson with Farrell going to centre. Interestingly Charlie's first attacking past went straight into touch with Wyles at least a metre too far back. An interesting insight into how the team have to adjust to the contrasting styles of Owen and Charlie who plays so much flatter.
Bath were starting to implode. Ford missed touch with his penalty and Ashton almost got a 4th try when a delightful cross field kick from Charlie didn't quite bounce right for him. He kept the ball in play by kicking it back infield where it seemed to bounce off half a dozen players. Somehow Mr Barnes decided the knock-on was from Sarries and awarded Bath a scrum from which they messily cleared the ball. Sarries were now supreme in the set-piece. Bath couldn't win a line-out and were struggling in the scrum. Then with 4 minutes to go the stadium clock stopped. Help! How long to go? Was a Bath win still possible? Sarries didn't seem worried with most of the play in Bath's half. Charlie missed a fairly straightforward drop goal. Bath knocked on from the clearance. The big screen showed a smiling Mark McCall shaking hands with his coaches. That must be it!
Owen checked with Barnes as Sarries won yet another penalty then plonked the ball into the stands.
We did it!
For the first time in history, the 4th placed team had won the title. Whatever you think about the play-offs, we deserved that after 2 first placed finishes came to nothing.
Cue ticker-tape, fireworks, champagne and a big trophy. All the player's children joined them as they completed a lap of honour. Particularly touching was Charlie, a twin in each arm and 3 little ones in tow and Brad with his new born in his arms. Best of all was the double 10's. Owen with his little brother, also wearing 10, hoisted on his shoulders.
So finally the season ends. And what a season!
Under 20 Champions
A League Champions
LV Cup Winners
And best of all PREMIERSHIP CHAMPIONS.
SARACENS:
Goode, Strettle (Ashton), Taylor, Barritt (Hodgson), Wyles, Farrell, Wigglesworth (De Kock), M Vunipola (Barrington), George (Brits), Du Plessis (Figallo), Kruis, Hargreaves (c) (Wray), Itoje (Hamilton), Burger, B Vunipola.
BATH
Watson (Devoto), Rokoduguni, Joseph, Eastmond, Banahan, Ford, Simpson (Cook), James (Auterac), Batty (Webber), Wilson (Thomas), Hooper (Day), Attwood (Garvey), Burgess, Louw, Houston (Fearns)
SCORERS:
Saracens: Tries - Farrell, George, Wyles. Convs - Farrell (2). Pens: Farrell (3)
Bath: Try - Joseph. Conv - Ford. Pens - Ford (3)
Attendance 80,589
Referee: Wayne Barnes (RFU)
pqs: qs:
OUR FAVOURITE GAMES # 15 SARACENS ENJOY FINAL BATH TIME
Posted by: TheSaracens.com (IP Logged)
Date: 22/04/2020 20:32
Oh to have some live rugby to enjoy...…………….



Edited 3 time(s). Last edit at 2020:05:08:21:16:33 by Darraghgirl.
Sorry, only registered users may post in this forum.