MATT DOES SOME NAVEL GAZING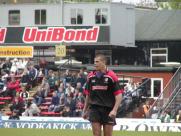 By Barty II
May 22 2020
In the current climate, both in terms of Saracens' predicament and the global crisis, it's very easy to sit and navel gaze, reflect on the past, and think about where we go in future. Assuming financial survival post-Coronavirus, I think it's important for us all to have perspective on where we are and what is about to happen. In reality, writing this is a form of self-indulgent catharsis but if you've got time, a comfy chair, and a cup of tea, do read on. Clearly I'm no stranger to healthy debate with fellow fans so feel free to discuss if I don't bore you to death – this is a long one.
For context, my personal association with Saracens is longer than some but shorter than many, but indirectly it goes right back to the late 50s/early 60s when my grandpa, Ken Bartlett, played for and captained Saracens for a time before injury cut his career short. He went on to be the club's first official coach, which meant my dad and uncle were regularly spotted at Bramley Road, generally causing trouble. Ever since, my dad has attended 4-5 games a season, eventually bringing me along to my first games at Vicarage Road. My memory is generally appalling, the early days of going to matches is a blur of drinking a Britvic in Mac's bar, the Dominos Five Minute Mayhem, the tee being brought on by a remote control car, and deciding Adryan Winnan was my favourite player. While I know exactly where I was and what I was doing when Jonny Wilkinson kicked THAT drop goal, my earliest specific memory at Saracens is from 2005, beating Leicester after Martin Corry was red carded for elbowing Richard Hill in the face. I was 12 years old.
Jump forward to early 2009. I've just finished a GCSE English class, and rather than head off to lunch, I hang back and ask my teacher what's happening at Saracens, and why we're getting rid of all our players. In hindsight, a pretty obnoxious question, given said English teacher is Geraldine Sorrell, whose husband, despite being a Saracens stalwart, is one of dozens of names touted as being for the chop as the Venter/Griffiths regime swings its axe. Much like today's rumour mill, names are plucked out of a hat as being among the players told in a Monday meeting by incoming boss Venter that their services are no longer required. On 25th February, Chris Jones in the Daily Mail reports Neil de Kock and Cobus Visagie are to be retained as part of a South African core that will play their rugby at Fulham's Craven Cottage, as high-paid stars Chris Jack and Census Johnstone, and long-serving Sorrell, Ben Skirving and Dave Seymour are among those to leave. Chris Hewitt in the Independent goes further, Glen Jackson, Kameli Ratuvou, Hugh Vyvyan, Michael Owen and Nick Lloyd are also off. Kris Chesney has already signed for Toulon but is still mentioned as one of the bomb squad. In their place we're signing a full squad of South African mercenaries and keeping our young English players on their low wages.
Like many others, I join a Facebook group, "Save our Saracens". The next week, our 'ead 'itter on the RugbyNetwork shares their views; Saracens is a laughing stock again, Griffiths et al are threatening the club's very existence, the heart is being ripped out of our club. The rest of the season indeed becomes something of a circus. Almost all reports say 18 senior squad members have been let go, a number that continues to be thrown around to this day. Only the BBC reports a slightly lower 15, but still referencing all the names above. Eddie Jones, while still in charge, announces that it is complete turmoil, some of the players have been in tears all week. Less than two weeks later Jones leaves the club with immediate effect. Brendan Venter has already been talking to most of the Stormers squad about moving to London. Richard Graham takes over for the bizarre match against Bath, where a last minute try by Don Barrell leads us to a 20-16 victory, none of the points coming from the boot. The rest of the season concludes in a disjointed mess.
By the start of the 2009-10 season things look a little different though. Whether Venter's invitation to the whole of South Africa to join Saracens was unsuccessful or simply untrue, the influx is nowhere near as extreme as suggested, nor indeed are the outgoings, although it is still a big shift. Twelve players do speak to RPA lawyers about their predicament, and it is indeed 18 players who are off Saracens books, plus Kris Chesney and Dan Scarbrough whose moves to France were already done. There is truth to some of those axed – Jack, Johnstone, Seymour and Skirving move on to pastures new, and Nick Lloyd makes a brief move to France before retiring. Cobus Visagie retires despite being touted as one of the head Saffers, as does Andy Farrell who joins the coaching staff. Matt Cairns goes to Harlequins, Andy Kyriacou to Ulster, Ben Jacobs to Wasps, Francisco Leonelli back to Argentina, and Gordon Ross to London Welsh. Jordon Mitchell, Alex Walker, Harry Spencer, Mickey Wilson, Guthrie Hall and Edd Thrower depart too.
Glen Jackson? Another stellar season with us before his retirement. Hugh Vyvyan? An important cog in the 2011 title winning machine, retiring two years later. Kameli Ratuvou? A quite diminished workload and a few injuries, but remains even longer than Vyvyan, leaving for a final season with Zebre. Michael Owen also stays, but an early season injury prematurely ends his career. And Kevin Sorrell? Well he's still here.
As for that huge South African influx? Well there certainly was one, but was it as extreme and fruitless as we all thought it would be? Neil de Kock, Brad Barritt and Wikus van Heerden were already with us in 2009. The plane from Johannesburg brought us Ernst Joubert and Etienne Reynecke. Schalk Brits probably flew from Cape Town using his own superpowers. Jacques Burger I'll include here, Namibian, but at the Blue Bulls. Three signings were already in England, Derick Hougaard at Leicester, from long-term spells in the Championship came Petrus du Plessis and Mouritz Botha, and Michael Horak signed from Treviso. This 11 strong contingent of Africans would prove to be the peak of Saffercens existence, with Michael Horak the only one that largely failed to make an impact, and Reynecke's time perhaps limited by the emergence of Jamie George.
The anger of the Night of The Long Knives was largely a distant memory, as although the style of rugby could be a grim watch, the team showed a kind of resolve not seen consistently in my days in the stands and won 9 out of 9, with Brits and Joubert particularly instrumental alongside homegrown talent in Alex Goode, Adam Powell and Andy Saull. Eight of the Saffercens would feature in the heartbreaking loss in the Final to Leicester, but rather than crumble as a one-season surprise, lessons were learned and it was largely the same squad, supplemented by the emergence of Owen Farrell and signings of David Strettle and Richard Wigglesworth, that demonstrated the absolute peak of that resolve and wolfpack mentality in an almost Hollywood-level tale of redemption during 32 phases of almost inconceivable defence in the repeat final in 2011.
Little did we know that tumultuous few weeks in 2009 was paving the way for such a special period as a Saracens fan. Thankfully the Craven Cottage rumours never materialised, and it was actually to Barnet that we eventually relocated, finally being in charge of our own turf – although having just started a degree at Warwick Uni in Coventry and looking forward to an easy train ride to Watford I was initially a bit disappointed!
Putting aside the words 'salary cap' and 'coronavirus' a little longer if I may, that 2011 final should also be noted for allowing the likes of Steve Borthwick and Hugh Vyvyan to hang up their boots with a deserved league winners' medal in their trophy cabinet. As their time at the club came to a close, so it did for many of the Saffercens, whose legacy paved the way for a wave of home-grown talent, supplemented by shrewd signings of cast-offs with plenty more to give, underrated Championship talent, and a handful of marquee signings in Hodgson, Ashton, Bosch, and the Vunipolas, and the period of dominance arrived.
It is at this point I can no longer avoid the elephant in the room. While I have full confidence that the 2011 title was as legitimate as any previous title winner, there is at the very least an asterisk our return to the top step and period of dominance from 2014. Sporting history provides almost definitive proof that the bigger they are, the harder they fall, and as that crop of primarily home-grown high-class talent improved, they deserved reward for it. At the very least, serious mistakes were made, and we rightly pay the price, regardless of opinion on the handling of the salary cap affair, the internal workings of PRL, and the influence of other clubs.
We now find ourselves in a period of heated debate, damaged pride, and a cloud over Saracens that surpasses that of the Night of the Long Knives. But, given that 2009 as a low point in Saracens history ultimately led to what for me is the greatest moment in 2011, I personally retain the hope that in ten years time, we can look back on an oddly similar wave of rumoured and confirmed mass departures, threats to our existence as a professional entity, and general global crisis, and realise that in the long term hitting the reset button could on balance be good for us.
The critics look at the highlighting of the community work of Saracens and Nigel Wray as a way of glossing over the muckier side of the last few years. But regardless of any ulterior motive, the Saracens Sport Foundation, the High School, the work with young offenders, the Love to Dance movement, the focus on player welfare, mental health and camaraderie deserve their status as setting an example for other entities with the capacity to provide such measures. Mistakes have been made, somethings about the club are still pretty useless, but on the whole Saracens as an organisation is still something to take pride in. As and when rugby hopefully returns, whether or not this community spirit continues will likely set a precedent for our image in years to come, and I would urge all of you to get behind it if you can.
Sadly at the end of 2019, my grandpa passed away. Those of you who were at the Munster game or watched it on BT will have seen the tribute that Saracens matchday staff organised, with a minute's applause and contacting BT off their own back so Nick Mullins could say a few words on the footage. Nigel Wray himself came down from the stands and joined my family on pitchside to give us his condolences and spent some time just having a chat, right in the middle of the salary cap fallout, and also followed up with a personal email to me the next day. It's not something I will forget in a hurry, and showed me there will always be something to respect and be proud of about Saracens. In the week my grandpa passed, we all spent time at his bedside, one by one saying our goodbyes. On a third day of round trips to Norwich hospital, my dad and I were the by his bedside as a pair, and something about that day meant we were both finally and ready to say goodbye. Somehow he knew that, and five minutes after I got home, he was gone, having clung on for five days waiting for us all to be happy to let go. None of us are remotely happy to say goodbye to Saracens, regardless of what's facing us. Therefore I have to believe, in the face of logic, we will come out of this better and stronger. I can only hope that most of you feel the same.
pqs: qs: