A HIGHLY ENTERTAINING GAME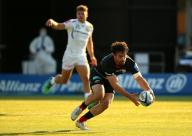 By Jonnybrowne
September 15 2020
My first match report - blame any errors on my not being able to read my own handwriting the following day.......Differing circumstances had led both Sarries and Chiefs to name largely youthful matchday 23s, with a smattering of wise and comparatively olds heads in Calum Clark, who was captaining Sarries, while Don Armand skippered his young charges abetted by Phil Dollman and, on the bench, Dave Dennis.
I'd predicted 32-17 to Sarries on the pre-match #VirtualOasis but after the Wasps game who knew what would happen – even a mostly wet behind the ears Chiefs side would not be a pushover.

It was a lovely day here in North London, and in the pre-match punditry/time killing Lawrence Dallaglio had said nice things about our academy, so all was right with the world except that we weren't sunning
ourselves outside the Oasis with a cold pint and a steak and ale pie.

The early minutes of the game indicated that we were in for a decent physical encounter with the first action of note coming from a penalty to Sarries which resulted in a good rolling maul. Good work by Hunter-Hill and Crean, and Vunipola played a looping pass out to Segun who scampered over to open the scoring. 5-0 to Sarries after only 6 minutes.

Vunipola's attempted conversion hit the post.

Our lads were all looking good – Venter looks a bargain, Morris continuing his good form, the youthful midfield of Vunipola and Tom Whiteley were calm and assured, Crean putting in a good shift, Hooley looking classy at full-back, Clarey working hard. Chiefs also have a lot of good prospects coming through, with Snow, Hodge, Cordero Jr and Keast among others showing a lot of promise.

A penalty to Chiefs led to a characteristic drive towards the line – the ball was held up on the line, another penalty for offside, then another. Chiefs pounded away, the ball spiralled wide, and with remarkable dexterity Phil Dollman switched hands in mid-air and found the young Cordero who went over to make it 5-5 only five minutes after our try. It was then Chiefs' turn to hit the post with their conversion.

The game was shaping up into a good contest, and Alex Sanderson declared he was happy at 20 minutes.

Shortly afterwards the impressive Sloan went off for an HIA to be replaced to Socino.

Vunipola hit the post again (when was the last time anyone saw that happen three times in one half???) before slotting the first successful kick of the game. 8-5.

Sarries put a bit more daylight between the sides just before the interval after a lineout following a Sarries penalty, albeit having been thrown long by Pifeleti, found Socino (now on permanently) who after a good carry offloaded to Morris who went over, having a few minutes before had a try disallowed , with Vunipola converting successfully this time for 15-5.

Half time, and a quick refreshment break.

Have to comment at this point that considering there was no official crowd at Allianz there was a lot of noise coming from the stands.

Big Josh Ibuanokpe replaced Clarey at half time, to the accompaniment of some bizarre pundit chatter about Clarey and a zombie apocalypse….did I miss something?

Sarries drew first blood early in the half with two penalties, the second of which, off Dollman, was slotted over with aplomb (love that word) by Vunipola for 18-5.

Day came on to replace Whiteley early in the second half who had by that point seemingly played the minutes he was allowed to under the player welfare regulations.

Chiefs won a penalty, and kicked long to set up another trademark "rumble", which eventually got Witty close enough to cleverly roll and dot the ball on the line. A missed conversion left it at18-10.

Chiefs weren't giving up and a penalty took them forward but a penalty to Sarries coughed up the ball. The resulting lineout took Pifeleti forward, then Ibuanokpe rumbled on to win another penalty which Vunipola stroked over for 21-10.

The re-start resulted in a Sarries scrum, leading to the other contender for try of the match (you've got to give Dollman credit for his skill in creating Cordero's effort) when Day found Segun after a good run, and a beautifully floated crossfield kick from Vunipola found Obatoyinbo who glided over for 26-10. The conversion was unsuccessful.

A few minutes later, a Sarries penalty got us within ten metres of the Chiefs line but the drive was stopped by a scrum to Chiefs which Sarries stole the ball from and pushed to the line. Venter looked to have dotted down for a richly deserved try. The TMO said "yes". After a bit of tee-straightening Vunipola added the extras for 33-10 and Sarries were in control.

Chiefs, as you'd expect them to, kept playing although Don Armand was warned about repeated infringements.

After a couple of scrum re-sets, the ref could clearly be heard saying that the lads were "messing around too much" and then shortly afterwards warned Don Armand again after another penalty was coughed up.

Sarries drove forward, and after more good work from Venter the immense Boon got over, with a successful conversion making it 40-10.

The last meaningful action of the match, just after 80 minutes, was Dave Dennis going over after a good spell of Chiefs pressure. Successful conversion and that was it at 40-17.

VERY entertaining match and both sides can take a lot from it.

MOM - Pifeleti

Teams:

Sarries: Hooley; Segun, Morris, Sloan, Obatoyinbo; Manu Vunipola, Whiteley; Crean, Pifeleti, Clarey, Kpoku, Hunter-Hill, Clark (capt), Reffell, Venter.

Replacements: Woolstencroft, Hislop, Ibuanokpe, Boon, Christie, Day, Socino, Hallett.

Exeter Chiefs: Dollman; Hodge, Baldwin, Wyatt, Cordero; H Skinner, Snow; Keast, Innard, Petch, Witty, Price, Lonsdale, Capstick, Armand (capt).

Replacements: Poole, Kenny, Johnson, Dennis, Hinkley, Yarnell, Walsh, Mehson.
pqs: qs: