BATH TEAM OF THE DECADE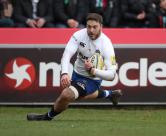 Banahan: most games
By P G Tips
June 9 2020
For this article I have to thank Shipwrecked who suggested it (and did a chunk of the research). He saw something similar on the Gallagher Premiership website and thought it would be a good lockdown topic for COML. The premise is TEAM OF THE DECADE, based not on opinion, but statistics, the players who have made the most appearances per position, in the 2010-2019 seasons. Across the entire Premiership, 2 Bath players make that list. Perhaps you can guess who they are? The Bath equivalent XV is:
Nathan Catt (107)
Tom Dunn (130)
Davey Wilson (84)
Dave Attwood (117)
Stuart Hooper (97)
Matt Garvey (94)
Francois Louw (131)
Leroy Houston (91)

Chris Cook (113)
George Ford (90)

Matt Banahan (251)
Kyle Eastmond (72)
Jonathan Joseph (74)
Nick Abendanon (207)

Anthony Watson (72)

Bench: Rob Webber (61), Paul James 74, Anthony Perenise 75, Dominic Day 110, Carl Fearns 56. Peter Stringer 43, Rhys Priestland, 68 Semesa Rokodoguni. 118
The list highlights some interesting points. As you might expect, six of the starting XV (plus 2 bench players) have captained the team – either as season appointment, or for individual matches. Many crowd favourites: Attwood, Louw, Houston and the entire three-quarter line, help make up the team and in key positions, notably hooker and fly half, Bath have tended to rely heavily on a single first choice. Tom Dunn's 8 seasons netting him well over 100 appearances, while George Ford in 4 seasons clocked up 90 games, some way ahead of Butch James (also 4 seasons – 68) and Rhys Priestland (4 & 60).
The highest appearance figures are found on the wings – though these can be deceptive: Nick Abendanon played much of his rugby at full back, while Matt Banahan also appeared at centre and full back, in addition to starting in the forwards. This might seem strange, given that backs often burn out at 30 while forwards have a few more seasons left in them – but in the case of Matt and Nick, just shows how lucky (or perceptive) Bath were to get and cap them early.
Those of a wistful (or critical) mindset will see some missed opportunity in the list too. As often stated elsewhere in this board, Bath let Abendanon go just when he had forged a potent counter attacking partnership with Anthony Watson, we could have had two more productive seasons from Matt and George Ford's continuing excellence for Leicester and England highlight the tragedy of fallout from his father's acrimonious departure. There is a surprise at scrum half, where Chris Cook outstrips Peter Stringer and Khan Fotuali'i, showing the value of a loyal clubman, compared to an international import.
For me though, there are two burning talking points:

* With all that talent, why oh why did Bath not achieve more between 2010 & 2019 than one Premiership final place?

* Would this XV (plus bench) be the BEST selection of the decade, based on class and performance in a Bath jersey?

Both thought provoking questions, worthy of hours of virtual pub chat. Over to you.
Footnote:

If you want to check the Gallagher Premiership selection to confirm your guess on the 2 Bath players, you will find it here:
https://www.premiershiprugby.com/news/gallagher-premiership-rugby-team-of-the-decade

You may notice a disconnect between their numbers and mine (for example Francois Louw scores higher than Julian Salvi, and the wings figures already explained above). This is because appearance records of Bath players do not separate Premiership from other competitions and due to some being fielded in more than one position. My figures do though represent overall contribution during the decade.
And again, my thanks to shipwrecked for the idea and helping to delve for the information.

PG
pqs: qs: