Training Day & Kit Launch 2019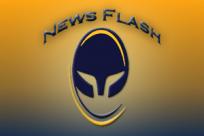 By John Phillips
August 20 2019
The Launch of this season new strip and an Open training day!
The Afternoon pre launch

Whilst waiting for the afternoon to start there was just a little time to get yourself a nice drink, curtesey of Green King - the club sponsor and take a few photo's.

This is the start of the giant Digital Screen installation

Supporters

There is always some numpty who wants to get into the action...

Introduction by Director of Operations David Kelly

It was good to put a face to a name.

David welcomed us all to the first event of the season reminding us that it is not long now until the opening fixture against Tigers in the cup.

He also alluded to 5 ongoing ground improvement projects that will be completed by the start of the season. The only one he actually told us about was the supporters meet and greet are which was being built right now!

He hoped we would enjoy our rugby season and todays event, Kit Launch and Open Training Day.

The Kit Launch

The players then climbed onto the rostrum in all their new finery!

Home Strip

Away Strip

3rd/Cup Strip(pretty good this one)

THE MAN

Melani Nanai

Interviewed and already loving being in England, where his wife comes from.

Ready to rip up the Premiership

THE MAN - Jamie Shillcock

Shilly looking really cool as they start the warm-up period befor Omar stats his lung busting defence training session.

I can without doubt agree it looked blood hard!

Stand out for me was Hoogie, he looks in cracking shape as did Coxy and Howe(he is some quick dude)

THE BEASTING MAN

This was some training session.



It may have been only 90minutes but it was intense, no quarter given and none expected.

By the last series of full width plays the players looked knackered but they never stopped and boy was it physical.

Great to be on the side watching.
pqs: qs: