Interview With Robin Sowden-Taylor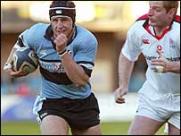 By Craig Muncey
July 22 2015
Exclusive interview with current Strength and Conditioning Coach with Cardiff Blues, Robin Sowden - Taylor. Robin kindly put some time aside to talk about his own rugby career and his current role, and answer 15 questions that were put to him, including his greatest ever 15 he played with which includes himself ;) Thanks again for your time Robin, a pleasure to deal with. Now over to the interview.
Interview with Robin Sowden-Taylor
First of all Robin thanks for agreeing to 1876 Cardiff Rugby interviewing you.
Questions have come from the fans, so here is the list of questions received went with 15, suitable number for a rugby union interview!
1/ You made your debut for Cardiff RFC at the age of 18, for someone so young did you feel you had already cracked it as a rugby player or was it more a case of self doubt wondering if you were ready?
Playing my first game for Cardiff was a pretty special moment. The week that I was picked to for Cardiff was up there with one of the best weeks I had as a rugby player, I had just come back from the U19s World Cup in Santiago, Chile and had been selected to go to Japan with the Senior Wales Squad in the Summer. Cardiff was the Team I had supported as young kid and it was a pretty surreal experience running out and playing alongside the likes of Dai Young, Dan Baugh, Andrew Lewis, Rhys Williams and Jamie Robinson. I never took anything for granted as a player, I always felt hungry to achieve more throughout my whole career.
2/ You made your debut for Wales in 2005 versus Italy in the Grand Slam campaign, and went onto win 8 caps, can you describe the feeling of playing for your country?
Playing for Wales had always been my ultimate goal, I was fortunate enough to play for Wales when I was 18 against Suntory during the tour of Japan in 2001 but it wasn't until 2005 I won my first cap against Italy in Rome. Being involved in that Grand Slam winning squad was just immense as it was the first time Wales had won the Grand Slam for 27 years. Cardiff was absolutely bouncing in the final game against Ireland and I'm sure it was an afternoon and evening many Welsh people will remember well!!
3/ Who is the best coach you have worked under?
Dai Young was the coach I worked under for the majority of the time I was at the Blues, great coach, great bloke. It was good being involved with the Blues from the start and seeing the building blocks that he put in place to allow us to go on and eventually win the EDF and Amlin Cups. Also, Scott Johnson is another coach that was unique in the way he dealt with players and got the best out of them.
4/ Against all the fantastic players you played with, who in your opinion was the best?
Tough one as I played also side a lot of great players but it probably would have to be Xavier Rush. When he came over he was one of best 8s in the world and he continued that form for a number of years at the Blues. He consistently put in the performances and was one of those guys that was great for the environment. Trained hard, played hard and knew how to have a good time.
5/ Opposite to above, you played against some fantastic players in your club, regional and international career, who was the best you played against?
Richie McCaw, he was/is a standout player and leader, a true World Class player that was the complete openside in every facet of the game, I played against McCaw in 2005 during the Autumn Series.
One of the other stand out players was former All Black and now Racing Metro Backrower Chris Masoe, I played a year on the IRB 7s circuit and played against him a number of times during that year, he was incredible for that All Blacks 7s Team who were pretty dominant at the time.
6/ In your role as Strength and Conditioning Coach, was some talk that the players under Phil Davies were undercooked not as fit as could have been, did you find this to be true?
I started in the 2014 Summer so I can't comment on the S&C of the players during Phils period but I don't believe the issue we have had as a region over the past few years has been down to the physical preparation of the players. The current squad are training hard and looking in good shape, we have just had a state of the art gym fitted at the Vale that will allow us to provide a world class Strength and Conditioning programme that will help move us in the direction we need to go.
7/ Appreciate only a short period of time has passed, but how would you describe Danny Wilson as a coach?
Danny has made a big impact already with the Squad, there have been a number of small changes made that has seen a positive effect and Preseason is going well with a good buzz around the place. Danny has identified the need to get a good environment in place for the squad to flourish and achieve what we are capable of.
Everyone involved within the Blues is desperate not to have a repeat of last season so we are all eager to see how we develop over the next couple of seasons. It is an exciting place to be at the moment.
8/ In general, do you think that very recent ex-players getting a coaching job at a region is positive or negative? i.e. difficult transition from player to coach or perhaps would be better off to prove themselves at Premiership level first?
I can only talk from my own experiences; I found it extremely beneficial to take a break away from rugby once I finished playing. It gave me an opportunity to develop as a person and learn my trade as a coach in a different environment; I gained some very valuable experience during this time.
After 10 years of playing professional rugby and it being my total focus for such a long period of time the break away from rugby certainly gave me a chance to refresh and focus on coming back into rugby as a Strength and Conditioning Coach and not a rugby player coaching, if that makes sense.
10/ You are joint owner of Dragon Crossfit, a gym in Cardiff, how did this start off and how is the business doing?
Strength and Conditioning has always been a big passion of mine and towards the end of my career it seemed a natural choice to want to pursue a career in this area. When I finished playing my aim was to open a Strength and Conditioning facility for the general public that used similar methods of training that I had experienced as a player and believed that this would be something that would be popular and at the same time different to what was currently on offer.
I'm in partnership with 2 others at Dragon CrossFit, my one partner Simon Harris I had known for many years and he had helped me with my S&C on returning from injury one summer during my playing days, Andy Edwards my other partner I got to know through Simon. Over the 4 years we have built by Dragon CrossFit Cardiff Bay to be a facility that we are proud of. 18 months ago we opened our second facility in Llanishen and that is developing well. We have a great group of members who are like minded individuals, all keen on getting better and improving themselves in all aspects of fitness.
We have built up a great team of Coaches and that has given me the opportunity to take time away from the business and pursue my career as a Strength and Conditioning Coach with the Blues, something that I always had ambitions of doing. I still am very hands on with the Coaching at Dragon CrossFit, I take classes in the evenings and even though its a long day after Rugby I still enjoy coaching the various levels of abilities we have at the gym.
11/ You joined the Newport Gwent Dragons after leaving the Cardiff Blues, did you find it difficult leaving your hometown club for their biggest Welsh rivals?
If I'm honest, yes, it was hard. It was a tough time during my career as I had had a long-term injury prior to leaving the Blues that had made it difficult. Initially I had signed with Sale Sharks but due to my injury I didn't pass my medical, for a period of time I was bit in limbo until I had an offer from the Newport Gwent Dragons.
12/ Who in your opinion is the best player in the world in your old position of open side flanker?
McCaw, Warbs and Steffon Armitage are 3 that standout for me, all quite different in the way they play but all 3 are so destructive at the breakdown that marks true quality!
We are really fortunate at the Blues to have, what I believe as 3 international standard Opensides, Warbs obviously but Josh Navidi and Ellis Jenkins are real quality players that I'm sure will feature for Wales in the not to distant future.
13/ With the current playing squad, is there a player who may not be a known name right now who you think will have a breakthrough season next season?
Our Academy structure is the best it has been, we have coaches at the Blues that are providing the boys with the best opportunity of going on to achieve their full potential as players, the boys now leaving the academies are coming into the senior squad and certainly driving the standards forward.
I fully expect to see over the next couple of seasons boy's breaking through into the senior team, there are lads that are 16/17 years old and in on a daily basis throughout the summer, working hard on their position specific skill set with the coaches as well as developing physically with our Academy Strength and Conditioning Coaches who are doing an incredible job and preparing the boys well for the demands of professional rugby.
We have a number of talented players coming through that I expect will become household names over the coming season, naming just a few, Backrower James Sheekey and Front Row forwards Liam Belcher and Dillon Lewis. It is a big season for these boys with opportunities arising from other boys being away on world cup duty.
14/ Realistically, what would you class as a successful season for Cardiff Blues next season?
An improvement from last season, simple as that. With boys being away for a large part of the season with the world cup it will allow some of the youngsters to really make a mark and name for themselves in the Blues jersey. A successful season for us I believe would be to see an improvement in last seasons league position, be competitive in all cup competitions and to blood some youngsters into regular Blues starters, from here then we continually look to build and become a force in Europe once more.
15/ Can you name a greatest 15 by position of players you played with?
15. Leigh Halfpenny/Ben Blair
14. Rhys Williams
13. Casey Laulau/Jamie Robinson
12. Jamie Roberts
11. Tom Shanklin
10. Nicky Robinson
9. Richie Rees
8. Xavier Rush
7. Me – Nug on the Bench :)
6. Maama Molitika
5. Paul Tito
4. Craig Quinell
3. Fao Filise
2. Trt/Ga Williams
1. Gethin Jenkins
pqs: qs: