**EXCLUSIVE INTERVIEW - TERRY HOLMES**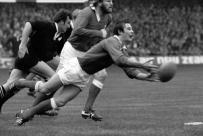 The great man in action
By Craig Muncey
August 30 2015
I am pleased to be able to publish an interview I held with the great rugby player and Cardiff RFC legend Terry Holmes. Would like to thank Terry for putting some time aside to complete the interview and making the whole process very easy for me. Now sit back and enjoy the interview with a true rugby great.
Interview with Terry Holmes
First of all Terry thanks for agreeing to 1876 Cardiff Rugby interviewing you this is a major exclusive for us.
Questions have come from the fans, so here are the 15 questions as per our normal format.
1/ You played for Cardiff RFC for 10 seasons, can you describe how you felt making your debut for the club especially the fact that the 9 shirt had only recently been vacated by the great Gareth Edwards?
Answer - My debut came as a complete surprise as on a Friday night I played for Cardiff and district in the final at Bridgend and after the game was told I would be playing the next day at Rodney Parade against Newport. Being born in Cardiff, it was a dream come true especially taking over from the great Gareth Edwards. Fortunately, we won the game as well.
2/ You made your debut for Wales in Australia in 1978 as a 21-year-old, and you went onto win 25 caps and scoring 9 tries, captaining Wales in the process. Can you describe the feeling of playing and captaining your country?
Answer - This was the pinnacle of my career, something that showed that all the hard work had eventually paid off. On the debut you get carried away with so much emotion, you play on instinct and it is an amazing feeling running out in front of 50,000 passionate Welsh fans at Cardiff Arms Park. As your experience develops you are able to manage your emotions in order to make the best rugby decisions for the team.
3/Which of the team you played in do you think Cardiff Blues could really use now (aside from yourself)?
Answer - These players would make a huge difference to any team; Gareth Davies, John Scott and Alan Phillips and as players, they were equally as influential to our team.
4/ Against all the fantastic players you played with, who in your opinion was the best?
Answer - Gerald Davies, simply a great rugby player.
5/ Opposite to above, you played against some fantastic players in your club and international career, who was the best you played against?
Answer - Danni Gerber (South Africa)
6/ Your final international rugby union match was against Fiji in 1985 before moving to Bradford Northern in Rugby League. How did the move come about and could WRU have done anything to have kept you in union at that time?
Answer - At the time it was impossible for the union to do anything in order to keep any player in the amateur game and the move came about after initial introduction to Bradford Northern from one of their scouting team.
7/ Did you find rugby skills and ability vastly different between League and Union in your time with Bradford Northern before an injury cut your career short after only 40 games?
Answer - The game was vastly different; not so much with skills but with positioning and the pace of the game was far quicker than rugby union club level and just a notch or two down from international level. Week in, week out there was never any easy games as people were playing to pay their mortgage so even if you won by a large score the game would still be highly competitive.
8/ Do you ever wish you had been born twenty years later and been able to play rugby union professionally?
Answer - Definitely! With the advent of full-time rugby, sports science and the ability to experience different lifestyles ie. playing in France, I would have loved to be able to play in this era.
9/ Who is the best coach you ever worked under?
Answer - John Ryan came into Cardiff and instilled discipline and was very competitive. Roger Beard created an incredible team ethic and spirit and both these men were instrumental in Cardiff being successful. Alec Evans came in and introduced the Australian philosophy which was based on huge amounts of time being spent on skills and moving away from the old social side of rugby.
10/ You went on two British and Irish Lions tours in 1980 and 1983, playing 1 test match against South Africa, both times injuries cut short your tours, which must have been huge disappointments. Did the coaches confide that you were to be the test scrum half on those tours prior to your injuries?
Answer - The biggest disappointment of my career was being injured on both Lions tours, especially in South Africa in 1980 when I was at the peak of physical fitness and form. The coaches gave no indication of being a test scrum half everything was up for grabs and based on performance.
11/ You became Cardiff coach in 1995, how did you find the club differed from when you left as a player to then and secondly, going back to a place where you starred as a player did you get frustrated coaching a team who may not of the same abilities as you or the team you played with?
Answer - On returning to Cardiff the first thing I noticed was a huge lack of confidence in the team, fortunately, Alec Evans came on board as the head coach and with the rest of the coaching team we were able to transform the squad into being successful winning cups and making the Heineken Cup Final.
12/ This year you were voted 27th place in a vote of the hardest men in Welsh Rugby history, which is not bad for a scrum half! Who in your career was the toughest man you faced on a rugby pitch?
Answer - In my opinion, the real hard men were players like Clive Burgess and Rob Lakin who were not renowned for foul play and never moaned and were as hard as nails!
13/ What is your biggest disappointment/regret in your rugby career?
Answer - Injuries on the Lions tours and losing to Toulouse in the Heineken Cup final.
14/ If you could change any one result of a game you played in, what would it be and why?
Answer - Wales v New Zealand 1978, the famous Oscar-winning dives by New Zealand forwards.
15/ Can you name a greatest 15 by the position of players you played with?
Answer –
15 Serge Blanco
14. Gerald Davies
13. Danni Gerber
12. Phillipe Sella
11. Adrian Hadley
10. Gareth Davies
9. David Loveridge
8. John Scott
7. Stuart Lane
6. Jeff Squire
5. Bob Norster
4. Geoff Wheel
3. Graham Price
2. Alan Phillips
1. Charlie Faulkner
Thanks, Terry for allowing us the time to have this interview. You are a rugby legend in many supporters eyes and thanks for the many happy memories.
pqs: qs: