**EXCLUSIVE INTERVIEW - ANDY MOORE**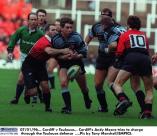 By Craig Muncey
October 9 2015
Pleased to publish the recent interview undertaken with Andy Moore. Thanks to Andy for being so accommodating with the interview and being as open and honest to the questions set to him. Hope you all enjoy sd much as I did putting the questions to him.
First of all Andy, thanks for agreeing to 1876 Cardiff Rugby interviewing you.
Questions have come from the fans, as per previous interviews with other rugby stars, have 15 questions for you to answer.
1/ You made your debut for Cardiff RFC against local rivals Pontypridd in 1987, what do you recall about your debut?
Answer - I remember it very well. John Scott was No8 and Geraint John was O/H so I had lots of experience around me. I was incredibly nervous especially when I put the jersey on and thought about the people who had worn it before me. The game was fairly tight and there was an almighty fight at one point!! I was watching with Mikey Rayer who had the swing gate (the gate that was on the edge of the pitch) slammed onto him!! I was just ready to join in when the ref stopped it (almost true) I did manage to pinch the ball at the back of the scrum from Robert Davies the opposing No9 and managed to get the ball to Gerald Cordle from which we eventually scored which sealed the victory. Sardis Road has always been a favorite ground of mine because of that reason & also as victories there were few and far between.
2/ You made your debut for Wales versus Japan, and went onto win 4 caps, can you describe the feeling of playing for your country?
Answer - It is every young boys dream to play for your country & when that country is Wales you can magnify that dream 100 fold. Again the buildup brought with it nerves but as soon as you put that jersey on and as mentioned re Cardiff debut , you think about the great names to have worn the shirt you realise how privileged you are to borrow it for a while. I somehow can remember pretty much most things about most games that I have ever played and this was no different. From calling a mark directly from the kick off (in the old days!) to getting smashed by their Fijian/Tongan blindside. I also opened the scoring which was also pretty special, although the try was nothing to write home about, I just dabbed the ball down behind the line after a charge down. In fact I scored 2 tries for Wales ( 50% strike rate!) and never actually took the ball over the line. The second was against Fiji at the National Stadium when we pushed them over the line and I just stuck my hand in the scrum to touch dowm. Obviously when I have grandchildren those tries will have been from 40 or 50 metres having beaten most of the opposition.
3/ Who is the best coach you have worked under?
Answer - Without a shadow of a doubt Alec Evans. He took a squad who would have been relegated had there been any, added Hemi Taylor, Owen Williams & Mike Budd and turned us into a team that won the league, Cup and took Toulouse to the final of the inaugural European Cup final (although Terry Holmes was actually at the helm then) He was ahead of his time in terms of putting a coaching team together and we had Terry Holmes, Alun Donovan, Charlie Faulkner & Gwyn Griffiths involved who all played their parts. He would be talking to Mikey Rayer about positional play, point out something to do with scrum half play before going on to talk to the front row about scrummaging. He really did know an awful lot about the game. It's no surprise that over the last 20 years every Australian coach has used his input in some form. I actually sent him a text on Saturday afternoon telling him to make sure the Aussies pull their fingers out against England! His response was suitably full of Aussie expletives but did say he was sure they would, although he couldn't promise similar help for next week!!
4/ Against all the fantastic players you played with, who in your opinion was the best? With rugby it is always difficult to name the best that you played with as the positions are so different but probably these would be amongst them.
Answer - Mikey Rayer just so calm under pressure and incredibly talented.
Ringo I think it was Franc Mesnel who said that " he doesn't know what he is going to do so how do you think that feels playing against him" which I think sums up Ringy!
Mike Hall a fantastic Captain
Jiffy amazing talent
Adrian Davies we formed a partnership that went back to Welsh Schools rugby. We knew each other inside out which helped enormously. Adrian was very under rated but not by those who knew him.
Hemi Taylor my minder , enough said!!
John Scott Old school but way ahead of his time
Humph If we had to go to war tomorrow he would be first on my list
Boothy which as strange as it seems as another No9 Boothy and I had a great rivalry which I think helped us both. He was a fantastic player and great competition!!
I could go on and on as I was fortunate to play with so many good players!!!!!!
5/ Opposite to above, you played against some fantastic players in your club and international career, who was the best you played against? Answer - Directly I would probably have to say that Joost in his prime was a supreme athlete and a fierce competitor with a huge determination to win. Its why he is fighting Motor Neuron disease with such courage. It's the mark of the man.
6/ You played in the 1995 World Cup finals for Wales under the coaching of Alec Evans, there was a lot of turmoil in the press about some of his selections being weighted towards Cardiff, and his selection of Mike Hall as captain, what Is your recollection of that period?
Answer - It's a shame the way that the 95 WC panned out the way it did. The problem to me was that it seemed that not one coach was actually named as in charge despite Alec's name going on the bottom of the sheet. There was an undercurrent and a feeling that it was a Cardiff take over, especially when Mike was named Captain. As mentioned in a previous answer though Hally was a fantastic captain and I believe it was most definitely the best option. There were a lot of Cardiff players involved but I suppose you select who you know will do a job for you. I'm sure that there were payers who missed out who would have been comparable to those taken but I don't think that three were any glaring omissions from memory. We were a better squad than the performance showed and it also became evident that you can't win/progress unless you are fully behind the cause. Sometimes we as a nation can be a little insular and resort several warring factions. This was the case in 95. There was no one over ridding issue but lots of little gripes that I think unsettled the whole atmosphere. It was a huge shame as although it was great to be involved at a RWC it should have been far more enjoyable.
7/ You played in the 1996 European Cup final against Toulouse, where Cardiff came so close to winning the European Cup, what is your recollection of that game?
Answer - Not really appreciating the opportunity that we had. We were a very good squad that had managed to draw against Begles Bordeaux away from home in the group stage. We then went to Lansdowne Road and played a very strong Leinster side that include many of the Irish team ( including at 9 wales favorite ref Alain Rolland!) This was also without many of our amazing travelling support as a huge freeze hit the UK and the M4 closed preventing travel to Heathrow.
The first 15 minutes we watched the Toulouse boys run rings around us and though "wow they are great" It was only when we started to play that we believed we could win it. We did have 2 or 3 chances to win it io normal time but it wasn't to be. Adrian Davies however kept us in it with amazing goal kicking. It was a tough one to miss out on but on the day the better side probably won. Only upside was getting my mug on the programme cover kicking the ball with my right foot!!
8/ You played in Italy for Benetton and also in England for Richmond during your career, was this a rugby or a lifestyle decision and was the standard of rugby vastly different?
Answer - Richmond was a commercial decision!! I was working for the family business and the offer that came was just too good to turn down. Even then it was tough as I only ever really wanted to play for Cardiff. The opportunity to play professionally was also a huge bonus and to try top compete with others who were in a similar situation. My only regret was that at the end of that season I missed the team photo which was a genuine mistake. I was devastated & also found out that Adrain had also missed it. I think that in some circles it was thought that we did it on purpose as we were leaving – I can assure you that it still grates even today!
Richmond was a fantastic opportunity where I learnt how to train properly and they had put together a pretty formidable squad for Division 2 in England. What I did realise is that the team spirit that we had in Cardiff cannot be bought and it took a long time to build some form of team at Richmond. As with all things they come to an end and Richmond was the same. It was such a shame the way that it met its demise and really the RFU & Premier Rugby did little to prevent it (infact it was quite convenient that Richmond & London Scottish went into administration as the rugby powers were looking to reduce size of the First Division by 2) That aside it was a great experience and part of an adventure for us as a young family. However when one door closes another opens and this was the case with us. I took a phone call from Bennetton Treviso who asked if we (the wife and I) would go over fopr a week end to consider signing for them. We were met at the airport by 2 Italians with jumpers over their shoulders & sunglasses on (despite it being 10 at night and dark!) Dinner followed at a great restaurant and then we were treated like royalty for the remainder of the week end , which included sitting at the back of the stand to watch Italy v Wales in Treviso (pre 1999 RWC friendly) After the game , when some Ponty fans shook our hands and said that we were improving as a nation in rugby terms and then asked where we were from ( they were surprised when we said Cardiff!), we were put on a train which terminated opposite the Grand Canal in Venice. The sun was setting and a restaurant had been booked, the situation could not have been more perfect!! They have sun for 7 months of the year, the food is incredible, the wine is better, the beach was 45 minutes away & the nearest ski field was 45 minutes away. I still don't know why we signed!!
No matter where I played however, the first result I looked out for was always to see how Cardiff got on!
9/ Do you have any regrets in your rugby career?
Answer - There will be the odd thing that you may change (Toulouse result!) but overall I tried to go by the adage that I never wanted to look back and say "I wish I had……….
10/ Have you ever been tempted to get back into rugby in a coaching capacity?
Answer - I coached at Rhiwbina RFC from U12 to U16 which I thoroughly enjoyed. One of the lads that I coached was Owen Lane so it was very pleasing to see him make his Blues debut against Bristol. There were several boys in that squad who have represented Cardiff Schools, Welsh Schools etc. Hopefully they will follow Owen and get to wear the Blue & Black.
PS they were all good players; it had nothing to do with my coaching!!!
11/ In your broadcasting career is there a particular person you look up to and try to model your style on?
Answer - As its not something that I have been trained in I try to take as much info/advice from those who are good or that I work with. I was lucky enough to get started alongside Huw Llewelyn Davies & Bob Symmonds which helped. Obviously the best about at the moment are Gareth Charles & Eddie Butler and luckily I have worked alongside both. Whether I am commentating or summarising (as with Eddie at the RWC at the moment) I try to come across as if I'm explaining the game to someone whilst chatting in a pub - hopefully it works!!
12/ Who in your opinion is the best player in the world in your old position of scrum half?
Answer - Scrum half is one of those positions that really can depend on whats happening with the fat lads (don't tell them that) upfront. How you work with the ball that they provide. Sometimes a team may struggle for any ball and yet the scrum half still shines. On form and at his best I would say Will Genia but also Webb, Smith & Pienaar would push him all the way.
13/ Rugby World Cup has been a fantastic spectacle to date, what stage do you see Wales getting to?
Answer - The beauty of this current crop of players is that they never know when they are beaten. The preseason trips to various foreign locations really put them through it and they were asked to dig incredibly deeply into their pain lockers. That's why they can, against all the odds, turn up at Twickenham and beat the host Nation, when in reality they had no right to do so. They also have a core of a squad who, unlike previous squads, don't overly know what it's like to get beaten on a regular basis. Its fantastic to watch and was for me a privilege to be there commentating on it in London. In terms of how far can nthey go? Well Australia game is huge. Winners play Scotland, losers SA. Quite how many times we can pull it out of the bag I'm not sure but suffice to say that they go into every game backing themselves to win. To make the semifinals given our injury list would be a huge achievement which I think may be a step too far. However getting out of the group of death is a real achievement in itself – I'm sure England would swap!!
14/ Realistically, what would you class as a successful season for Cardiff Blues this season?
Answer - Automatic qualification for Europe together with building a base for next year. Cardiff (I know I'm biased) should have a squad that is competing for the semi final of any European Cup competition year after year as a minimum. Its tough as you need success to attract players but good players bring success. Maybe you have to pay more than you would like for a couple of big names but they must be the right caliber the likes of Xavier Rush for instance who is huge influence both on & off the pitch & possibly the best signing the club has ever made.
15/ Can you name a greatest 15 by position of players you played with?
Answer - Mike Rayer ; Steve Ford; Allan Bateman; Ringo; Shane Williams; Adrian Davies; Rob Howley/Andy Booth (although obviously I'd disappoint them both just before kickoff and pick myself)
Gethin Jenkins; Humph; Jeff Whitefoot; Bob Norster; Carlo Chechinato; Mauro Bergamasco; Hemi Taylor: Mike Budd
There are many more that I could have picked – but regardless, the team we would have to play at The Arms Park in Blue and Black stripes and play towards the clubhouse second half……good old days!
Thanks for your time Andy, thanks for taking time to answer questions.
Answer - My pleasure- it was an honour and privilege to put the Cardiff jersey on every week in front of supporters like you guys & dolls which made it even more special. I am incredibly grateful for that opportunity and will cherish it forever.
pqs: qs: