**EXCLUSIVE INTERVIEW - PIETER MULLER**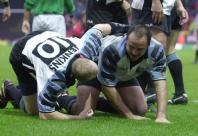 By Craig Muncey
December 12 2015
Early Christmas present for all readers. Pleased to publish a recent interview I undertook with Cardiff rugby fan favourite, ex Springbok international, Pieter Muller. Massive thanks to Pieter for finding the time to complete the interview and provide answers to the questions put to him, a fantastic rugby player and a top man, thanks Pieter.
Interview With Pieter Muller
Thanks Pieter for agreeing to this interview with 1876 Cardiff Rugby, it's a real privilege to talk to a top rugby player and a Cardiff rugby fan favourite.
We have 15 questions to put to you, so let's start the questions.
1/ You made your debut for South Africa against New Zealand in 1992, playing alongside Danie Gerber, what do you recall about the match itself and the feeing you had representing your country against of all teams, New Zealand?
IT WAS A PROUD MOMENT IN 1992 AFTER WORLD RUGBY ISOLATION TO PLAY AGAINST THE MIGHTY ALL BLACKS. I THINK FOR EVERY NEWLY CAPPED SPRINGBOK IT IS ALWAYS AN HONOR TO PLAY ON HOME SOIL AGAINST THE ALL BLACKS. TO SCORE A TRY WAS A DREAM COME TRUE FOR ME PERSONALLY.
2/ In 1995 you broke your neck playing rugby, did you feel that was to be the end of your rugby career?
AT FIRST IT WAS THE HUGE DISAPPOINTMENT TO KNOW THAT I WOULD MISS THE 1995 WORLD CUP AS IT HAPPENED 2 MONTHS PRIOR TO THE EVENT. INJURIES ARE PART OF THE GAME AND I KNEW I WOULD RECOVER AND CONTINUE MY CAREER.
3/ You played rugby league for Penrith Panthers in Australia, did you find the skill levels from players from league to union vastly different?
AT THE END OF 1995 GOING TO AUSTRALIA TO PLAY LEAGUE, RUGBY UNION WASN'T PROFESSIONAL BUT RUGBY LEAGUE WAS SO THERE WERE MANY SKILL SETS THAT NEEDED TO BE LEARNED AS WELL AS DEFENSIVE TECHNIQUES. OVERALL IT HELPED ME WHEN I RETURNED TO RUGBY UNION AND MADE ME MORE CONFIDENT IN ATTACK AND DEFENCE.
4/ You played rugby in Ireland for Greystones as a young man, did those 6 months improve you as a player after you had played in South Africa prior to that?
IN 1990 WHEN I WAS STILL 21 YEARS OLD, THE RUGBY IN SOUTH AFRICA WAS STALE IN A SENSE THAT THERE NO INTERNATIONAL RUGBY AND I WANTED TO EXPERIENCE DIFFERENT RUGBY CULTURES. JOHN ROBBIE, THE EX-IRISH SCRUM HALF TOLD ME ABOUT GREYSTONES WHERE THERE WERE SOME IRISH INTERNATIONAL PLAYING AT THAT STAGE AND I WANTED TO HAVE A NEW RUGBY EXPERIENCE IN THE NORTHERN HEMISPHERE. THE EXPERIENCE DID IMPROVE ME AS A PLAYER.
5/ You moved to Cardiff RFC in 2000, how did this move come about, and why did you choose Cardiff.
AFTER THE 1999 WORLD CUP I ACHIEVED MY GOAL TO PLAY IN A WORLD CUP AND I WAS PICKED FOR THE BARBARIANS SIDE TO PLAY IN 2000. NEIL JENKINS AND ROB HOWLEY WERE ALSO IN THE SIDE AND I ASKED THEM ABOUT CARDIFF AND THE POTENTIAL TO COME AND PLAY THERE. THE CONVERSATION SPREAD QUICKLY LEADING ME TO COME TO CARDIFF A FEW MONTHS LATER. I COULD HAVE PLAYED IN ENGLAND BUT I FELT THE WELSH HAD A VERY STRONG RUGBY CULTURE THAT FITTED IN WITH OUR SOUTH AFRICAN WAY.
6/ You played 80 matches for Cardiff, if you had to choose one match I particular that stood out, which would you choose?
IT IS VERY DIFFICULT TO PIN POINT ONE GAME BUT FOR ME IT'S THE EXPERIENCE OF PLAYING WITH DIFFERENT PLAYERS AND SEEING A YOUNG PLAYER COMING THROUGH THE SYSTEM AND BECOMING AN INTERNATIONAL PLAYER. THAT WAS THE GREATEST PART FOR ME IN PLAYING FOR ONE CLUB FOR THAT PERIOD OF TIME.
7/ You made 33 appearances for your country, which match stands out as the most memorable in your opinion?
YOUR FIRST TEST IS ALWAYS YOUR MOST MEMORABLE BUT FOR ME THERE ARE 3 THAT STAND OUT:
FIRST TEST AGAINST ALL BLACKS AT ELLIS PARK 1992
OPENING OF MILLENNIUM STADIUM IN CARDIFF 1999
1998 TRI NATIONS FINAL
8/ You also played in France for Toulouse, can you describe that experience and was French club rugby vastly superior to Welsh rugby?
FOR THE SHORT STINT I HAD IN TOULOUSE IN 1996 I CAN SAY YES FRENCH RUGBY WAS MORE SUPERIOR BUT AT THE MOMENT EUROPEAN RUGBY AS A WHOLE, THE PLAYING LEVELS ARE VERY MUCH EQUAL.
9/ Who was the best player that you ever played with and why?
JOOST VAN DER WESTHUIZEN BECAUSE HE WAS THE COMPLETE PLAYER (LIKE A GARETH EDWARDS) THAT COULD SCORE TRIES, BREAK THE DEFENSIVE LINE AND HAD A GREAT VISION OF THE GAME.
10/ Who was the best player you ever played against and why?
THE LATE JONAH LOMU BECAUSE HE WAS THE ULTIMATE PLAYER IN SIZE, SPEED AND AGILITY.
11/ Who is the best coach you have ever worked with?
IAN MCINTOSH AND NICK MALLETT. BOTH HAD DIFFERENT COACHING STYLES BUT BOTH LET PLAYERS GROW IN THEIR OWN POSITION. I ENJOYED WORKING WITH THEM BOTH.
12/ Do you have any regrets in your rugby career?
NO REGRETS, ONLY GREAT MEMORIES AND MANY GREAT FRIENDS MADE.
13/ Do you still keep in contact with any of the Cardiff players or coaches you played with?
YES I DO. FACEBOOK HAS MADE STAYING IN CONTACT MUCH EASIER! I DO STILL MANY OF THEM ON TOUR AND AT FUNCTIONS ETC. CARDIFF RUGBY WILL ALWAYS BE CLOSE TO MY HEART.
14/ You spent some time coaching Wales at different age groups and also was Director of Rugby at Doncaster, are you still involved in coaching and if not, is it something you would like to get into again?
I LOVE COACHING, IT'S MY PASSION. IT'S GREAT TO SEE PLAYERS DEVELOP AND GROW. I HAD A SUCCESSFUL RUN AT DONCASTER AS WELL AS JAPAN AND ITALY. I AM CURRENTLY INVOLVED IN RUGBY DEVELOPMENT ALONGSIDE THE SA RUGBY UNION TO GROW THE GAME AT GRASSROOT LEVEL.
15/ Finally, can you name the greatest 15 players you have played with by position?
15 – PERCY MONTGOMERY
14 – GARETH THOMAS
13 – ANDRE SNYMAN
12 – PIETER MULLER
11 – JAMES SMALL
10 – NEIL JENKINS / HENRY HONIBALL
9 – JOOST VAN DER WESTHUIZEN
8 – GARY TEICHMAN
7 – RASSIE ERASMUS
6 – MARTYN WILLIAMS
5 – MARK ANDREWS
4 – KRYNAUW OTTO
3 – DAI YOUNG
2 – ULI SCHMIDT
1 – OS DU RANDT
Was a great interview. I have been privilleged since taking over the admin of this site in June to have interviewed Robin Sowden-Taylor, Maama Molitika, Craig Quinnell, Terry Holmes, Andy Moore and now Pieter Muller, and as a rugby fan for many years I have been in awe of these guys, all have been so approachable and been an honour to interview, thank you all.
I hope you enjoyed the interview, and I hope I can complete some more in 2016, if you have enjoyed then please visit the website, 1876CardiffRugby.co.uk or the facebook page, 1876 Cardiff Rugby or on Twitter, @1876Cardiff
Thanks all.
pqs: qs: