Interview With Willis Halaholo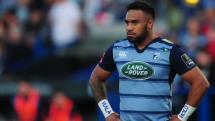 By Craig Muncey
July 22 2018
Massive thanks to Willis for agreeing to this interview. Willis quickly has become a fan favourite at Cardiff Arms Park so I am delighted to conduct this interview just before the new season. Here is the interview I hope you enjoy it.
1/ How did you first get into rugby union?
Answer - Been playing every year since the age of 5. My dad was a very good rugby player but wasn't able to progress on as English was his second language and was difficult to understand what was going on, so he threw everything into making sure me and my three little brothers were fulfilling our dreams and also his dreams through us.
2/ You toured Australia with New Zealand Schools in 2007 and in 2009 you played for Tonga in the Junior World Cup. At that point did you sure your international career with Tonga or New Zealand?
Answer - I was still set on representing New Zealand. Growing up in New Zealand you always dream of playing for New Zealand because you looked up to players like Jonah Lomu and my personal favourite "King" Carlos Spencer.
Coming out of high school I went through a rough patch which got me excluded from even being able to try out for the New Zealand U20's but was thankful for the opportunity to play for the Tonga U20's that year.
3/ You were playing for the Suburbs in Auckland and then moved to Southland after catching the eye of their selectors. As a young man moving to the far south of New Zealand must have been a big step. Was it a tough choice?
Answer - Wasn't a tough choice to make at all. I felt like I was making a name for myself again consistently performing for my club Suburbs in Auckland. But the amount of talent is unreal in Auckland club rugby so I had a good chat with Wayne Pivac, who was the Auckland coach at the time, and I took the opportunity to take my playing ability down south.
I just wanted to get my foot in the door of pro rugby because I knew I was capable of going further. So very thankful to Southland for that opportunity.
4/ After some excellent performances for Southland you became part of the squad of the Hurricanes in Super Rugby. Also in the squad in your positions were Ma'a Nonu and Conrad Smith. Did you ever lose heart that you would not get enough game time behind that legendary midfield duo?
Answer - One of the reasons I signed with the Hurricanes that year was to learn of Ma'a Nonu and Conrad Smith. Knowing I wouldn't get much game time but also knowing it was there last season in New Zealand.
So I thought why not take the opportunity to learn off the best midfield duo ever, and then put it to use the following season by gunning for a starting jersey.
It was hard to watch for the whole season but looking back now I have learnt a lot and don't regret it at all.
5/ You played in the final when the Hurricanes won they're first ever Super Rugby title, how did that feel and did you feel following that win you would be there for the foreseeable future?
Answer - Around the time the news came out about me signing with the Cardiff Blues was about the same time I started getting regular game time and enjoying my footy. So I did have a thought of wanting to stay back, but I wanted to be a man of my word so I made the most of it.
I came out a Super Rugby Champion and now enjoying my rugby in Cardiff.
6/ It was announced in April 2016 you would be joining Cardiff Blues at the end of the Mitre Cup campaign in New Zealand, eventually arriving in October. How did that move come about and was there other clubs you could have moved to at that time?
Answer - There were a few other offers, but I guess when Cardiff Blues came in for me it was the one that suited me and my family the best.
Also being in touch with Rey Leelo and getting the positive feedback I knew it was meant to be the next chapter in my career.
7/ Is there a big difference between the level of rugby you are playing now to when you were playing in Super Rugby back in New Zealand?
Answer - I think for me, the pace of the game in Super Rugby being faster is the main difference I see between the two. But the physicality is still very much the same.
8/ We have seen the funny videos of you struggling with the Cardiff accent with your teammates especially Dan Fish. Did you and your young family initially find it difficult with the change in lifestyle living in Wales?
Answer - It wasn't that hard. Which is why we chose to come here we knew it would be the easiest transition. Cardiff Blues family were very helpful. I guess the only thing is getting my head around having a TV licence. I just don't get it
9/ How does the European Challenge Cup victory compare with winning the Super Rugby Title?
Answer - If I'm honest, winning Super Rugby is still the highlight of my career so far for a couple of reasons. Growing up in New Zealand, all we ever watched was Super Rugby so that 's all I ever wanted to do.
It's hard to top that when you've wanted to play Super Rugby for 24 years, and also I feel like the group we have here at the Cardiff Blues we are better than winning the Challenge Cup, and I truly believe we can win bigger trophies. So I feel like the Challenge Cup is just the beginning for us here at the Cardiff Blues
10/ What is the best stadium you have played at?
Answer - I think the Westpac Stadium in that final was something I will never forget. But in terms of a stadium? Has to be that one in Bilbao last season. Massive stadium with a sea of blue, it was just a blessing to be on that field.
11/ The best player you have played with?
Answer - Very tough one. But I will say Dane Coles. Once you have played alongside him you will understand. Blessed to have played under him as my captain
12/ The best player you have played against?
Answer - I will go position wise and choose a midfielder. I will say Bundee Aki. I have played against him a lot over here in Pro 14 and also back at home in New Zealand.
He has always been a handful to contain and doesn't mind talking garbage to you on the field haha. A very good player and happy to see where he is now, it inspires me to maybe be where he is one day.
13/ In the early stages of John Mulvihill coaching the Cardiff Blues, do you see any real difference in how he wants to play compared to Danny Wilson?
Answer - It's still early days, but some positive signs of his direction and what he wants from us. Not changing too much, as the majority of the team are back, so just adding to our success from last season.
14/ What do you see as a realistic goal for the Cardiff Blues this upcoming season?
Answer – Top four finish in the Pro 14 and going on to win it hopefully, and also topping our pool in the Champions Cup.
15/ And finally, we ask all players we interview to select by position, the best fifteen they have ever played with.
Answer - My fifteen is based on a mixture of legends and what they have done in their careers and also up and comers who I see potential in. I've also added a bench just for fun.
Willis Halaholo Greatest Team
1 Gethin Jenkins
2 Dane Coles
3 Fa'ao Filise
4 Michael Fatialofa
5 Seb Davies
6 Josh Navidi
7 Ardie Savea
8 Nick Williams/VictorVito (I couldn't choose one)
9 TJ Perenara
10 Jarrod Evans
11 Julian Savea
12 Ma'a Nonu
13 Matt Proctor
14 Nehe Milner-Skudder
15 Beauden Barrett
Bench
16 Dillan Halaholo
17Loni Uhila
18 Tbc
19 Vaea Fifita
20 Victor Vito/ Nick Williams
21 Tomos Williams
22 Lima Sopoaga
23 Rey Leelo
Willis confirmed in the interview that he was really enjoying his time here in Cardiff. Getting to really know the boys and also feeling a part of the wider Cardiff rugby family with the supporters and fans always showing him love. He is looking forward to what we can accomplish this season.
Thanks to Willis for giving us the time to conduct this interview out of his busy schedule. The very best of luck to him and the team on the new season ahead.
Craig Muncey
pqs: qs: