England & Lions Martin Johnson Interview talks Dylan Hartley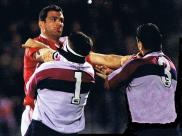 By sportsbeat
February 16 2017
Rugby World Cup skipper Martin Johnson has dismissed suggestions England captain Dylan Hartley is facing the chop ahead of next week's Six Nations clash with Italy at Twickenham.
Hartley was withdrawn after just 46 minutes during the last-gasp win against Wales last weekend, with Saracens hooker Jamie George making a significant impact off the replacement's bench as England wrestled back the initiative. Hartley is still short of game time following a six-week suspension for a high tackle on Leinster's Sean O'Brien before Christmas and Johnson is convinced the Northampton hooker will only improve as the tournament goes on.
George performed well against Wales and France, putting Hartley's starting position under scrutiny for the clash with Italy but Johnson is surprised at the clamour for change considering England will be looking to record a 17th consecutive Test win.
Hartley has been instrumental in Eddie Jones changing the fortunes of the national side – in just 18 months they have gone from World Cup flops to the second best side in the world – and Johnson believes the England skipper deserves much of the praise.
"No, I didn't see a selection issue, why would you change things – Eddie Jones' England is winning games," said Johnson, who was speaking on behalf of Land Rover, a Principal Partner of the British & Irish Lions. Land Rover understands and shares the values that make rugby so unique and is on the hunt for grassroots Lions fans to join them on tour in New Zealand.
"I mean Dylan Hartley missed a lot of rugby before coming back from his suspension and even had a few injuries before and so it takes time. "So, I can imagine Eddie Jones wanted his experienced players available to play and that's why he stuck with Dylan.
"Now he is coming off early but Jamie George is a good player and bringing something else. Owen Farrell is the skipper when Dylan is off, Jamie is playing well when called upon and England are doing very well and winning games of rugby.

"So right now they will think that's working and Dylan Hartley will only get better as he is getting more game time in. "Long term, no one has a guaranteed place on the team because there is only one hooker who can play.
"Dylan will be welcoming Jamie George playing well, what's the alternative Jamie George not playing well. Does Jamie George get a start? No possibly not in this tournament, but we will see going forward. But I think for now they'll keep it how it is and rightly so."
Hartley has been talked about as a possible Lions captain for this summer's tour to New Zealand alongside the likes of Alun Wyn Jones, Rory Best and Sam Warburton.
Questions have been raised about Hartley's ability to command the No.2 jersey in New Zealand, with many pundits and former players alike praising his leadership qualities but questioning his performances in the Six Nations to-date.
Johnson is convinced the game has moved on in recent years and believes it's now a 23-man squad effort needed to win a Test match, and as a result Hartley's early departure against Wales and France so far are not an issue.
"First name on the team sheet is just an expression," added Johnson, who is hunting for grassroots Lions fans to join them on the 2017 British & Irish Lions Tour to New Zealand, Land Rover with the help of Warren Gatland, Brian O'Driscoll, Martin Johnson, Sir Gareth Edwards and Hastings surprised West London rugby club Whitton Lions RFC during training, to scout for potential tourists.
"Dylan has been out a long time now, he's played well and led England to a record string of victories and he's getting questioned about his place on the team, it's a little bit harsh on him. "He's come back, okay it was self-inflicted his absence, but to come back and play, when you have not been playing, particularly in a position like that, is tough and we have won the games! "He is in with a shout for the Lions, if you are captain of your team and winning games – he is in with a shout.
"It used to be very automatic, if your team was best in the Six Nations you'd win it, that's not right, it is better now that there is more games they can watch them play in, but he is going to be in with a shout if England keep on winning. "I don't think there is anyone head and shoulders above anybody else but if they all go, Best, Wyn Jones and Hartley, they are all going to have an important job to do, playing the tests or not.
"The senior players must get everyone together quick and if there are any issues to get them out of the way and make sure everyone is pointing in the right direction. "Whoever is the captain it doesn't matter in a way; everyone must pull together and agree on a decision.
"In a way, you are better with a collective than you are an individual. I heard someone say Owen Farrell earlier on which I hadn't thought about and obviously, he's been captaining England for the end of the games. "I think he will go on tour and be an important player and part of leadership as he is an experienced player. "I think more than ever it's about the senior players that can pull everyone in the right direction."
Land Rover is on the hunt for grassroots Lions to join them on the British & Irish Lions Tour to New Zealand 2017. For your chance to win a place on tour, go to @LandRoverRugby #WeDealInReal
pqs: qs: