England 7s Fixtures - 25-26 JAN 2019- New Zealand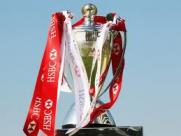 By England 7s
January 25 2019
The next round of the HSBC 7s Series will be played at the FMG Stadium in Hamilton New Zealand, which has a capacity of 23,600. England are in Pool B with USA, Samoa and Tonga
HSBC WORLD RUGBY 7s 2019

HAMILTON

All times GMT

Friday 25th January



2100
SCOTLAND
FRANCE
2122
SOUTH AFRICA
KENYA
2144
ENGLAND
SAMOA
2206
USA
TONGA
2230
AUSTRALIA
ARGENTINA
2252
FIJI
WALES
2314
SPAIN
CANADA
2336
NEW ZEALAND
JAPAN

Saturday 26th January

0046
SCOTLAND
KENYA
0110
SOUTH AFRICA
FRANCE
0132
ENGLAND
TONGA
0154
USA
SAMOA
0210
AUSTRALIA
WALES
0242
FIJI
ARGENTINA
0304
SPAIN
JAPAN
0326
NEW ZEALAND
CANADA
0500
FRANCE
KENYA
0522
SOUTH AFRICA
SCOTLAND
0544
SAMOA
TONGA
0606
USA
ENGLAND
0630
ARGENTINA
WALES
0652
FIJI
AUSTRALIA
0714
CANADA
JAPAN
0736
NEW ZEALAND
SPAIN
2100

CHALL TROPHY 1/4 FINALS

2122
CHALL TROPHY 1/4 FINALS
2144
CHALL TROPHY 1/4 FINALS
2206
CHALL TROPHY 1/4 FINALS
2236
CUP 1/4 FINALS
2258
CUP 1/4 FINALS
2320
CUP 1/4 FINALS
2342
CUP 1/4 FINALS
Sunday 27th January
0010
13TH PLACE SEMI FINAL
0032
13TH PLACE SEMI FINAL
0054
CHALLENGE TROPHY S/F
0116
CHALLENGE TROPHY S/F
0226
5TH PLACE SEMI FINAL
0248
5TH PLACE SEMI FINAL


0316
CUP S/F
0338
CUP S/F
0400
13TH PLACE PLAY OFF
0500
CHALLENGE TROPHY FINAL
0526
5TH PLACE PLAY OFF
0610
BRONZE FINAL
0710
CUP FINAL
pqs: qs:
England 7s Fixtures - 25-26 JAN 2019- New Zealand
Posted by: Unofficial England Rugby Union (IP Logged)
Date: 25/01/2019 16:25
What do you think? You can have your say by posting below.
If you do not already have an account
Click here to Register
.
Sorry, only registered users may post in this forum.