Another Brick in the Wall (or kick in the teeth)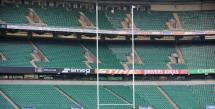 By Cider Drinker
July 28 2020
well, another post to keep the site alive - we have to put up an 'official' one every so often.
RFU sanctions mean we start 5 points down and another 15 hanging over us for the next 2 years, loss of the travelling fund, as we are the furthest from any other club means we suffer more than the other club that made the same mistake on the form. the 15 'suspended' points also mean that Albion cannot apply to the RFU for special support, so it seems we are going to be 'fighting up hill' for the next 2 years
on a good note, if you can't travel away to see Albion, then Taunton have their Home Games When Albion are away and when Taunton are away Albion are at home - so maybe a short trip for those of us not able to make longer journeys ?
there is still time to buy a plaque on the wall at brickfields personalised-supporters-plaque , be quick as wont last long and give a little support :)
MD Max Venables has been keeping everyone up to date on social media etc, well done to him and the team for keeping going, it would be so easy to walk away when everything is against you, but behind every cloud..... you have our support
pqs: qs: