Beer and Rugby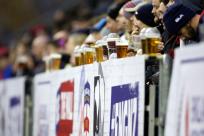 By Blues Brother
February 6 2020
What could be better on a Friday night than a real ale festival and a top notch Championship clash?
Fourth placed Coventry are the visitors to Goldington Road in a game which will test our new found resolve.
Every week now we seem to see a handful of changes and its no different for the Friday night beer extravaganza. Scrum half James Lennon is back and there's amore changes in the pack with skipper Sean McCarthy and Alex Penny returing to the front row .
Will Carrick Smith is at lock and and Josh Buggea in the back row.
Blues: 15 Rich Lane, 14 Ryan Hutler, 13 Oskar Hirskyj-Douglas, 12 Sam Leeming, 11 Matt Worley, 10 Will Hooley, 9 James Lennon, 1 Sean McCarthy (Capt), 2 Charlie Clare, 3 Alex Penny, 4 Jordan Onojaife, 5 Will Carrick Smith, 6 Josh Buggea, 7 Joe Atkinson, 8 Alafoti Fa'osiliva.
Reps: Jacob Fields, Joe Wrafter, Henry Paul, Ed Taylor, Huw Worthington, Grayson Hart, Lewis Robling, Pat Tapley.
The doors open at 5.00 for the Beer Festival which will feature: Blues Legends Ale (Festival special), Eagle IPA, Parallax IPA, Black Sheep Pale Ale, Ram Tackle, Wychwood Dirty Tackle, Marston's Old Empire IPA, Courage Directors, Young's Cityscape, Brakspear Oxford Gold, Ringwood Old Thumper, Razor Back, Jennings Cumberland, Hobgoblin Gold and Banana Bread Beer.
pqs: qs: