WHY I WAS A HOOKER - PART 1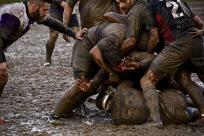 By Innings
June 18 2019
Aged eight, just, I found myself at boarding school. On the first Saturday we had games afternoon. It was a school of 78 boarding pupils, and rugby was the only sports option during the Christmas Term. First Match was made up of the god-like figures of the First XV and the cannon fodder of their training opponents. Second Match was the next group, the future First Match and a few useless lumps who had neither skill nor desire to progress to such heights. The remorseless maths of such a small school meant that Third Match was largely played as anything from five a side to nine a side: the number depended on who was injured, in detention otherwise unavailable.
With only one team that ever played matches against other schools, Second Match and Third Match could go right through the school without ever playing a game against any but the other members of the Match in which they happened to find themselves.
Coaching was appropriate to such a small set-up existing within a Catholic boarding school. The PT master coached the First Match, some enthusiastic but unqualified trainee priest coached the Second, and some resentful and unenthusiastic older priest was given the thankless task of turning 18 – on a good day – eight- and nine-year-olds into the future of the school's First XV. Of course, the reality was that any first- or second-year child who showed the slightest aptitude for the game was whisked up into Second Match, replacing some unenthusiastic or witless cripple who was cast into the outer darkness of the pitch most distant from any external visitor's gaze
So it was that on the first Saturday I found myself in Third Match. I doubt whether any of us had ever even held a rugby ball until the moment when team selectin began. Selection began with a quick sprint from one side of the pitch to the other and back again. Those who finished in the leading group were to be backs, whilst those who stumbled in later were told to be forwards.
As a very small forward, I was never going to be second row. As a very slow forward, I was never going to be back row. Therefore, I was to be front row, far too small to be a prop, so by default I was a hooker.
Any doubt about this selection was dispelled when we actually had to catch and throw a ball, skills that I had not mastered. Front row players were excused the need to learn these skills; we were not expected to do more than walk from set-piece to set-piece. In those days, wings threw in at line-outs. Hookers were therefore almost entirely invisible, doing little but hiding in the middle of the scrum and standing in the lineout whilst taller boys did the actual catching and passing to the scrum half. Of course, the scrum half had been selected because he could actually catch a ball and throw it to the fly-half.
Third Match was about my natural level, but possibly slightly above it. Twice a week the team selections for the three matches would be posted on the sports notice board, and twice a week I would find myself selected a hooker for either the whites or blues, usually alongside two of a tiny number of boys who rotated around the front and back rows. Playing only in this Match, with and against the other dross of the forgotten 18, there was little likelihood if ever getting better at the game.
Easter Term tended to bring a change of emphasis. Inter-house matches involved a wider range of skill levels, not least because one house seemingly always had a preponderance of the First XV heroes, meaning that some boys, not normally accustomed to the First Match, might well find themselves called by their house rugby captain and told to brace up and do the house proud. But the real emphasis of the term was moving anyway: the Prep School Sevens at Rosslyn Park took on the same mythic status as a pilgrimage to Rome, although the chance of miraculously winning even a junior plate competition was about as likely as a miracle during a trip to Rome.
Nowadays, schools like this are very different. That particular school has over 300 pupils, all boys still, and they put out anything up to six to eight age group teams to play against other schools every week in the competitive season. Their record is putting out 24 teams in a single weekend, ranging from 1st XV to Boys U8D. I see that on the school web-site, the latter team is described as being "for boys of mixed ability." I think that the spirit of Third Match has survived somewhere in the sixty years since my own time.
My particular contribution to the school's sporting aura on the rugby field was deeply undistinguished, but then so was almost everyone else's in the same twilight zone. Sheer age, at about 11 years old and playing against 8- and 9-years-old in Third Match took me into Second Match, and I recall that once or twice, probably during one of the 'flu or food poisoning epidemics that swept the school regularly, I was selected for First Match. Despite this hierarchical structure, the 1st XV was the only team that played inter-school matches, and so it was with the only other major sport on offer, cricket for the Summer Term.
At age 13, I moved next door, from prep school to the bigger world of Junior Colts, Colts and the 3rd XV. This was a world different from the microcosm of prep school. We actually had proper teams for each age group, and inter-school matches were played by all of them. It was never likely that I would actually make the first team of any age group; rugby was taken seriously, and even in a school of only 240 boys there was sufficient talent to form a team of moderately competent players in each age category. However, at one stage I began to entertain hopes of selection for the Colts XV, even to the extent of actually looking every Friday evening at the team selections as they were posted on the Colts' notice board. One day, my name did appear. A small, very non-rugby school had taken up the sport and was seeking fixtures. It seems that whilst accepting the fixtures, our first-team rugby was likely to be too strong for the visitors, so all teams were reduced to a core of a couple of first team players supported by the others in the year group who actually possessed the necessary boots and kit.
In my last, senior years, I played for the 3rd XV. Three players considered that hooker was their best, or least-worst, position, so we reached a compromise. At each scrum, we would change places. Loose-head to hooker, hooker to tight-head, tight-head to loose-head. It was certainly a recipe for confusing the opposition, and it meant that however woefully the scrum-half put the ball into the scrum, at least one
or even two of us would have a go at hooking it. This was an early introduction to coarse rugby, a concept that was in the very act of being codified by Michael Green, the author of The Art of Coarse Rugby, one of the most important sporting books ever written. Much of what he wrote became the codification of the ethos that drove many of us to carry on playing long after any sensible analysis would have forced us into playing retirement and a spectating role
To be continued – How I played against a team captained by Mike Campbell-Lamerton as hooker and Scottish international number 8 Pringle Fisher as prop.
pqs: qs: