WHY I WAS A HOOKER: PART 2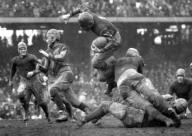 By Innings
July 1 2019
With an undistinguished rugby career, one route into a good medical school was closed to me. In those days the Hospitals Cup was a major part of the rugby calendar, and medical schools were mysteriously able to identify promising candidates for the medical profession through their school-days rugby achievements. The other official route into medicine was actually to pass three A-levels. However, an unofficial route also existed in those far-off pre-UCAS days, the old boy network.
So, I found myself being interviewed by the Dean of an eminent medical school, who opened the interview by asking most cordially about his old friend, my father. They had shared the dissection of many a body part at Edinburgh in the pre-war days. The Dean took great trouble to explain the calling of medicine, the importance of the traditions of medicine and medical schools and the brotherhood of medicine, formed on and off the playing field. All I had to do was nod and agree. Apparently my almost totally non-verbal role in the interview was sufficient to persuade the dean of my calling, and he offered me a place, to start as soon as I left school. However, he rather spoiled this offer with an after-thought: "Academics, I think you should have an A-level when you come up."
On the train home that night – my father, elated by the thought of my following him into medicine, had paid for a sleeper train home – I thought long thoughts. Did I actually want to be a doctor? More immediately relevantly, did I want the years of study involved in qualifying to be one? Did I want the prospect of endless years of dealing with illness and bodily functions? By dawn, the obvious solution was clear: fail my A-levels and so not go to medical school.
The chosen course of action was easily adopted. I was and am idle by nature, so the prospect of switching off for the last academic year at school held its allure. Turning three A-levels into passes, but at O-level, was achieved and a polite but brief letter from the Dean was enough to kill any more of my father's first career plan. However, my father was a clever man and had Plan B. After interviews somewhere on Salisbury Plain, mainly with colonels who had served in the Army with my father, I found myself accepted for entry to RMA Sandhurst.
Sandhurst was famously demanding, with just two years to turn schoolboys into soldiers, officers and leaders of men. Officially it was a military training establishment but actually it was like a rather grown-up boarding school with the Army Cadet Force given exaggerated importance. To those of us who were survivors of ten years of Jesuit boarding schools it was not difficult to navigate, and if one bought into the system it was generally rewarding fun. The RMA was divided into three colleges, each of four companies, each of four platoons, each of about 22 officer cadets. It was a two-years course, with fresh intakes twice a year, so each company's four platoons represented each of the four intakes of the two-years cycle.
The directing staff (DS) was led by exceptionally talented officers, selected as the best role models for the aspiring officer-cadets. The larger number of DS were the sergeants and sergeant-majors of the training, drill, small-arms and PT staff. After leaving the Army, I worked in other spheres of life, but never did I meet such an exceptional group as that.
Rugby was a major feature of life. The Academy Commandant was sports mad. The Academy Sergeant-Major, Horace Phillips, had won many amateur boxing matches, in between service all around the world, and the DS numbered many distinguished sportsmen amongst its members. The Army was wise to the need to ensure that their best players would always be available to represent them in the sports field, and posted them to establishments near enough to London for them to be able to meet for training and fixtures. Beating the other armed services in the annual services tournaments was too important to be left to the needs of an Army with men posted all around the world.
The DS at this time included Mike Campbell-Lamerton, captain of Scotland and picked to lead the forthcoming Lions tour. Scottish Journalist Allan Massie wrote of him: "The sight of Captain M.J. Campbell-Lamerton of the Duke of Wellington's Regiment surging round the tail of a line-out like an enraged hippopotamus was one of the most stirring spectacles in Scottish Rugby. A huge man, 6 feet 5 inches and often over 17 stones, he made an abrupt and unheralded entry into top-class Rugby for a Combined Services team against a Scottish Select at Murrayfield in December 1960. The game was played in a thick haar (Scottish fog) and almost the only impression spectators retained of it was of this man-mountain surging out of mist as a mastodon from a primeval swamp. It took him into the Scottish team and he stayed there until 1966 to win twenty-three caps.
Captain James Pringle Fisher, the Academy dentist, was another Scotland international. After Campbell-Lamerton's retirement he too would captain Scotland. A brilliantly natural ball-player, Pringle Fisher also represented Scotland at schoolboy level cricket and Great Britain at basketball in the Rome Olympics of 1960.
If the playing highlight of the Academy's rugby year was the triangular tournament between Britannia Royal Naval College, Dartmouth and RAF College Cranwell, the social highlight was the Easter Sevens tournament. Every platoon put in a team, the physical training staff put in a team, the Sergeants' Mess put in a couple and so did the officers of the DS. In 1965 the red-hot favourites were the DS Officer's first VII. The PT Staff team was super-fit, naturally-talented but preferred football. The Sergeants' Mess was trained by Horace Phillips and was desperate to win. However, the Officers' Mess first VII, with depth of talent drawn from the great rugby-playing schools, led by two current internationals, would have closed the bookies' satchels before the first bet was placed.
I was selected to play for my platoon VII. We thought me might go well in the early rounds; we had two Academy First XV backs in the line-up. The draw having been made, we were to be first up against the Officers' Mess First VII.
The game itself was played on the Academy First XV ground, attracting no little spectator interest. As a player I remember little of the game beyond two moments. The first scrum saw the front row of three definitely small-club-standard players going head-to-head with James Pringle Fisher, current Scotland No 8, Mike Campbell-Lamerton, currently Scotland second row, rounded off by a less illustrious captain who had merely played many times for the Army. I guess that we gave away about four to five stones per man. Not surprisingly, we gave away a scrum penalty. The next impression was of Campbell-Lamerton carrying the ball and half a dozen would-be tacklers on a run for the line. He was able to score. We lost.
In the next instalment: the game against Varoomshka, and how you should never judge a book by its cover.
pqs: qs: