THE EMPIRE STRIKES BACK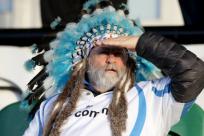 By myleftboot
December 27 2019
The completely unavoidable Salary shenanigans have added a layer of spite to this fixture. On one side, the understandable reaction of what might have been could not help but sour the fine set of silver medals amassed, making a clear panto villain in the uninvited Nigel Wray. And on the other, Tony Rowes inability to accept the rules he was ever so keen to sign up to just a few years ago, and Rob Baxters Sarries induced blind spot provide a rather simple rebuttal.
All this sets this festive frolic as rather more than the points on offer. Top V Bottom, 1.6 million profit last year V 5.4 million fine, 1 title V 5. Light V Dark... Both teams come into this game in recent form, Exe showing their traditional strengths to come back against a seemingly revitalised Tigers, a win at Welford is always one to warm the cockles. Saracens really flexed their muscles against pretenders to the throne, Brizzle.

The recent history suggests the teams will both pick the strongest teams available. At a ground Sarries have had a rather meagre return from, with our last win in September 2016. Head says any points would be a good return. Heart says bonus point win please?
The excellent Henry Slade, architect of the win that helped them to their maiden Premiership is definitely ruled out.

I completely rewrote this after some reflection, hence the slight delay. Exeter remain an excellent club, and a full blown attack on them would not be justified. They are the only club operating at a profit, and a not inconsiderable one at that! I hope this will all be settled in 80 minutes, and we see a match becoming the best two sides in England!
pqs: qs: