TRYING TIME FOR WORCESTER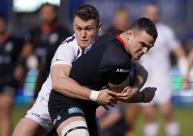 By TheSaracens.com
January 5 2020
Today was the first game of a new year, a new decade, a new era – A.N. = After Nigel. The sun shone on this brave new world; for once the Allianz Park breeze was quiet and a sell-out crowd gathered to enjoy the game. A late change saw Sean Maitland drop out with injury to be replaced by Rotimi Segun on the wing. Visitors Worcester Warriors had made 6 changes to their side but were notably without fly-half Duncan Weir who has been a thorn in Saracens' side in previous encounters between the 2 teams. South African GJ Van Velze made his first start at No.8
Worcester took the kick-off but that was the last they saw of the ball for a while. After 5 minutes, Segun broke into the 22 and found Loz. Billy picked up his inside pass and carried well before finding Earl who opened the scoring. Farrell added the extras and Sarries were up and running. From the restart, Earl won a penalty. From the lineout Sarries set up wave after wave of runners attacking Worcester's try line. Faz stepped in at 9 and found Segun on the wing and the little winger scored in the corner. Faz hit the post with his conversion but after 11 minutes it was 12-0, better than a point a minute and looking like a long day for Warriors.
A brief bit of possession for Wuss led to 2 fine tackles from Segun and eventually Sarries regained possession. The camera panned to Nigel Wray and there was a long round of applause. He shyly waved back. Faz put a penalty into the 22. George and Isiekwe went close before, with penalty advantage being played, Faz chipped a high ball out to Lewington who headed for the corner but was just held up. The penalty went in the corner and the inevitable happened. There was no stopping the lineout drive and in the end, somehow, it was Barritt who got the ball down (how appropriate that he is sponsored by a dentist). Faz missed this one too – he really should have nailed that. Is it me or is his kick preparation longer and even more repetitive than it was?
Well into the 2nd quarter and we had our first scrum. Sarries launched another attack and Barritt put Segun through but he was hauled down short and Wuss turned it over. Daly did superbly with a really awkward bounce and Wiggy's high bouncy clearance found Faz who offloaded to Jamie George, Saracens' newest winger. Jamie almost made the line before off-loading and from the recycle, Mako picked the ball up off his toes and scored the bonus point try inside half an hour. This time Faz got the extras and the score was 24-0.
I have to admit to some mixed feelings. When Sarries get the job done this quickly they can sometimes switch off and in the past, things have gone a bit pear-shaped (who can forget that game at Vicarage Road when Wuss came back from 17-0 at half time to win). Finally Wuss got into Sarries 22 for the first time apart from fielding kick-offs. Sadly they flattered to deceive and knocked on. But Wuss regrouped and their fly half, Jonno Lance, broke down the right wing. As Faz & Daly converged on him he kicked the ball ahead and Daly had no option but to carry the ball over for a scrum 5. Saracens' scrum refused to take a backward step and as play retreated, the ball came out to Alex Lewington who took off for the Wuss 22 but seemed to fall over his feet before he could score. Mr Maxwell-Keys was calling for the TMO though. We wondered why. We went back to the play after the scrum where it appeared there was a high tackle on a Worcester player and Warriors were awarded a penalty while the referee spoke to both captains. Lance made a mess of the penalty which started on the 5m line and ended up 10m away. Sarries defended the line out well and the ball came out to Segun who broke free and lobbed out to Daly. He did his juggling best but just knocked on. Meanwhile we were watching TV again. This time Mr Maxwell-Keys (or his TMO) had spotted some dirty work in the clear out and Anton Bressler took the lonely walk for an early break. Faz put the penalty beyond half way and from the line out Billy carried well finding Earl via 2 lovely pieces of handling between Daly & Lozowski. Earl got close, Itoje got even closer then a pin-point kick from Faz found Segun unmarked and he was over for his 2nd in the corner. This time Faz landed a tricky conversion and we went in for half time at 31-0.
Part 2 saw Barrington replace Mako while Wuss replaced Ryan Mills with Ollie Lawrence & Sam Lewis with the fearsome looking Marco Mama. Barrington was straight in at the dirty end popping up twice in the Wuss 22 before Lewington thought he'd scored. The TMO didn't see a grounding but they might as well have allowed the try to stand because there was only ever going to be one outcome from the 5m scrum. Billy was short but Baz picked the ball up and was over. Once again Faz landed the extras for 38-0. A second try followed almost straight from the kick off. This time Isiekwe made the break finding Wiggy who found Titi. The ball went via Loz & Segun to Earl who was just short but Maro picked up and this time there was no doubt. Try number 7 was converted for a 45-0 lead!
The inevitable changes. Singleton for Jamie while Wuss changed both their props and the half backs. Sadly we then had a long injury break when Michael Fatialofa, who had only just come on to the field, appeared to suffer a nasty-looking injury and after a lengthy delay, left the field of play on a stretcher. We wish him a speedy recovery. Wuss must have been short on subs because he was replaced by Joe Taufete'e, the reserve hooker.
More changes with Titi, Wiggy & Barritt departing to be replaced by Koch, Spencer & Taylor. The lengthy delay and personnel changes unsurprisingly seemed to cause a lapse in concentration and suddenly a lovely pass from Williams saw Ed Fidow speeding down the left wing, chipping Loz, catching the ball again and scoring in the corner for a superb try. Scott van Breda missed the conversion but at least Wuss were on the scoreboard.
The Wuss try was enough to shake the home side back into action. Following a lovely exhibition of handling that would have pleased even the Haarlem Globetrotters, a Faz kick found Segun who dummied then set off down the wing, off-loading to Taylor as he was tackled and the Scot scored try number 8 and the half century. Faz missed the kick again. More changes as Wray replaced Isiekwe (who once again had a superb game), Kpoku replaced Skelton and Manu Vunipola replaced the pacey Segun who had an excellent game. Lewington made a lovely break down the left wing, off-loading to Taylor who scored. At least he thought he had. Faz shaped to take the conversion but Mr Maxwell Keys stopped him and again we watched TV. Did the whole thing start with a knock on? Apparently not. Was Lewington in touch before he off-loaded? No he wasn't. Did Taylor ground the ball? Taylor was adamant he had and very upset when the try was ruled out. Faz took the kick anyway (and landed it) but it didn't count. So another 5m scrum and once again there was only going to be one outcome. This time Billy & Earl had swapped places. Earl popped off the back and after a couple of recycles, Wray scored the 9th try. A rather lazy straight-forward conversion hit the post. No excuse really for that! Spencer put in a cameo of a huge tackle on the dangerous Tom Howe.The Worcester official Twitter thread summed things up when they tweeted "is it home time yet?"
Wuss lost their replacement tight-head when Conor Carey limped off meaning Richard Palframan had more work to do. Wuss finally had an attacking opportunity, opting for a 5m scrum instead of a penalty kick but the scrum went backwards and inevitably Sarries won a penalty of their own. The last 10 minutes were a bit messy. Wuss just wanted to go home and Sarries, understandably, had the game well won. Both teams played a bit of 7's which was quite entertaining if unproductive then as the clock headed for red, Sarries won a penalty in their own 22. From the line out there were some sublime off-loads before Daly latched onto the ball on the 22 and scored in the corner. Faz landed just about the trickiest kick of the day and the score finished 62-5. Even that probably flattered Wuss.
Lewington was given man of the match. If I was Segun I'd be a bit miffed because he had his best game for Sarries not just in attack, but putting in some nice tackles too (go low and hang on until someone bigger comes to help you!) Earl and Isiekwe were superb again – if fact it's difficult to find a Sarries player who didn't play well. Another interesting point – how many games are there where 60+ points are scored all from tries?
So another 5 pointer and we are now on minus 7. Two more wins and we will be back in the positive. Yes Leicester also got a 5 point win but did anyone seriously think it would be them we had to overhaul come June? We can only worry about our own performance. Keep playing like this, keep picking up 5 points, and we will climb the table. On the evidence of today, I suspect it is Worcester, and probably Irish, who will be anxiously looking over their shoulders come the spring. Yes we now enter a tricky time with International call-ups likely to deplete the squad (even Manu has been chosen for the U 20's!) But Mark McCall has faith in his youngsters and so should we. We are Saracens. We are Premiership Champions. We are European Champions. We are winners. The new era has dawned and the future is bright.
Saracens
Daly, Segun (Manu Vunipola), Lozowski, Barritt (Taylor), Lewington, Farrell, Wigglesworth (Spencer), Mako Vunipola (Barrington, George (Singleton), Lamositele (Koch), Itoje, Skelton (Kpoku), Isiekwe (Wray) Earl, B Vunipola
Worcester Warriors
Shillcock, Fidow, Beck, Mills (Lawrence), Howe, Lance (Van Breda), Heaney (Hougaard); Black (Bower), Moulds, Palframan (Carey), Bresler, Kitchener (Fatialofa, Taufete'e), Hill, Lewis (Mama), Van Velze
SCORERS:
Saracens (62):- Tries (10): Earl, Segun (2), Barritt, M Vunipola, Barrington, Itoje, Taylor, Wray, Daly; Conv: Farrell 6
Worcester Warriors (5):- Try Fidow
Yellow Card: Bresler (Worc)
Attendance; 8,500
Referee: Craig Maxwell-Keys.
pqs: qs: