SARRIES EDGE A RACING REVIVAL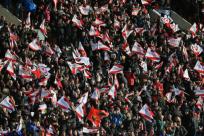 By Innings
January 20 2020
As I drove to the game, avoiding major road-works, I drove past Richmond Park. I first saw Sarries play there against London Scottish, I think in 1998. We spectators stood on the touchline, separated from the pitch by a rope barrier that gave the touch-judges barely sufficient space in which to run the line. Kyran Bracken was why we were there; he had been a year ahead of my son at school. The opportunity to see Michael Lynagh, Tim Horan and Francois Pienaar also in the same team, was not to be missed. Sarries lost, 24-7, but on that day my support for Sarries was ignited.
Round the corner yesterday, I passed another of the once-great grounds, Old Deer Park, home of London Welsh in those days.
After a torrid time, London Scottish have fought their way back up the leagues and are now a mid-table Championship side. London Welsh flew close to the sun, their waxen wings melted, they had to begin again in the ninth tier, and now they are climbing back up the lower slopes of that pyramid. This season, two years later, they play in London 2 North West, the seventh tier of the England rugby pyramid.
These thoughts were an effective antidote that countered two lines of poetry that had come, unbidden, to mind when I heard the news of the relegation decision on Saturday:
Something was dead in each of us,
And what was dead was Hope.
I decided that if London Scottish could survive terrible business decisions, and London Welsh could re-invent themselves after business and playing disasters, Sarries can also recover from their self-inflicted wounds. I arrived at Allianz Park somewhat buoyed by that thought. A fellow-supporter, one of the long-time Bramley Road veterans reminded me that in the past we have watched rugby whilst standing in muddy fields, and we can do so again. It was a good frame of mind in which to put on the much-needed sunnies and settle into an optimistic frame of mind about the game to come.
It was not a game at which to wander into one's seat after the opening whistle. Kick-off, poor collection, penalty, kick at goal rejected in favour of a kick to the corner, drive over. Less that two minutes played, 7-0. Then, at seven minutes, Billy is walking off, disconsolate, having suffered what we quickly learn to be another broken forearm. Will Skelton comes on, and slightly worryingly is almost immediately penalised for a petulant push on a Racing player. Not helpful, this game, if it is to be won, needs clear heads and discipline. On ten minutes a brilliant through-the-hands move, featuring particularly Elliot and Sean is ended with a deliberate knock-on by scrum-half Iribaren. Again turning down the easy points, Sarries opt for another kick to the corner. Line-out, drive and a try at the second attempt. 14-0.
This is a stern lesson for anyone who arrives late at rugby matches; they start at the kick-off, not when you bother to take your seat.
Racing are no side to conform to the stereotypical reputation about French teams who never travel abroad and who chuck it in after the first set-back. Russell's re-start is gathered, cleared and smartly followed up by Rotimi, who puts Racing onto another back foot. However, Finn Russell produces a perfect cross kick out of defence, to deliver a dropping ball to Vakatawa, himself needing no real second bite at it as he gathers and runs in from about 30 metres. 15-7.
To stay in the game, Racing are giving away penalties all over the place. A fifth within the first 20 minutes give an easy 3 points from in front of the posts. It is strange to me that having turned down two easier shots in favour of going for the corner, Owen is given this one to convert. Perhaps the position is too far upfield to be confident of a well-positioned line-out. Whatever the thinking, the result is more points, 17-7.
Racing are coming into contention, despite this score, and Sarries are now giving up unforced penalties, and suffering from trying to force the game. Owen sets to deliver a quick pass but the ball arrives too slowly and the ambitious objective of spreading the ball outside becomes the easiest of intercepts for wing Dupichot to race away and score. 17-14.
Four minutes later a simple scrum exactly in mid-filed develops into a sweeping Racing attack that ends inevitably with a clever run by Vakatawa, again, scoring. 17-21, Racing take the lead for the first time.
On the 39th minute, Will delivers a late, high and no-arms tackle that leaves referee Nigel Owens no option but a red card.
At half-time Sarries are a man down, down on the score board and the impetus has gone to Racing. It will not help that Racing go further ahead very soon after play resumes, a long-range penalty from half-way. 17-24.
However, only a couple of minutes later, playing penalty advantage, Sarries deliver one of the outstanding tries of the season. Brad's cross-kick falls to Sean, who transfers the ball to Ben, in very close attendance. He, in turn, delivers a perfect off-load under pressure and over a Racing head, to Maro, who simply brushes past the Racing defence to score. Owen obliges, and it's all to play for at 24-24.
Despite the man advantage, Racing are now the side under the pump. Sarries attacks are not achieving points but the pressure on the visitors is telling, as superior fitness seems to be coming into evidence. A clear late tackle by le Roux on Owen earns a yellow card, evening down numbers for almost the entire remainder of the game. Elliott misses the kick, one that he'd normally manage. For the next several minutes all is Sarries pressure. Racing carry the ball back and into touch-in-goal, Sarries scrummage and then camp for a few minutes on the Racing line. Off-side by a Racing foot, Owen for an easy three points. 27-24.
Hang on for eight minutes, win, qualify. Not a soul has left a few minutes early to beat the rush.
Nigel Owens had a game at his usual high standard, Ben Earl was deservedly MotM, and Brad deserves a place anyone's hall of fame, for his leadership during a crisis.
So, at the end, and after Gloucester have suffered a defeat in Toulouse, Sarries edge into the last eight and knock-out stages. This gives them a trip to Leinster, a re-visitation to last year's European final. With home advantage, present form, and with the Sarries' uncertainties about players' and coaches' futures' future replaced by uncertainty about new club destinations and reception there, Leinster must be favourites to win this one. However, there is one potent counter-balance: Sarries, more than any club in Europe, perhaps in the world, seem to have the knack of drawing from a well of self-belief and sheer intensity of will to win that has taken them to other improbable wins. As I write Leinster are 4-9 odds-on favourites with the bookies, Sarries 19-10 for the win. That seems to under-estimate the task that will face Sarries on the day.
Driving home, I was back into thinking mode. I thought of the Saracens Pioneers, people who give up time, rain or shine, to make the match-day experience run smoothly. I thought of the youngsters in the Olympic Bar who sell me my match-day pie and beer. And I thought of us, the supporters, who certainly supported the team today. I thought of the players, going home tonight to uncertainty of employment, of coaches who helped those players become one of the most formidable rugby teams ever assembled in England. And I thought again of pitches where the players and supporters are separated only by a rope stretched around the pitch perimeter. And I thought of rugby's path to becoming a major sport: "What does it profit a man if he gains the whole world but suffers the loss of his own soul?" Governing bodies in hock to the banks who lent the money to build the stadia that have to be filled at all costs, at prices that drive away much of the genuine support. I thought about the owners – definitely in the plural – who bought into a sport they loved and turned it into a business that became unlovable in the eyes of a huge potential support base.
Perhaps the golden lion at Twickenham needs to be replaced. Like the fourth plinth in Trafalgar the pillar should host a temporary installation that reflects times. The 2020 statue should be Oymandias: two vast and trunkless legs of stone. "I am Ozymandias, King of kings. Look on my works, ye mighty, and despair."
Saracens: Daly; Maitland, Taylor, Barritt (c), Segun; Farrell, Spencer; M Vunipola, George, Koch, Itoje, Kruis, Wray, Earl, B Vunipola.
Replacements: Lewington for Segun (47), Wigglesworth for Spencer (47), Barrington for M Vunipola (63), Lamositele for Koch (59), Skelton for B Vunipola (5).
Not Used: Singleton, Clark, Lozowski.
Sent Off: Skelton (39).
Racing 92: Dulin; Dupichot, Vakatawa, Chavancy (c), Imhoff; Russell, Iribaren; Ben Arous, Baubigny, Gomes Sa, Ryan, Palu, Lauret, Le Roux, Tanga.
Replacements: Trinh-Duc for Russell (75), Machenaud for Iribaren (56), Kolingar for Ben Arous (59), Le Guen for Baubigny (69), Oz for Gomes Sa (61), Chouzenoux for Lauret (59), Sanconnie for Tanga (75).
Not Used: Klemenczak.
Sin-bin: Iribaren (7), Le Roux (68).
SCORERS:
Saracens (27) Tries: Itoje (2), M Vunipola; Conv: Farrell (3), Pen: Farrell (2)
Racing 92 (24): Tries: Vakatawa (2) Dupichot; Conv: Russell, Iribaren (2); Pen Iribaren
Att: 8,500
Ref: Nigel Owens (Wales).
pqs: qs: