OUR FAVOURITE GAMES # 12 PREMIERSHIP SEMI 16.5.2010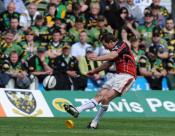 By TheSaracens.com
April 13 2020
Jeremy takes us back to Franklins Gardens on 16th May 2010 for a premiership semi-final against Northampton Saints! So Here we go again............
...happy as can be; all good chums and golly good company! Semi finals and visits to Franklins Gardens seem to be plentiful in the last few seasons, but wins were few and far between. The last semi-final win was against Wuss for the plate final against Gloucester, but that one does not really count. But the win three weeks ago was giving me hope that we could finally put the ghost behind us.
The gathering was the biggest yet, there must have been a thousand people there and the column stretched out behind for what seemed a long way. But even so, it seemed every Saints supporter was wearing their club shirt and the green and gold outnumbered the black and red significantly. Arriving late, I had to make do with a space in the terrace on the top touchline, completely surrounded by Saints supporters.
The game started brightly enough, but a bad tap at the lineout let Saints through; with an excellent offload Myler was through inside the 22. Although Saull managed to just catch him, Burger went off his feet trying to rip the ball and was penalised. No issue with the penalty (Myler 3 points), but I felt the yellow card was a little harsh. Still Sarries were not daunted and kept plugging away. Saints had the ball from a set piece and kicked it away. This was a habit throughout the game; one side kicking the ball at every opportunity and the other side running it whenever possible. I bet you would never have guessed who did what from the Opta team stats.
Wacky Backy collected the ball well and ran infield. I've noticed he does this well; he starts off on the touchline and turns in just before he collects the ball facing a hole in the defence as he runs back. Running into the hole he made ground before offloading to "the rugby player". He made yards before passing to Botha who went to ground just outside the Saints 22. Quick ball saw Glen going left and passing on to Goode. With a show and go Glen would have been proud of, the defence opened and he was able to touch down under the posts for a 7-3 advantage. Shortly afterwards, Sarries opened Saints up again, with Huge seeming about to score a certain try, bursting through for the pass in a hole, 10 yards out. But just as he was about to collect the ball, Myler ran back and scooped the ball up before running back with it.
The rest of the half was fairly cagey with saints having most of the possession from the set-piece. Sarries were kicking well, pushing the ball into touch around the Saints 22 for most of the time. Northampton ran the ball well against an uncompromising defence, but little gaps were appearing; fortunately, the individual was isolated and unable to take advantage. Saints did kick a lot of ball away, testing out Goode's broken thumb but all of the kicks were fielded well. Saints were giving away a number of penalties by being a bit physical when the ball was not around, especially in the lineout which allowed Sarries the breathing space to keep Saints pinned into their half. I was quite content to not quite see most of the play in the first half; it meant it was away from our try-line.
Saints kept the ball in hand for the final play of the half, after the clock had stopped with Hartley and Tiny exchanging passes in front of the dugout before Tiny burst clear to with only Goode to beat. A good hand-off saw him crash over in the corner, but it was a difficult kick that Myler missed. It was a disappointing end to a first half, that had seen Sarries with control of the game and enough chances to go 10 points up. I managed to get a beer at half-time and coming back to my terraced slot I found I had been joined by another Sarries supporter.
The second half started badly, with a scrum going down to give Myler a relatively easy 3 points for 11-7. Actually, there were not that many scrums in the game; the first one wasn't until 25 minutes had gone. Wayne Barnes also seemed to give a fair number of tap-penalties for failing to join together properly, which Saints seemed to want to kick away; Sarries ran both theirs. Sarries again responded with a cracking try to bring themselves back into the match. Saints over-committed on the run and from an isolated player Sarries turned over the ball. Goode ran through and committed a couple of players before offloading to Ratty; a big hole appearing before him. It seemed Ratty was through, but he was caught and offloaded to Huge. Vyvvan seemed to be striding out, but saw Chris Wyles on the wing. He passed to him and Wyles ran in unopposed under the posts giving Glen his second simple conversion. Three points ahead with around half an hour to go; the match was getting rather tense. Shortly after the restart, Sarries gave away a silly penalty close to halfway. Myler lined it up and boomed it over the posts to level the scores. Shortly afterwards Lawes replaced Lobbe to a rousing ovation on his last match; it seemed to galvanise Northampton into action. Sarries took the ball on and overran it. Ratty knocked on and the ball rebounded to Foden. With probably his only significant contribution of the match, he put in very deep kick and chased it on. Goode ran back to collect. But was left with no option but to walk into touch 5 yards out. Foden took a long throw and mucked it up, but Barnes brought them back only for the tapped-up Mujati to go over behind a driving maul. Myler pulled the conversion wide.
Sarries defence of the lineout looked somewhat flimsy and as Lawes started putting himself about, they started to look a beaten side. I can't remember which came first, but there followed two distinct passages of play. In one, Sarries had control of the ball for a very long period of time; it seemed around 30 breakdowns, but effectively went nowhere. Finally NdeK kicked it into touch. They started to look very tired and appeared to be a beaten side. In the other Saints had a kickable penalty, but from the side that Myler had already missed two kicks. They decided to go for the kill and kicked for the corner. Sarries somehow managed to keep them out and all of the subsequent drives on the far side with tenacious defence. Finally Saints were pinged for holding on.
Frankly at this point Sarries looked a tired and beaten side. On came the cavalry and things started to pick up. Marshall in particular added zip at the breakdown and suddenly a few gaps started to appear as Saints were run ragged. As we drove towards the 22 Saints killed the ball and Glen kicked to around 4 yards. The lineout was right in front of me and although it wasn't too straight (to Huge), Northampton did not compete. We gathered and after driving to the right, straightened and drove over the line. There was a short interlude as Mr Barnes went upstairs. But from the reactions of both teams it was obvious a try had been scored. Glen and Wayne were standing chatting whilst Northampton went under the posts and Sarries went back to halfway.
A try came over the screen and all that remained was for Glen to convert from pretty much the same place that Gerhaghty had missed from three weeks before. Glen made no mistake and it put Sarries into the lead 21-19. We gathered the restart and created a ruck with 3 minutes on the clock. Next thing we know, Derek has kicked the ball downfield and Saints had possession. Now I'm not sure what the tactics were, but it didn't seem the correct option to me. Saints had decided that they would grind upfield, run down the clock and then go for the drop-goal. Or better still win a penalty.
The first part worked pretty well and they got to the 22 in a few passages of play. But then it started to go wrong as the clock was ground down. Sarries seemed to be happy to let the props pick it up, walk 2 yards sideways and be tackled. On and on it went until everybody knew what was coming next. Back it came to Myler in the pocket, but the pass wasn't great, the chargers were up fast and he was forced to run. He made it to support to try again, but on the touchline and this time was caught. Sarries turned over the ball and glen gratefully put it in the crowd.
Wow; we were in a final on the eighth attempt (counting Storm) and everyone in red and black were going mad, or just standing and tearful. I walked down to the touchline along with around another 50 supporters and the players came down the line, happy and shaking hands high-fiving and generally happy. Botha borrowed a fez and cavorted off smiles all round. Off the team went to sing their song. I went to meet some friends and finally walked back to my car at the station. On the phone to eldest son at Nottingham university I am overtaken by HRHRH and Kevin Sorrel walking to some dodgy pub somewhere. As I mention this on the phone, HRHRH takes the mickey for being overtaken by a cripple (him); happy days
See you at Twickenham on the 29th
Northampton: Foden, Ashton, Clarke, Downey, Reihana, Myler, Dickson, Tonga'uiha, Hartley, Mujati, Fernandez Lobbe, Kruger, Dowson, Best, Wilson. Replacements: Ansbro for Reihana (43), Sharman for Hartley (73), Morris for Mujati (72), Lawes for Fernandez Lobbe (55). Not Used: Dreyer, Easter, Dickens, Geraghty.
Saracens: Goode, Tagicakibau, Powell, Barritt, Wyles, Jackson, De Kock, Aguero, Brits, Du Plessis, Vyvyan, Botha, Burger, Saull, Joubert. Replacements: Hougaard for Goode (72), Ratuvou for Powell (47), Marshall for de Kock (72), Gill for Aguero (62), Skuse for Du Plessis (73), Ryder for Botha (68), Melck for Saull (68). Not Used: Ongaro.
Sin Bin: Burger (6).
Att: 13,548
Ref: Wayne Barnes (RFU).
pqs: qs:
OUR FAVOURITE GAMES # 12 PREMIERSHIP SEMI 16.5.2010
Posted by: TheSaracens.com (IP Logged)
Date: 13/04/2020 19:16
Our latest trip down memory lanes takes us to Franklins Gardens back in May 2010



Edited 3 time(s). Last edit at 2020:04:22:20:33:46 by Darraghgirl.
Sorry, only registered users may post in this forum.