OUR FAVOURITE GAMES # 13 BEWARE THE IDES OF MARCH 15.3.2009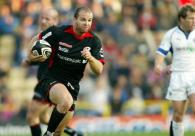 By TheSaracens.com
April 16 2020
Let's go back to 2009. To set the scene: the night of the long knives had just happened, Eddie Jones had gone and Brendan Venter was about to arrive. Many supporters were highly suspicious of Ed Griffiths' motives and wondered quite what was going to happen to our club. The visitors to The Vic were Bath Rugby. Down to business then; do we stand a chance against high-flying Bath? Probably not according to our Director-of-Rugby-in-waiting, as Bath are likely to outnumber us in the Saffer count by 2 to 1 unless Cobus or Bradley Barritt get a starting berth (although isn't he one of our English qualified players...). The Bath half-back pairing have had a massive influence since their arrival, and I guess James in particular would be on most peoples shopping list, even if he has the odd off-day with the boot. Without doubt he will be looking for a more enjoyable afternoon at VR than his visit last season when he dislocated his shoulder, the only consolation being it was whilst scoring a try Today is the Ides of March and our match report took its inspiration from Shakespeare's Julius Caesar Take your seats
Act 2: Scene 1. Vicarage Road, the Ides of March.
Blue sky, sunshine, gentle breeze, decent referee (Chris White from Cheltenham – and wasn't Kauto's Star fabulous – but I digress).
Soothsayer (dressed as a camel): Two late changes to the Saracens team – Visagie replaces Aguero who injured his neck in the warm up and Walker starts at Hooker after a training ground accident to Cairns. Enter team from Aquae Sulis aka Bath. Enter men in Black led by Wikus van Heerden. (I have to mention whatever leader he might be on the field, he's no good with the mascots. Didn't even hold their hands – ran off without them leaving them looking like the lost boys – or rather girls).
Unusual kick off from Jackson – the ball bounced forward along the ground a few yards. Is that legal? Well Mr White let it go. A penalty was awarded to Sarries within 2 minutes for not releasing, about 30m out to the right of the posts. Piece of cake surely for Glenda – after all he is the Premiership's leading points scorer. But no the ball sailed wide to the left. Never mind, early days.
Sarries continued to attack for the next few minutes with a nice break from Goode out to Haughton before Crockett put him in touch. Then a Goode kick to Ratuvou on the wing looked dangerous only for the Fijian to be tackled by Abendanon.
Another penalty to Saracens – this time because Bath were off their feet - just inside the Sarries half but straighter. Glen went for it but it fell well short. Meanwhile the first of a series of injuries sent Bell to the blood bin with a bleeding nose to be replaced by Jarvis. At this point a leprechaun crossed the pitch. Well my friend next to me said it was a ball boy in his green jacket but in view of what was to happen I know it was a leprechaun. Another chip from Goode was followed by a late tackle on the fullback. Mr White was facing the wrong way and didn't see it but there was no excuse for the touch judge. On 10 minutes, Sarries conceded a penalty for offside in front of the Bath posts. Butch James obliged and Bath were ahead 0-3.
Bell returned to the fray, nose realigned. Goode picked up what appeared to be a nasty neck injury when tackling Abendanon and came off to be replaced by Powell. This led to realignment with Haughton going to fullback, Ratuvou to the wing and Powell to outside centre. Glen tried the funny little kickoff again with similar results. And from then on it was all Bath. Their blond backs (Abendanon, Crockett and Berne) seemed to be everywhere. They constantly moved the ball from wing to wing and Sarries' defence was stretched but holding.
The game was very physical (as would be reflected by the number of injuries). Sarries conceded another penalty with a hand in the ruck but this time James kicked for the corner. More excellent defence from Sarries resulted in their scrum on the Bath 5m line. Marshall only managed a partial clearance but the line out led eventually to a repeat performance and this time Jackson thumped the ball into the stands and the lineout that followed was nearer the 10m line than the 22. Bath secured the ball and eventually managed to conjure up a 3 on 1 overlap but somehow passed the ball back inside and eventually Sarries were able to clear with another penalty.
Maddock was looking particularly dangerous and Sarries weren't helping themselves by continually turning over hard won ball. A Jackson attempted drop goal went predictably wide. Eventually the inevitable happened. After 21 minutes, James kicked the ball forward, Crockett ran onto the ball which bounced nicely for him to score under the posts. James couldn't miss (Glenda couldn't have missed that one – could he?) and Bath were 0-10 ahead and looking like they were about to take off.
Glenda went for a more conventional kick off which ultimately led to a Sarries penalty. Unfortunately it also led to a rush of blood to the head as a push on Marshall provoked Ches to lay in with a punch on Crockett (23 minutes for those of you who were counting) and was probably lucky to get off with a yellow rather than a red. A kickable penalty (well on any other day it was) was reversed and the play returned to the Sarries half. 14 men defended well. There was lots of endeavour and double tackling. Marshall was well up for it although his long airy passes slowed down any Sarries' attacks & didn't seem entirely in harmony with Glenda's much flatter play.
After loads of Bath pressure (but no points) Sarries won a penalty at the scrum which Jackson kicked beautifully to within 10m of the Bath try line. Sarries secured the line out but after several attacks on the try line by Ratuvou, Van Heerden & Jack the ball was lost and Bath cleared. Bath continued to demonstrate a master class in back play but seemed unable to add to their points total. Hawkins did a "Sale" throwing the ball into touch when an inside pass to Maddock would almost certainly have resulted in a score. On 33 minutes they did when James converted a penalty after Barritt didn't roll away. 0-13.
Almost at once Glenda had the chance to retaliate when Bath seemed to deliberately knock on. This one was wider out on the right and, you guessed it, he missed. Almost at once Sarries conceded a similar penalty and James showed how it was done to put Bath 0-16 ahead. So that appeared to be that. Half time almost upon us, Bath all over us and the prospect of a real thumping in the second half. Little did we know – beware the Ides of March!
Right on the stroke of half time a loose kick from Bath was fielded by Penney. The ball found its way to Marshall then Jack and Chesney (now back on the field suitably patched up). The try line was beckoning but Wickus went to ground. Marshall recycled the ball for once with some urgency and the ball was out to Barritt and on to Penney outside him who went over in the corner. 5-16! (The conversion was of course missed). More to the point Ratuvou was being helped off the pitch with an injured ankle. So some half time consolation. I visited the ladies while the Sensations sensate-d then watched the Sarries fan cheat shamelessly in the big ball game.
Sarries reappeared for the second half and just as we were wondering if Bath had decided to give it the miss they finally arrived on the pitch. The second half started with the appearance of Gordon Ross for the injured Kameli & yet more rearrangement. Ross went to fly half, Haughton back to the wing and Jacko to full back. Bath attacked for almost 20 minutes launching wave after wave at the Sarries' defence but they stood firm and gave nothing. There was one brief interlude – a drop goal attempt by Ross (charged down).
The scrum was looking shaky. Flatman was giving Mercy a bit of a work over but just when you thought it would collapse completely Sarries pulled a rabbit out of the hat. Bath had a 5m scrum. They won a penalty & took another scrum. They won another penalty & again went for the scrum. Surely Mr White would go under the posts if it happened again but from somewhere the Sarries pack summoned up an enormous effort, almost wheeled the Bath pack and forced a knock on.
There was a bit of relief on 54 minutes when Sarries won a penalty. Ross eyed up the posts. It wasn't an easy kick and on a day when "couldn't hit" and "barn door" were being mentioned it might have been wiser to go for the corner. But our Gordon thought he could succeed where Glenda had failed. Alas he missed. Shortly afterwards Bath won the ball. A crossfield kick from James almost found Banahan on the try line but there was Haughton and also Mr White who (correctly) felt Banahan had taken Haughton out in the air before touching down. Bath were not happy but it looked a good call. Worryingly Adam Powell was now limping although he stayed on the pitch to the end. After an hour Cobus, who had been manfully supporting the scrum, hobbled off to be replaced by Aguero. His tenure was short and a lineout later he too departed – the neck injury incurred in the warm-up presumably having flared up again.
And so for the second successive home game it was uncontested scrums. It also saw a change in Sarries' fortunes. Almost immediately Sarries attacked through Marshall & Penney who got the ball out to Alex Walker, making his first premiership start and Walker was able to hold off Banahan and score a try. Not quite under the posts but not far out. Surely Ross would kick this one? Surely not. Still 10-16 and we were definitely in with a shout now. Surely Haughton wasn't limping too?
David Seymour made his 100th appearance for the club in place of Aguero but Bath weren't beaten yet. A dangerous break down the right wing saw Crockett and Maddock bearing down on Jackson. Surely between them they would score but our Glenda made up for his lapses with the boot and read the pass which he almost intercepted. The resulting knock on produced a Bath scrum that went nowhere. Almost immediately Glenda did it again, this time with his head (although Mr White thought otherwise).
Having spent less than a minute in the Bath 22 in the first 20 minutes of the second half, now it was all Sarries. With 10 minutes to go James attempted another chip towards the Sarries try line. Penney, more alert than anyone else, picked it up and ran the length of the pitch to score what must be the try of the season. Unfortunately the pursuit of Crockett forced him wide and there was no hope of a touchline conversion. Still at 15-16 we were right back in it. Everyone knew that if we were to win this it would have to be another try – there was no way any of our kickers was going to get anything between the posts today (pity Huge wasn't playing really).
Both sides made substitutions as the clock ticked down. Perhaps Bath would hold on after all. With 5 minutes to go Ross missed a sitter of a drop goal. But this led to another Sarries attack. Ross got the ball out wide to Barrell (who had replaced the redundant Mercey) and he motored down the touchline pursued by Higgins & Abendanon. He put the ball down in the corner but no, the touch judge had his flag raised. Mr White was not so sure and went to the video ref who correctly awarded the try. Of course the conversion was missed but Sarries were in the lead for the first time, 20-16 with just a couple of minutes left and Bath needing a try to win.
As the crowd counted the clock down Sarries held the ball in the scrum and Jackson booted it into the crowd. What a match. What a performance. The Bath supporters around me who had been yelling their heads off all afternoon were silent. Penney was deservedly man of the match.
Apparently no premiership Team has ever scored a try bonus & finished on 20 points. Not a record to be proud of & I guess there will be plenty of Barn Doors installed at Hatfield next week. Still had we scored the 23 points we missed and won 43-16 it would have been a travesty.
And so to Leicester next weekend. Do we have 22 fit players I wonder? To our existing wounded soldiers – Farrell, de Kock, Rauluni, Cato, Sorrell, Owen, Lloyd & Saull we now add Goode, Ratuvou, Cobus, Aguero & Cairns not to mention Powell & Haughton who were both limping at the end.
Act 3: Scene 1. Vicarage Road, later that same day
Enter SAIL
EG: Et tu Rod Penney Brute, then fall SAIL
Exuent all
But you know it was the Ides of March & I did see a leprechaun.
Saracens: Goode (Powell) Haughton, Ratuvou (Ross), Barritt, Penney, Jackson, Marshall, Visagie, (Aguero - Seymour), Walker (Kyriacou), Mercey (Barrell), Ryder, Chesney (sin-bin), Van Heerden (c) Skirving
Bath: Abendanon, Maddock (Higgins), Crocket, Berne (Cheesman), Banahan, James, Bemand, Flatman, Hawkins, Bell (Jarvis), Harrison, Short (Beattie), Hooper, Scaysbrooke, Browne Scorers: Saracens tries: Penney (2) Walker, BarrellBath Pens (3) James Tries: Crockett, Cov: James
Sequence 0-3, 0-10, 0-13, 0-16, 5-16, 10-16, 15-16, 20-16
Attendance 8,092
pqs: qs:
OUR FAVOURITE GAMES # 13 BEWARE THE IDES OF MARCH 15.3.2009
Posted by: TheSaracens.com (IP Logged)
Date: 16/04/2020 09:49
Do you have a favourite game for years gone by?
Let us know and we'll try and find the report and republish it
We can go back as far as April 2002!



Edited 2 time(s). Last edit at 2020:04:25:19:09:05 by Darraghgirl.
Sorry, only registered users may post in this forum.