OUR FAVOURITE GAMES # 16 STING IN THE TAIL May 2018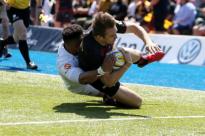 By TheSaracens.com
April 25 2020
To coincide with the livestream on ofish, Jeremy reminds us of that gloriously sunny afternoon back in may 2018 when Sarries took on Wasps in the Premiership semi-final
What a wonderful day for a semi-final; bright sunshine for the last day in long-held seats. There was a pensive atmosphere around the ground, especially with a large number of yellow clad waspies around. There seemed before kick-off the thought that if Sarries made the same slow start as in previous weeks and especially kicked away the ball to a fast Wasps back line, there could be trouble. As it turned out, things could not have been more different.
Sarries decided to keep the ball in hand and to exploit the supposed holes in the Wasps defence and was saw repeatedly through the afternoon the sight of Mako, standing upright, running straight at and sometimes over Cipriani. It wasn't just Mako; Billy, Maro and Vincent all seemed to enjoy running at individuals who didn't seem that keen on tackling them. It wasn't long before we had the first try. After two or three phases of Farrell handing the ball on to a battering forward for the next phase - suddenly there was nobody in front of him; the defence focussing on the big runner. So Faz just skipped through the gap and as he approached the full back Loz was on the inside to take the pass and run in under the posts.
Loz seemed quite happy at that point to remind the Wasps players and supporters with a little gesture that they had let him go. Just a raised fist though - not a trip to a wedding. A few minutes later a similar burst through by Mako; a simple missed tackle he linked up with Billy who rumbled just short but a knock-on by Isikwe meant the try went begging. No worries because although Wasps cleared Sarries were banging back through midfield; this time Itoje's long legs taking him close before a pop to Vincent Kock saw him rumbling over. Sarries were on fire now and returning the ball strongly we saw the first of a number of breakdown turnovers from the active Wasps back-row. With some ball in hand for practically the first time in the match Wasps ran it wide towards the West stand quickly, A kick through saw Gopperth grab and ground the ball. Perhaps a winger would have twisted away from the touchline. Certainly Strettle would have scored; but an arm in touch meant a 22 drop out.
Wasps drove back strongly, but when well inside the 22, Sarries turned them over and to compound the error, ran the ball from under their own posts and no more than five phases later induced Wasps to come offside. Personally I would have taken the points straight away, but after an unsuccessful rumble to the line and the TMO denying the try a penalty on the way to it was converted for 3 points. Shortly afterwards Sarries destroyed a Wasps scrum for a penalty and a 20-0 lead. Breathtaking stuff as it was only 20 minutes on the clock.
Wasps though were finally getting their hands on some ball; mostly from stealing Sarries lineouts. Potentially the most give-aways, Jamie has had in a Sarries shirt. Wasps ran the ball well and created half a chance by some slick movement in front of the East stand. Even slicker when a nudge from a supporting Wasps player took out the remaining defensive cover to allow Le Roux to waltz into the corner unopposed. Unsurprisingly JP was not interested in the TMO and Gopperth was wayward with the kick, leaving Wasps 15 points adrift. Shortly afterwards another offside left Farrell with a simple 3 points. It was getting a bit frantic as Wasps were going from anywhere they had the ball and instead of calming down Sarries got caught up. Another penalty awarded in a kicking position with just 3 minutes left in the half and instead of taking the three points Faz tried for a quick tap and a kick for Wyles to run onto. It hit the back of a retreating player and bounced into a good position for Wasps to counter.
In the ensuing melee of players not quite in position a tackle on Jack Willis meant he took a bad knee injury; looked dislocated to me and probably put paid to his trip to South Africa. There was a long delay for the treatment and then Wasps tried unsuccessfully in the remaining two minutes to get a score on the board. 23-5 at half-time. Surely it was safe to book your final ticket now. Billy didn't come back in the second half; Rhodes substituting, presumably precautionary. Straight after the kick-off the game looked all over when Alex burst into the line from a scrum move freeing up Wyles to sprint round the outside for possibly his last Sarries try. Farrell had an imperious day with the boot and converted from the touchline and a lead of 25 points. Surely that was enough
Wasps didn't think so and from their next possession after Sarries dealt with the kickoff a quick set of hands saw Daly diving for the corner. Unfortunately for him, like Gopperth before, he was in touch but almost from the 22 return Wasps were back again. This time a penalty to the corner. Although held up Cooper-Woolley rumbled over from close range and this time Gopperth kicked it. Wasps had a plan and It seemed their magic ingredient was for Wade to come inside to make an extra man in midfield. It worked I think three times and from the first his pass to Youngs ended up with the flanker under the posts. Then we had a bit of handbags as Sarries tried to stop the quick drop-goal. The fact that Wasps were trying it led credence to the Sarries complaint of a forward pass. JP Doyle in true JP fashion didn't look at it but had stern words for Brad Barritt to keep his players under control.
It was down to 11 points with still 30 minutes to go and Sarries started to slow the pace of the game down. They had a simple penalty and took it to extend the advantage to 14 points and then shortly afterwards another penalty was awarded. Although kickable the corner was chosen and then followed a period of pressure and more penalties awarded. The first lineout was another kick to the corner and although that was held-up, the ball came infield and Wasps conceded a scrum. Sarries kept up the pressure. Not sure why the first scrum wasn't a penalty as Wasps tried to come round the corner and completely fell off. Still JP tried again and from the fourth or so scrum this time he awarded the penalty and this time the 3 points were taken. Back to 17 points difference but more importantly time was taken up and only 20 minutes remaining. For me that passage of play was the turning of the match as Wasps looked to have upped the pace and could score from anywhere
Wasps were straight back in the game as another Wade wrap around saw slick hands and Le Roux go over in the corner. Gopperth had gone off by then so Cipriani took the kick wide-out. He was successful and it was back to 10 points difference with just 18 minutes left. Sarries though had got Bosch on the pitch and his determined play saw Sarries driving forward. Taking the kick return through Kruis the men in black rumbled through the middle and Figallo went in close to the posts. The difference was back to 17 points and then five minutes later another great bit of play saw Itoje set loose in space from around 10 yards out and nobody was going to stop him. 24 points up now with only 8 minutes left.
Wasps score almost straight away as Wade again burst through as the extra man. Nobody got near him and the simplest of conversions brought it back to 17 points again with 7 minutes left. Sarries tohugh had designs of their own and a couple of jinking runs by Bosch made some space for a jinking run for Brits to shine one more time before letting an out of the back of the hand pass to release Spencer to wrap it up to 24 points again. Although Wasps tried hard forcing a 5 metre lineout at the end, there was no further addition to finish the game at 57-33. Onwards to Twickenham.
Since the return of the International players Sarries have scored 24, 63, 41, 51, 62 and now 57 at an average of 49 - let's hope they keep the average up for the rest of the season
Saracens
15 Alex Goode (Bosch 76'),14 Sean Maitland, 13 Alex Lozowski, 12 Brad Barritt ©, 11 Chris Wyles,10 Owen Farrell (Earle 76'), 9 Richard Wigglesworth (Spencer 68'); 1 Mako Vunipola (Barrington 72'), 2 Jamie George (Brits 56'), 3 Vincent Koch (Figallo 56'), 4 Maro Itoje, 5 George Kruis (Skelton 72'), 6 Nick Isiekwe, 7 Jackson Wray, 8 Billy Vunipola (Rhodes 40').
Replacements
16 Schalk Brits, 17 Richard Barrington, 18 Juan Figallo, 19 Will Skelton, 20 Michael Rhodes, 21 Ben Spencer, 22 Marcelo Bosch,23 Nathan Earle.
Tries: Lozowski (2'), Koch (12'), Wyles (43'), Figallo (64'), Itoje (71') Spencer (76').
Conversions: Farrell 6/6
Penalties: Farrell 5/5
Wasps
15. Willie Le Roux, 14. Christian Wade, 13. Juan De Jongh, 12. Jimmy Gopperth, 11. Elliot Daly, 10. Danny Cipriani, 9. Dan Robson; 1. Ben Harris, 2. Tom Cruse, 3. Jake Cooper-Woolley, 4. Joe Launchbury (c), 5. Kearnan Myall, 6. Jack Willis (Thompson 38'), 7. Thomas Young, 8. Nathan Hughes.
Replacements:
16. TJ Harris, 17. Matt Mullan, 18. Marty Moore, 19. James Gaskell, 20. Guy Thompson, 21. Joe Simpson, 22. Kyle Eastmond, 23. Josh Bassett.
Tries: Le Roux(23'),Cooper-Wooley (47') Young (50'),LeRoux (62'), Wade (73').
Conversions: Gopperth 2/4; Cipriani 2/2;
Man of the Match: Owen Farrell
Attendance: 10,000
Referee: JP Doyle (RFU)
pqs: qs:
OUR FAVOURITE GAMES # 16 STING IN THE TAIL May 2018
Posted by: TheSaracens.com (IP Logged)
Date: 25/04/2020 19:08
Thanks to Jeremy for reminding us of that fun in the sun a couple of lifetimes ago!



Edited 2 time(s). Last edit at 2020:05:18:20:23:43 by Darraghgirl.
Sorry, only registered users may post in this forum.