OUR FAVOURITE GAMES # 18 VE DAY 2011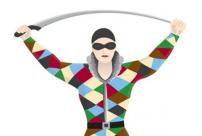 By TheSaracens.com
May 8 2020
Let's go back to 8th May 2011 and the Final game of the regualr season when Sarries, about to vacate Vicarage Road, visited the Stoop
How appropriate that the last regular game of this most enjoyable of seasons should occur on a warm sunny early summer's day. My last visit to the Stoop was a few years ago on a freezing cold Friday night in December when the fog was so thick that at times you couldn't see across the pitch. On that occasion Saracens won scoring 2 tries - in the first and last few minutes - and not much in between.
The Stoop looked at its best today – something we might aspire to at Barnet (assuming there is no chance of the earth moving and us importing Sandy Park with its gorgeous views to North London). Of course one thing Sandy Park has over the Stoop, and I suspect Barnet, is access – its own station and its own exit off the M5. Dream on! Still having sat in a traffic jam for half an hour we found a parking space near Twickenham Green and resisting the temptation of the cricket festival, followed a number of Quins fans (and 3 "rugby" ladies my male friend assured me) under and over the railway, over the canal and voila we'd arrived.
Of course we blue collar supporters appreciate that Quins and ourselves are not in the same class. They have the band of the Household Cavalry, we have the "Choir without a Name"; they have the LV Love Girls, we have the Sensations (I know, I've never rated them); they have Connoisseur Coffee, we have luke-warm tea; they have Beef Fillet burgers we have dodgy meat pies. (OK their PA was rubbish but then so has ours been lately!) But we have a better team!
In many ways this was a difficult game for the squad. Already assured of a home semi final, (and, if results elsewhere were to go to form, it is arguable we would prefer a 2nd place finish), do we risk our best players ahead of a tough semi-final next week or do we risk losing momentum and rest them? Mark McCall made it clear we were holding nothing back by fielding just about his strongest available side. And why not? The players had a break last weekend and in the days when only the 2nd and 3rd placed teams played off for the final, we all know that the advantage was not with the team who had had a break.
Sarries went into the match on a run of 9 league wins (and only 4 defeats all season). Sarries were largely playing for pride today but Quins had just upset the odds and beaten Munster at Thomond Park to get to the final of the Amlin yet because of an ERC rule change they weren't assured of a Heineken Cup spot whereas a home win today would probably secure their place.
Quins started in the same vein as they had left off in Ireland but Sarries' defence held firm. There were some huge hits from Barritt and Burger and round 1 of the fisticuffs started after only 2 minutes. It's a shame Mr Wigglesworth (the referee that is) didn't stamp his authority right at the start because the niggling continued throughout the match occasionally flaring up into something more serious like the peat fires in the Peak District last week.
The first contest between Strettle and his old muckers (in this case Monye) was a win for the Quin when he just got to the ball ahead of his old team mate down the right wing. After 8 minutes Matt Stevens seemed to pick up a neck injury and was below par for the rest of the half until he was eventually replaced by Rhys Gill. From the restart Brits came within centimetres of an interception that would have led to a certain try but otherwise it was all Quins and deservedly they had the first opportunity for points when Sarries went offside. It was a long kick but a straight one however Rory Clegg, like his Lib-Dem namesake was decidedly wobbly and the kick went wide.
Quins continued to attack but as it has all season, the Sarries' defence was in "they shall not pass" mode and Quins if anything were going backwards. A turnover led to an excellent kick ahead by Farrell which Strettle chased down the wing. Had the ball bounced infield it was a try but the gods favoured George Robson and the danger was cleared. Tempers flared again when Saull took Fa'asavalu out in the air although in all honesty he couldn't pull out of the tackle. A penalty was the correct decision but Fa'asavalu made it look worse than it was. Turner-Hall pushed Burger and soon both sides were laying into each other. Next minute Burger was on the floor and appeared out cold. From the North stand it looked as if someone had connected with a punch but on looking at it later on TV it appears his head clashed accidentally with a Quins' foot. Rarely has anyone recovered so quickly from concussion – they make 'em out of concrete in Namibia!
After 14 minutes Sarries won a penalty when Quins came in at the side. Somewhat against the run of play, Goode slotted a long but straight kick between the posts. Sarries then managed a short period of sustained attacks winning a penalty at the scrum then a break by Brits and Botha led to a second Sarries' penalty this time right in front of the posts which Goode kicked. At the end of the first quarter Sarries were somewhat fortunate to lead 6-0.
Meanwhile in far off places with strange sounding names (Franklins Gardens, Welford Road) decidedly unusual things were happening. The Fez-boys quickly picked up on the news and began singing "top of the league" because that's where Sarries were headed.
Back at the Stoop, Botha and Farrell continued to be immense. Clegg was forced into a forward pass, anything else would have been intercepted. Sarries conceded a penalty at the scrum when Stevens was alleged to have pulled it down. Another followed shortly after for hands in the ruck, this one kickable and Clegg steadied his nerves and opened Quins' account.
Sarries were starting to assert themselves a bit on the game. A super kick from Farrell almost the length of the field was just retrieved by Brown but he screwed his clearance kick and Sarries had a 5m lineout. Meanwhile Brits was changing into his "superboots" whereas "supergloves" might have been better because the lineout was sloppy and the ball turned over.
Brits switched his "superboots" on and motored through the Quins defence up to halfway. Burger forced former Sarrie Matt Cairns into a knock on. Sarries just won the resulting scrum and from that a penalty which Goode should have kicked but he didn't connect well and the ball went to the left of the posts. From the 22, Quins got back into their own half where Short was penalised for a high tackle on Fa'asavalu (although an equally high tackle by Cairns on Botha was missed). Clegg (is the guy Prince Harry in disguise?) turned down the kick at goal and went for an overoptimistic kick to touch which went over the dead ball line. Quins won a second penalty from the scrumback when again Sarries were adjudged to have collapsed the scrum, James Johnston, Census' (he of his own postcode) "little" brother, seemed to be getting the better of Stevens who was obviously "feeling" his neck still. This time Clegg took notice of his coalition partner and went for a "conservative" kick (when the "left wing" Brown might have been a better option). Sorry, political analogies will stop now
Quins won another penalty, this one more central, and Clegg levelled the scores just before half time. Sarries probably enjoyed the half time oranges rather more than Quins who had expended a huge amount of energy up against the brick wall of Saracens' defence. Sarries would also have learned that their semi final opponents looked like being Bath at that stage!
The second half began with another Clegg error when the ball went straight into touch, however a huge effort from the departing Ceri Jones won Quins a scrum against the head. Mark McCall, clearly decided enough was enough, sent on the cavalry – Gill for the ailing Stevens and a previously ailing Borthwick for Smith. Immediately the scrum looked in a different class. Saracens attacked the Quins' tryline and Brits almost wriggled over but the ball was lost in the resulting ruck whereupon Danny Care, who had been a pretty effective mosquito, buzzing around the Sarries' forwards and generally making a nuisance of himself, gave a terrible pass to Clegg who was pounced on by Burger and Joubert before he could clear and forced to carry the ball over for a Sarries' 5 metre scrum. Joubert picked up from the base and was almost over. This time Quins went off their feet in the ruck and another penalty was awarded. Joubert mentioned to Mr Wigglesworth that there was a lot of offending going on but he was in no mood to listen. On the contrary, Sarries went for another scrum, Nieto forced Jones to collapse right in front of Mr Maybank on the line but the referee inexplicably allowed play to continue resulting in a knock on and a Quins' scrum. The forwards were angry. A huge shove resulted pushing the Quins' pack backwards. Burger picked the ball up and passed to Farrell who scored a straightforward try. Goode told Farrell to convert his own try which he duly did and Sarries finally had a bit of breathing space with half an hour to go.
Richard Wigglesworth replaced de Kock (who had struggled to contain Care). The Saracens' scrum was now all over Quins, Brits and his superboots were popping up everywhere and Farrell was giving Clegg a very uncomfortable time indeed. A long kick from Brown went over the dead ball line and Sarries won the inevitable penalty from the scrum back with Nieto again spoiling Jones' leaving party. Farrell, now in charge of the kicking tee, took the 3 points. Nieto, his job done, put his feet up and was replaced by Du Plessis. Almost immediately Quins conceded again but this time Farrell missed a fairly straightforward kick. Hopefully it wouldn't prove too costly.
A forward pass seemed to trigger another confrontation. The officials felt Gill had started it by laying into the saintly Nick Easter and a Sarries' scrum became a Quins penalty. Perhaps wisely, Brits who had picked up a hopefully minor knock, departed to be replaced by Jamie George. The penalty had to be retaken because there were 2 balls on the pitch but the biggest danger for Sarries seemed to be from their own side with Wiggy doing his best to give Goode a nose-job in the ruck! Mordt replaced Wyles but Sarries seemed well in control. Ceri Jones departed the Stoop for the last time to well deserved applause and Quins also replaced Clegg with Urdapilleta and Cairns with Buchanan. Quins regrouped for a last assault. Several waves of attack led to 2 Quins penalties and a warning to Joubert that the next one would go. Mr Wigglesworth seemed oblivious to Quins' repeated offsides at the ruck. Inevitably Burger paid the price for one foul too many ("what me sir?) and Sarries had to play out the match with 14 men. Farrell was struggling with what looked like a thigh injury and Cato replaced him with Goode moving to outside half.
Still Quins didn't look like breaching the Sarries' defence and probably wouldn't have done were it not for a bit of help from the officials when first Strettle was shoved out of the way by Danny Care, unseen but right in front of Mr Maybank and then as the pressure built, Mr Wigglesworth failed to notice an extravagant forward pass which put Quins captain Chris Robshaw in for the try. Urdapilleta converted and there were just 3 minutes remaining for Quins to score again. Sensibly Sarries punted the ball into the Quins' half and kept it there. A superb kick from Goode pinned Quins back in their own 22 and even a Quins scrum with a minute to go was well defended 8 against 7. Up at Welford Road and unbeknown to Saracens, Leicester scored a last minute try to beat Irish and regain top spot in the final table but no one really minded. (Actually Quins probably did because at that point a win would have lifted them above Irish). The debate as to whether we would prefer Gloucester or Saints in the semi has rumbled on all week. Personally I would go for Gloucester – just because I think it's Northampton's turn to beat us. I just hope if we both get there, they don't do it in the Final!
Sky apparently chose Brits as their man of the match but in my view it was between Farrell and Botha with Botha just sneaking it by a whisker.
And so the season continues for at least another week. Worryingly we are apparently favourites now to take the title. Maybe it's deserved but I feel more comfortable as an underdog. Meanwhile it will be an interesting week. Let us hope that Stevens, Brits and Farrell shake off their knocks and we have a fully fit squad. And let's offer a little prayer to the God of Referees to please let us have Mr Barnes!
Harlequins
Brown, Camacho, Lowe, Turner-Hall, Monye (Chisholm), Clegg (Urdapilleta), Care, Jones (Lambert), Cairns (Buchanan), Johnston (Andress), Kohn (Browne), Robson, Fa'asavalu, Robshaw ©, Easter.
Saracens
Goode, Strettle, Wyles (Mordt), Barritt, Short, Farrell (Cato), De Kock (Wigglesworth), Stevens (Gill), Brits (George), Nieto (du Plessis), Smith (Borthwick), Botha, Burger, Saull (Melck), Joubert ©
Scorers:-Harlequins
Try: Robshaw, Conv: Urdapilleta, Pen: Clegg
Saracens
Try: Farrell, Conv: Farrell, Pens: Goode (2) Farrell
Scores (Quins first)
0-3, 0-6, 3-6, 6-6, 6-13, 6-16, 13-16
Attendance: 14,282
Referee: Tim Wigglesworth
pqs: qs: