HELLO AND WELCOME TO THE CLUB # 2 Will Hooley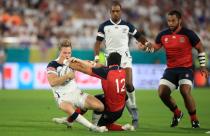 By TheSaracens.com
July 4 2020
American International Will Hooley joins Saracens from Bedford Blues. Sarries have had a longish tradition of signing American players – Titi, Hayden Smith & Chris Wyles to name just 3 – so Will will join quite a select band. Will was born in November 1993 In Cambridge (UK that is not USA) attending St John's College School & The Leys and representing Cambridge RUFC
As a budding Fly-half, he won a BBC competition in 2005 to be one of "Jonny's Hotshots" which enabled him to learn at the feet of the one and only Jonny Wilkinson. He said: "It was fantastic to be picked on 'Jonny's Hotshots'. To learn off one of, if not the best, No.10 of his time in the world was just incredible. It was a great experience and one that I'll cherish, I was privileged to be involved". He was also a decent cricketer, representing Cambridgeshire but at 13 he made his choice and decided to concentrate on rugby. He got his opportunity to join the Academy at Northampton Saints.
Will played in the Wanderers Team (Saints' A league) who lost to Sarries in the A League Semi-Final that year. He had the opportunity to train alongside Stephen Myler & Ryan Lamb during his stay at The Gardens. Being dual-registered, he moved across the Midlands where he made his debut for Moseley in 2013, remaining in Brum until 2015 when he moved back to Saints for a season and made 7 first team appearances. He then spent 2 years in the West Country with Exeter Chiefs, making his debut against the mighty ASM in the Champions Cup. Unfortunately for Will, the rapid rise of Joe Simmonds relegated him to 3rd choice in the team and in 2017 he decided to step down a level and join Bedford Blues in the Championship where he spent 3 successful seasons. He made a big impression at Goldington Road where his accurate kicking was invaluable to his team.
Will was selected for England U 18's and U 20's, on one occasion helping England to a 109-0 victory over the United States. He was part of the U20's team who won the 2013 Junior World Cup. But Will made a pragmatic decision to make himself available for The Eagles (he has an American grandmother) and despite an injury-hit season in 2017, he made his debut stateside against Argentina A in 2018 followed by a second cap against Canada. Interestingly, Will says he talked to Chris Wyles before deciding to throw his hat in with the US team. "Chris….played in 3 world cups for the United States despite playing his club rugby over here and that helped me make my mind up. I hope I can one day be an inspiration for other players too". Will has no shortage of big game experience having represented USA Eagles 15 times both at 10 and 15. He was at Full Back when the USA beat Scotland 30-29 in 2018 (described as the biggest win for the USA since they beat France in the 1924 Olympics). He played 15 at the Aviva later that year when Ireland won 55-14 and again when England beat the USA 45-7 at Kobe in the RWC last year.
Despite his globetrotting, Will states "Cambridge is still in my heart as that's where it all began for me and I'm still close to the people at Leys school as well.
Will was very excited to be joining the reigning English & European Champions after 3 successful years with Bedford Blues. "It was such an easy decision for me to make the move to Saracens" he said, "Everything the club has built over the years both on and off the field is something to be admired. I've been craving to get back to the elite everyday environment and Sarries is probably one of the best places in Europe, probably one of the best places in the World so overall for my career this is a great move. It's an honour to be here and I'm thoroughly looking forward to it".
Will sees himself as fulfilling a similar role to Alex Goode, roving between 15 and 10. He is open to playing in either position, being keen to grab whatever jersey he can. Although primarily at 10 he is equally happy at 15.
Among his interests are writing and Will has penned a few pieces for the Bedford Independent during his time with the Blues and since August 2019 he has written a sports blog for The Guardian, including this thoughtful piece in April describing how lockdown was impacting on clubs like Bedford. "A player lives by the schedule planned by others. You work from weekend to weekend. Take that away and you are left with a feeling of emptiness. And then, to top it all off, you get told you will be given a pay cut, put on a furlough scheme, without any end date. Some players do not even know where the next job will be, as contract negotiations come to a halt…... So what about the business of rugby? Players are invested in this as much as anyone; arguably more than most. We have questions that demand answers. Are those running the sport maximising its potential? Is it gathering the best television deals and sponsorship? Is the game understandable, attractive and accessible to viewers? My friend from Perpignan said rugby, in the UK particularly, is not progressing: The product selling seems average. In France there is more money being spent on rugby with TV rights being a lot more lucrative. Pro D2 matches are on Thursday and Friday nights, then the Top 14 is played on the weekend. Maybe they can try this with the Championship and Premiership? I think overall though, rugby needs to drop the 'amateurishness' to it. It needs to be streamlined into a strong business. Look at the finances overall, yes look at the wages, but don't just look at that." (Checkout his website).
Will will provide back-up to Saracens' current fly halves Owen Farrell & Manu Vunipola. He will hope to be wearing the 10 shirt in his own right – it'll keep young Manu on his toes if nothing else!
pqs: qs: