NOT A GOOD DAY!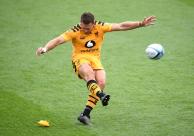 By Darraghgirl
September 5 2020
Today was supposed to be a ceremony of celebration of Alex Goode's 300th appearance for the only club he has played for. An understrength Wasps were meant to be the sacrificial lambs. Somehow it didn't turn out like that!
I had always thought our Alex was a popular member of the squad – but from the party-pooper way his fellows played today you have to wonder! I have always admired Goodey as a special talent. Few players read the game as well as he does. It has always amazed me that various England managers have not found a way to incorporate his skills into their plans for the National team. How good(e) might England have been if they had! Premiership Player of the Year in 2015-16, European Player of the Year in 2018-19, party-animal extraordinaire, Alex Goode is one in a million. There are so many amazing performances in those 300 to remember but for me 2 stand out:- that day at the Rec when he didn't know he was wearing the 10 shirt until a few minutes before kick-off but played everyone else off the park and a day at Allianz in much humbler company, when Sarries were doing their best to lose a LV Cup game and Alex came off the bench I think, took the game by the scruff of the neck and produced an unlikely victory. He's that sort of player!
But I digress – back to the shambles we were treated to today. It all started so well! Sarries were 7-0 up within the first 5 minutes thanks to a nicely worked try from Daly with Goodey supplying the assist. Sarries seemed to be well in control but a couple of lazy penalties kept Wasps interested and allowed Gopperth to open the scoring for the visitors. Almost immediately Sarries rather arrogantly turned down a very kickable 3 points and Faz put the ball in the corner. Last week's try-scoring mauls are already history it would appear because Wasps turned the ball over and cleared.
Daly won a penalty which was reversed by Mr Ridley when Billy rather childishly pushed a man in yellow. Wasps took full advantage and another soft penalty gave Gopperth an easy kick and Wasps were back to 7-6. Sarries old-boy Vialanu was fired up until he sadly departed after 20 minutes with a leg injury allowing young Kieran Curran to make his Wasps' debut. Wasps should really have scored a try of their own through a Cardal break but Gopperth's offload went forward and Sarries survived. But the Wasps machine was now in top gear, admirably piloted by Jimmy Gopperth, who was giving Faz something of a lesson. Aled Davies banged heads (accidentally) with a Waspie and departed for an HIA, never to return. Whiteley replaced him and another finger slipped off the control.
Huge effort from the Sarries pack won a penalty against the head but Faz went for an over-ambitious long touch and missed. The clearance kick was skewed but the Wasps defence on their own try-line was admirable and eventually they broke out from their 22, got up into the Sarries' red zone and Sarries gave them another 3 points when Billy went offside in front of the posts. Wasps took the lead 7-9 and fully deserved it. Billy was getting more and more riled and seemed to find Mr Ridley's decisions incomprehensible, so much so that he did it again allowing Wasps to clear any danger.
As half time approached, Sarries finally worked their way back into the Wasp's 22 but failed to look after the ball. Wasps were pinned on their own try-line but their defence held firm. Mr Ridley was perhaps generous to Wasps, first giving Vellacot a very long time to "play it" and then deeming the ball unplayable and giving the put in to Wasps but you earn your luck and to be honest Sarries didn't deserve any. Worse was to follow when Wasps won a penalty at the scrum which they took quickly before another penalty for a high tackle now deep in Sarries' territory. Gopperth was very grateful for yet another gift and Wasps went in 7-12 ahead.
So not a great half. Sarries started well and went downhill while Wasps seemed to gain in belief and momentum as the game progressed. Hats off to Jimmy Gopperth on his 100th appearance for them. At 37, he is ageless - he looked and is real class.
We had hoped that Mark Mccall might have worked his magic at half time. We had hoped! Faz put the restart straight out. Fortunately Sarries undid the damage from the resulting scrum and Whiteley seemed to have wriggled free but ended up winning a penalty and losing his shorts. This time Faz took the points on offer 10-12. Goodey did what we have come to expect fielding a ball bouncing dangerously low in the face of 2 large Waspies bearing down on him. This triggered a positive Sarries attack which ended in the way that most others had today – Faz went off his feet and Wasps cleared. Wasps began to ring the changes. Before the game started, their bench had looked short on experience but so far, their youngsters had done well. This time Biyi Alo was replaced by the splendidly-handlebar-moustachioed Owlett. Gopperth made a monster touch find to give Wasps some territory but Sarries turned it over from the line out. Whiteley made a hash of the box kick but eventually Wray made a break down the right, the ball came across to the left and Daly did a lovely wrap around, drew the defence and left Maitland with an easy touchdown. Sadly it wasn't an easy conversion and Faz missed which didn't improve his mood. Still 15-12 and maybe a platform to move forward from.
Gopperth showed he was human by putting the restart straight out then moved to full-back as Miller was replaced by Charlie Atkinson, a promising young fly-half. Daly looked to be in for another but rather overt crossing spoiled that however there was a penalty advantage. Faz took the kick, missed touch and Gopperth's huge kick put the ball back firmly in the Sarries' 22. Sarries compounded the error by losing their own line-out and Wasps won another very kickable penalty to level things at 15-15.
The penalty count continued to rise. Daly just mis-timed his tackle, Lewington didn't roll away and then it happened. Faz had looked rusty and out of touch all afternoon. As things went from bad to worse, he seemed to get rattier. Maybe Smally should have taken him off? Easy to be wise after the event but Faz caught Atkinson on the head with a classic reckless Faz-type tackle. Mr Ridley didn't bother with the TMO and an apology from Faz was never going to be enough to save him. Red card shown and Sarries now had to play with 14 for the last 20 minutes. Atkinson also departed but at least he was back on his feet and hopefully not too badly hurt. In the context of everything else, it was a tackle-accident waiting to happen. To his credit, Faz waited for Atkinson by the side of the pitch and shook his hand. But the damage was well and truly done.
Gopperth nailed the resulting penalty to put Wasps back in the lead. For the next few minutes Sarries raised their game (as often happens in adversity) and had a good attacking position in the Wasps 22. Goodey kicked the penalty – apparently his 99th successful penalty kick in the premiership. Vellacott departed to be replaced by Wolstenholme who looked useful. Sarries continued with another promising attack. Maitland found Daly who juggled with the ball. On another day it would have been given as backwards but when it's not your day, nothing goes for you and Wasps escaped. Wolstenholme put a delightful kick deep into Sarries 22, helped by the bounce but when lady luck is with you, embrace her. Sarries seemed to have secured the ball from the line-out but somehow turned the ball over yet again allowing Wasps back into their 22, Wolstenholme again prominent, and eventually Tom Willis was driven over for Wasp's first try. Gopperth converted making it 7 from 7.
Mark McCall seemed to have accepted his fate and began to ring the changes. Goodey's excellent restart was almost secured by Lewington in the Wasp's 22 – small margins, he probably would have scored. As the clock ticked down Sarries did have a couple of chances but once again they failed to look after the ball and allowed Wasps out of jail. Wray was sacrificed for Dom Morris but it didn't help. Gopperth won a turnover and another Wasps penalty to put the game beyond doubt. He hadn't missed all afternoon and he didn't miss this one. 18-28. Wasps managed to keep the ball away from the danger area and with almost the last kick of the game, Gopperth attempted a drop-goal and for once missed.
And that was that. Wasps were, well, buzzing with their first victory at Allianz since the infamous St Valentine's Day Massacre of 2016. In a way this one was worse. Back in 2016, the Sarries' team was depleted by International call-ups. This was supposed to be more or less our strongest 15, a dress rehearsal for Dublin. Quite what the cost will be from today's events we have yet to see. Faz will almost certainly pick up a longish ban (he plays for Sarries so we expect no leniency); hopefully Aled Davies will be OK, I thought he was looking better today and Leinster will eat Whiteley for breakfast. Jamie George appeared to be limping and Vincent Koch also seemed to pick up an injury. We shall see.
Theatricals say that when the dress-rehearsal goes badly, it bodes well for a stellar opening night! We can but hope!
Saracens: Goode, Lewington, Daly, Barritt, Maitland (Obatoyinbo), Farrell, Davies (Whiteley); Barrington (Crean), George (Pifeleti), Koch (Clarey), Itoje, Swinson (Reffell), Rhodes (Hunter-Hill), Wray (Morris), B Vunipola
Wasps: Miller (Atkinson) (Simonds), Odogwu, De Jongh, Le Bourgeous, Bassett, Gopperth, Vellacott (Wolstenholme), B Harris (McIntyre), Cruise (T Harris), Alo (Owlett), Rowlands, Cardall (Vukasinovic), Willis, Morris, Vailanu (Curran)
SCORERS: Saracens (18) Tries: Daly, Maitland; Conv: Farrell; Pens: Farrell, Goode
Wasps (28) Try: Curran; Conv: Gopperth; Pens: Gopperth (7)
Referee: Christophe Ridley
pqs: qs: