Very positive view for the future....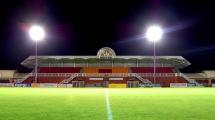 By Roger O'Brien
September 7 2020
West Wales Raiders Coach Aaron Wood has spoken about the future and believes the club is in a much better position both on and off the pitch than it has been before. His statement is reproduced in full below.
"We currently have around twenty players that have agreed terms, so we just need to get them signed. We have a good base there and are still in the market for a couple more key players. It's good for us to have a squad in place before pre-season starts compared to last year, when I arrived in December and it was a race agianst the clock just to get a team in place. Everyone is working really hard behind the scenes to get the quality in and players all working hard to stay fit. They know that when they come back it won't be the old Raiders any more - they'll be coming to a new Raiders, with a new philosophy. With everything that's being done, the club is in the best position it has been since it started."
Source - the club's official Facebook page.
pqs: qs: