So one game in…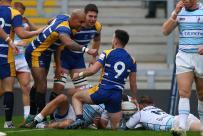 By WPL
October 14 2019
So here we go, we've had our first non-preseason game. How did we do? I was pleasantly surprised, either we played very well or Bedford played poorly – given the lack of whinging that is normally directed to the ref if they don't play so well then I'm going for we played well.
That said talking to a well-known contributor on here and his view was Bedford aren't going to be a top three team this year, I always think this league needs a few weeks to settle down given the squad turnovers and let's be honest none more so than ours, so we will see.
I've posted somewhere else about the positives and development areas needed from the game, two more evenings to work on it before the first big one against Ampthill. It's not do or die, but I think it's a game against a team we are going to be battling with I'm sure. But we scored two of the best tries of the game…actually we scored two tries full stop!
So what else have we learnt from week one? Pirates are looking strong beating Ealing is never going to be easy and they did convincingly.
Without knowing details about the Scottish Newcastle game, the result suggests it was close, could this be that Newcastle are going to be reinforced soon with returnees from the World Cup and romp away, I don't know but if not, it could make this season very interesting at the top. (This is the last time I will say it, but if only what happened hadn't have happened, we would have won yesterday and you know what I would have fancied us to go up this year…right no more of that WPL!)
Nottingham beat Ampthill who had four yellow cards (& a red for two yellows) so I'm not sure what that says about form as it was problem with discipline, sound familiar? Hopefully they will have similar problems next week.
Elsewhere Jersey beat Coventry, I do wonder if Jersey are a team to watch this year and Cov seem to be steadily building and are solid. Donny beat Hartpury, who knows what sort of team Hartpury put out, this is why it needs a few weeks to sort through to see who is strong and who should be worried.
Back to ourselves…
We were back at Headingley, and I'm going to be honest, given the weather I was glad about that. Some of the Bedford fans were questioning would they get wet, I think they forget sometimes what a stand roof does… Yes we rattled about a bit, but where else could we have gone. Much as I loved a trip to West Park against the pirates, I was there the morning after with the minis and got absolutely drenched! There was a few changes North Stand for seating and Extentia stand for standing – I prefer standing and I quite enjoy being behind the posts – next time I suspect I will have two mini-WPLs in tow so I will be sitting down in the North Stand.
By all accounts the chicken from the food stand was good and did I see pies around the ground??? Proper rugby food!!!
You will see some fellow supporters helping out around the club at Headingley on match days this year, myself being one (when I'm not mis-judging timings), come and say hello and let us know what's working and not working – whilst we are in no position to do anything on the field other than lend our voices, we can feedback about off the pitch. Even better come and help us be the face of Carnegie, I was late, but it was great to speak to people handing out team sheets at the gates – more information will follow!
For those making the trip to Ampthill, may your journey be safe and your voices loud – I think we have a team that deserves our support!
Finally it was good to see us out in a proper kit – thumbs up from me on that one, looking forward to buying it when it becomes available, maybe even with sponsors names on it!
pqs: qs: