The point is...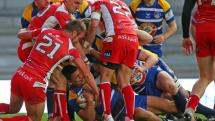 By WPL
October 29 2019
So there we go, we have our first point of the season in our third game! Not saying much is it, but to be honest, it's more than I actually thought we would have at this stage.
It's now coming to the stage of the season where the division starts to shake itself down, to me there is so much squad movement at this level it's difficult to say who beating who is expected and is a surprise – but now patterns are starting to appear. Newcastle/Jersey/Pirates and to an extent Coventry are at the top as expected…Doncaster and Bedford are not. Ampthill maybe higher than expected, albeit one of their games was against us.
So where do I think we stand, we've lost to two of what I thought would be top five or six teams, the game against Coventry felt like a bit of men against boys at times especially upfront. Bedford I think are still struggling with injuries / squad depth (what chance do we have!) and I think they will improve as the season progresses. Ampthill sounded disappointing, I was always worried we were playing them a bit early for us in our squad development.
There are positives and negatives of course, to me a lot comes down to recruiting a part time squad so close to the season start, our line out is a big weakness, but that will come down to practice and the players getting to know each other. I would love a couple of Gnarly old forwards to come available to shore up the scrum – because you know what I actually think if we could get our backs some quality ball, they could be great to watch. Yes against Coventry there was a couple of tries that were given away – but that's because they are trying things, realistically we were not going to beat Coventry and certainly not after the first 10 it was also unlikely to get within 7 points so why not try to get something by being innovative.
Anyone watching videos of our games will also notice we are struggling with defending rolling mauls from lineouts – we watched enough being scored by us last year to know that it's not easy to stop, but we could do with working on it.
We need to get some partnerships going as well in the backs particularly in defence, it comes with time knowing where your defensive partner is going to be and know where you need to be.
Tom Varndell seems to split opinions, I'm pro him at the moment, I would like to know how many of our tries he's being involved in, I also think he's a voice on the pitch, maybe he didn't track back on Sunday after his interception, but I wonder if that was down to annoyance of himself.
There are other positive performances, I like the looks of Tim Bitirim at full back, the back row options we seem to have look decent, Bustin looks like he could be a find, the other lads seem lively and all over the place, lets just hope we don't lose them too much due to them being loans. I think Dan Lancaster is playing well beyond his years.
Will we click? I think we will my concern is that it will be too late. I worry about the next 3 games for different reasons…Ealing at home, a team/squad that they have it feels like it will have be a first rate defensive performance, the likes we haven't see yet to keep the score reasonable.
The other two…Scottish and Hartpury away 10th/11th in the table, if we are to survive this year, key games just a shame they are away and we need to somehow solve the defensive frailties. We then in theory have a week off, hopefully this will give us a Saturday / Sunday to work on lineouts!
On the plus side (and apologies to all non-Red Rose supporters here) – we have the biggest international game since 2007 on Saturday morning, let's hope we haven't already had our final performance against New Zealand.
pqs: qs: