Life as an Ultra fan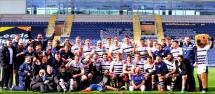 By Carnegiette2
March 5 2020
It's been hard to support Yorkshire Carnegie this season. Not just the (entirely foreseeable) results which have seen heavy defeats in every game. There's the disconnect between fans and the Players and Coaches. The fact that there are different players every week- often bearing no relation to the announced team.
The unwillingness of the Club to talk to us about the future- and the doubts this brings. The article in The Times calling us the "worst club in the country". The "fan shaming" - "how can you still support the club after all they've done?"
This perfect storm has driven many "supporters" away, and reading the above I get it, and I am deeply frustrated. Conversely though, it has engendered a "blitz spirit" amongst the behind the posts faithful (now known as the Ultras) that has us laughing and joking as multiple away tries are scored in front of us, and yelling our heads off if we do look likely to score. The gallows humour has us turning up every week hoping for a miracle while knowing it won't happen.he
Thel #girlsontourgo to most away games - 2 of us went to Penzance for 1 night in January. One of the Ultras has a unique approach to naming people, so one of us is Brian who isn't really Brian, and who is not the Messiah but is now also known as Mystic Meg. On the pitch we shout for Mark (not his given name but you might be able to guess who we mean). Also Trees and a Lobster. The tougher the watch the more random is the Ultra humour (the appearance of a small dog on the south stand on Sunday had us in stitches, now we can legitimately say we are watched by "one man and his dog").
On a serious note - clearly on the pitch this season's results are unsustainable. Tough for the players who are "men against boys" and not easy to watch. Since the squad was hastily assembled by Martyn Wood, he has been shown the door. The "last throw of the dice" is the appointment of Phil Davies, but those expecting an instant turnround of fortunes (not me) and open communication have been disappointed. Two fans meetings have been organized and postponed. On a wider note and mentioned elsewhere professional/semi-professional rugby in Yorkshire is in the doldrums, and the future of professionalism in the second tier is in doubt.
Lots of questions aboutout future surround the Club as they have for 12 months. In many ways it would have been easier to throw in the towel last summer, but the CVA was done to try and survive not as a method of extinction. Will we be here next season? If the club is, the Ultras will be. Winning is important – but spending time laughing and joking with like-minded pals is more so…… if you want to come and join us there's plenty of room.😃
pqs: qs: