Diary of a madman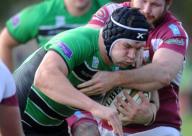 By opuscoitus
March 13 2020
Life is a rollercoaster sometimes you just got to ride it, was a lyric by the renowned songsmith and balladeer Ronan Keating, didn't have a lot to do with this tale except it was playing on the radio as I was typing this, and as I kept going realised it had more to do with my time following Rugby and less about dreaming of Ronan and his voice of a thousand angels in requiem.
To be fair Mrs Opus was Ironing and as with the rules in the Opus house if you are doing chores you pick the music………Ironing to Slayer and Lamb of God doesn't end well for my work shirts so I smile lovingly at the missus as she listens to cheese FM and I realise I've got away with another week's ironing….result.
It's a Fallow week England have beaten Wales, at the beginning of 6 Nations I had a cheeky couple of quid on France to win the Championship but the on-spread of coronavirus will avoid the payout as games have been disrupted and my pockets will not be overflowing of Mr Ladbrokes money as I headed to Cheltenham on Tuesday to lose the rest.
So while I contemplate if my 4 legged chums are going to pay my mortgage or whether they will rip the freshly ironed shirt off my back (thanks Mrs Opus x) my mind drifted back to rugby and thanks to Ronan the Rollercoaster that was and is Yorkshire Carnegie.
Before I start I appreciate I have upset a few gentle souls on here who don't go to games anymore through various reasons I also acknowledge that Leeds Tykes/Carnegie/Whatever was a better followed club with more on field success and it built up this message board and I'm sure that many are frustrated by what has happened, but history is just that, a club is only as good as it's last match or at best season, players coaches names kits all change supporters stay loyal pay their money….and if they don't then clearly are no longer a supporter they are an onlooker waiting for better times so they can reappear.
So if I have offended in that last paragraph unlucky that's how I feel and doubt you could say anything to change that view, just as I make no comment on how things were before the rebrand as I probably watched a handful of games (including a thrilling 3-3 or 6-6 draw with sale one wet Friday night) so can make no assumption on how things were, but on the strength of that match sometimes not much better!!! So there's the line in the sand, read on or don't bother this is from rebrand on so if that sounds as exciting as a Ronan Keating gig then save your eyes and move on to next post x
So 2014 a year in which Luis Suarez took a liking to opponents flesh and England failed in yet another World Cup, Wolf of Wall Street and Happy by Pharrel Williams were top films and songs of the year, and planes were crashing Ebola was everywhere, and somewhere in the bustling metropolis of Bingley a 44 year old sick of watching Frozen on dvd trying to pacify a 10 year old daughter happened upon a news article that Sir Ian Mcgeechan had helped and was discussing the rebranding of Leeds rugby to Yorkshire Carnegie with a vision of premiership Rugby.
This was the highlight of 2014, tired of still playing rugby with one completely shot ankle , gradually falling down the sides to hitting the basement of a vets invitational team once every 3 weeks yours truly needed a rugby fix, something to scratch the itch something which would help stop the agony of a Sunday morning hobbling round the house like I'd stepped on a thousand pieces of Lego - at this point I would like to comment in case I forget later sometimes following YC has given the same agony but as most games on a Sunday I don't get the pain till Monday.
With no previous knowledge of Leeds rugby or really the championship, players like Ryan Burrows Jonah Holmes etc were unknown to me but this spangly new club with backing of Sir Ian and a big new sponsor was all I needed to part with my hard earned and buy a season ticket, 1st game of season brought little miss Opus got her face painted had photos with Terry she had a ball lost to Bristol including a much more interested than he is now Tom Varndell, didn't have the best of starts to season Asbo got sent off against Donny (I think). Maybe not the coach for the job in Mercer, closely followed by McGee and even the mighty Geech himself, but finished 6th with some good solid players but Brush was on the way all would be well.
So roll on a year, 2015-2016- we had an RU coach and an RL legend but the ups and downs continued. Bristol had come down keeping nearly all squad. Little Miss Opus was a mascot, club looked after her sent photos of her and Buzz, great communication and still fan friendly. By then cracks were beginning to appear, lots of good solid players who would have been perfect to build a prem team around- but lost Hill to Saints, Boyce to Quins, Walker to Bath - one hell of a decent starting front row. We always struggled at 10 and while Harry Leonard was young he didn't have to learn the game like Sinfield who was an experiment to get bums on seats - can't fault his effort but we went forward more when he went off and Joel Hodgson or Alex Davies took over. Come April Sinfield left after just 6 months into an 18 month deal and we were minus a 10 again. The B&I cup final at home was a let down, we got to the league semi finals sadly Donny at home was poor and despite winning away in the 2nd leg the damage was done.
TO BE CONTINUED...
pqs: qs: