Quo vadis Tykes?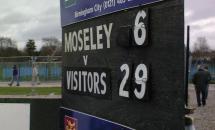 Fine ground.
By WW
April 16 2020
After lolling around in the Championship for ten years with visits to all the usual suspects we have finally moved to a different division on the rugby ladder, albeit a lower one. The RFU has confirmed which teams will be in Nat 1 next season. I had to get my atlas out (OK so I actually googled them) to find out where all the clubs are located. Then it occurred to me....
When we were playing in the Premiership (and Europe) we would pick a few venues each season and have a cultural trip to that area, taking in the rugby match but also visiting interesting sites plus nice restaurants in the region. It is time to resurrect "Tykes Trips".
First on my list is a weekend in Exeter. But Exeter is in the Prem I hear you shout. It is but Plymouth is only an hour away by train. So a weekend of culture in Exeter incorporating a nice away day to Brickfields. Perfect!
Looking down the list of clubs another old favourite is a trip to Moseley. Kenilworth is not far away but neither is the Balti Triangle. Pulled pork sandwiches beckon.
One of our "neighbours" next season will be DMP. We had a trip there for a pre-season 2 years ago. There are plenty of pubs and restaurants in the town centre which is a level walk to the stadium. Darlington is not far from Raby castle, the best preserved Tudor castle outside of Windsor.
My first reference to the atlas located Caldy on the Wirral, about 5 miles west of Birkenhead. The perfect base for a trip to Caldy is just a short ferry ride across the Mersey in Liverpool which is an absolute cultural hotspot!
For a trip darn sarf I fancy Chinnor. On discovering that it is in a lovely area twixt Oxford and Aylesbury with the Chilterns AONB just to the south, I can envisage a few days exploring the countryside(pubs) in the lead up to the match.
For my final excursion it was a toss up between Tonbridge Juddians and Cinderford. The Forest of Dean side got my vote as it is only 10 miles west of Gloucester but also close to the Wye valley.
Doubtless there will be other trips on which we will discover delightful corners of the country with much "culture". It will certainly be an interesting season whenever it starts.
pqs: qs: