Shaping Up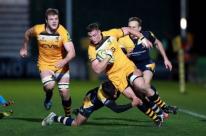 Tom Lindsay
By Blues Brother
June 5 2017
There'll be some interesting new blood when the lads report back for pre-season with former Wasps and Sarries hooker Tom Lindsay one of the more interesting ..
He was aggressive and moviole while guestingh in the Mobbs Memorial game and at 29 with lots of Premeriship experience he could be just what we need.
Tow new backs have also been added in the shape of Richard Lane from Jersey and London Scottish's Harry Sheppard.
Lane, a 23 year old centre of full back, is actually from Bedford but went to Millfieldd where he became a 7's specialist winning quite a few national trophies. He's been with Saints Academy and Bath.
21 year old Sheppard is a fly half who can also play centre and had a good season with London Scottish.
pqs: qs: