53-52 !!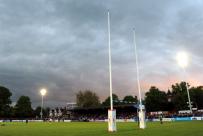 Blanchet
By Blues Ed
January 27 2019
What an astonishing game at Goldingrtin Road and what an advert for running rugby and the Championship ...
Of course, lots of things are being said about the defences of Blues and Coventry but rugby supporters won't care. Realistically neither side is going to win the Championship which belongs to Irish this season so whny not throw the ball about and enjoy yourself?
And, it has to be said, people will come along to watch this kind of entertainment.
The first half saw nine tries with 15 scored in all including a winning try for the Blues deep into added time. Ryan Hutler was the man to score it and just for added drama Jake Sharp's conversion bounced back off the post.
It mattered not to the noisy faithful.
Phew!
pqs: qs: