LDH & LBP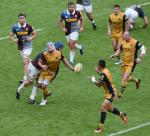 By Ian Todd
September 4 2016
Bristol's return to the Premiership saw them came away with a losing bonus point from the London Double Header encounter with Harlequins. A hard fought contest played out in poor conditions with penalty kicks giving the host side a two point victory.
The opening game of the double header featured a rather dour first half with champions Saracens shading things 6 – 3 in the face of some very resolute defending from Worcester. Either that effort had taken too much from the visitors or Saracens got their act together (or a bit of both) because a far from fluent Saracens swept the Warriors aside in the second half with a performance built on a well organised defence, accurate tactical kicking and some direct running. Still, it gave the watching Bristol support much to think upon. Even more when it looked as if Worcester had come back out for a second game. But no, it was just Bristol in their change strip. I thought it looked bad in the original photos. In the flesh it was quite vile, a dull but oddly slimy mustard colour. I'm sorry, maybe it is supposed to be old gold or some such, but it is a terribly poor design.
Right on cue the rain that had held off for the opening fixture came down for Bristol's Premiership opener. Initially it looked as if the weather was going to make a big difference to things with both sides struggling to put any real pattern on things. 'Quins, however, looked the stronger side in the first quarter but the Bristol defence actually coped pretty well. Strange how a side that consisted largely of last season's squad managed to put in a defensive shift an order of magnitude above anything they managed throughout the entire course of last season (and several others before that, in truth).
And then Bristol started to turn things around. In tough conditions it was the Premiership 'new boys' who proved to have a good skillset in poor conditions. Debutant Will Hurrell showed an eye for space and considerable strength to get the hosts' defence scrambling back. Ryan Edwards, who did himself proud, went close too. In the Championship that would probably meant we'd have been at least three tries up but as so many had expected the Premiership was much less forgiving. I for one thought we would have to make those fractional chances count. But I was promptly shown that we could unlock a tighter defence when Tom Varndell edged closer to the Premiership try scoring record when he intercepted a loose Care pass to sprint in under the posts. Now, some might argue that the try came about from a 'Quins error. Perhaps it was, or maybe it was because Varndell knew that Care often goes on a darting run from a free kick or penalty and, if he gets stopped, flings out a wide pass. He was certainly out there waiting for it. Given that we were told any of our errors would be ruthlessly punished I prefer to think we forced the error and knew what to do subsequently. Gavin Henson duly converted.
'Quins narrowed the gap with an Evans penalty before Bristol were in again with another debutant, Tusi Pisi, breaking through a poorly organised defence to go in by the posts. Henson chalked up the extras and it was Harlequins 3 and Bristol 14. Not quite what was expected. Bristol suffered a real blow when Henson was forced from the pitch following a marginally late shoulder charge type challenge from Marler (who was responsible for quite a few off the ball things when holding Bristol players on the ground or preventing them from getting back into position – but importantly, got away with it). We've seen that sort of thing get yellow cards and was certainly worth a penalty. Reminiscent of the challenge that forced Henson off in the play-off final. Let us hope it wasn't too serious.
With Bristol re-jigging their defensive line, 'Quins drove through the heart of the defence and set up a maul that powered over. The slightly surprising try-scorer turned out to Yarde. The game restarted with a penalty because of some ill-advised back-chat from Bristol and the consequence of this poor discipline was Marchant sliding in at the base of the posts. The TMO was called into action to adjudicate and also looked at a glaring forward pass to Marchant. The grounding was fine; equally it was a forward pass. I haven't watched the recording yet, but I'm told there was a comment that 'the hands went back'. Hmmm. On the screen at the ground it didn't look that way and if the refs want to interpret things like that then they ought to change the law which says that if the ball is thrown towards the opponent's dead-ball line then it has gone forward. I know things sometimes go against you, but what is the point of having a TMO look at something and then get it wrong? Either have the TMO or not. Anyway, the conversion meant that 'Quins went in at half-time with a rather fortunate single point lead.
Bristol emerged undaunted and soon retook the lead. 'Quins were turned over and good handling freed up Edwards out on the wing, he made some ground and then chipped ahead. Edwards showed determination and a fair turn of speed to pressure the 'Quins defender and the ball squirted out of his hands and over the line. Edwards pounced and got his hands to it. A large contingent of Bristol supporters in that corner roared their approval and, although the TMO was again called into action, it was a try. Pisi could not manage the conversion but Bristol were back in the lead at 15 – 19.
Bristol were still putting together some good moves but a mounting penalty count saw them continually pegged back by their more experienced opponents. Almost inevitably one was finally conceded within Evans' range and he brought his side back to within one point. Bristol simply could not get on the right side of the referee and sure enough Evans was soon on target again to edge 'Quins into a two point lead.
To their credit Bristol did not crumble at that point or try to hold on for a losing bonus point but continued to press. Some of the handling was 'adventurous' but was eventually rewarded with territorial position. 'Quins tried to clear and replacement Olly Robinson charged down the kick. The ball ran towards the line but Robinson did not quite have the pace to get there before a desperate defender. Replacement Jackson had a late chance to settle his side's nerves but his penalty shot drifted wide to leave the final score at 21 – 19 with the ball gratefully hoofed into touch with time up.
I had to be persuaded to attend the LDH and, to be honest, my fears about it proved well founded. Loads of people only turned up for the second match (and a number left after the first) and it was a generally poor atmosphere. Far too many people continually getting up and down to get more beer or to empty tragically small bladders. Those with a tragically small brain resorting to foul-mouthed abuse when asked to sit down or get out of the way when stopping for a natter on the stairs. If you want to get hammered whilst paying very little attention to rugby, go to a pub. It was a long time since I had gone to Twickenham but my recollection that you are now so far from the pitch that spectators are divorced from the action was accurate and the inability of a half full ground to generate much in the way of involvement made that very obvious. In the walk to the ground I saw very few Worcester shirts and, although I heard a chant of 'Come on you Warriors' once or maybe twice I'm unsurprised that they went to the stupid thing last season and weren't inclined to go back again. I'm completely with them on that. If our first game back in the Premiership had to be away to 'Quins then it should have been at the Stoop where people might have been interested in the actual game and we might have had some actual atmosphere. It may have made a kind of sense when four London sides played each other, but when it's not even the first game of the season and there aren't four London sides (and even the remaining ones aren't terribly enthused) then perhaps this 'traditional' event (as the programme called it) should be put out of our misery. I mean, that very same programme said that Shane Durham was Worcester's highest points scorer in the Premiership and boldly informed me of Brad Barrit's Premeirship Rugby Stats. Little things maybe but seriously if they can't even spell the name of the competition correctly !
For the game itself, well, we came away with a losing bonus point against an established Premiership team with a fair number of current internationals. Players acquitted themselves well on the big stage. We didn't freeze and we didn't get thumped. But let's pour some cold water of reality over this. We could, maybe should, have won that. Four points, even five, not one. Several 'Quins supporters said to me as we left 'on that performance you'll stay up this season'. I'm tempted to turn that around and say on that performance 'Quins will be in the relegation mix along with us. Let us not kid ourselves. Harlequins did not play at all well. The misfiring Saracens side would have beaten either of us quite comfortably. We need to step up from this and perform even better if we are to flourish. The thing I'm really pleased about is that I think we might actually be able to do it. Well done to the squad and the coaches. We looked as if we had a plan and the means to carry it out. We didn't look as if we were playing out of our skins and coming away as plucky losers. We lost and ought to feel disappointed we lost. We looked like a team that had more to come, not a side on the very limit of its ability. I really hope that's true.
pqs: qs: