To AGP or Not to AGP...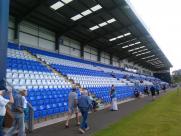 By AdminBTCov
June 5 2019
THE cat, it seems, is finally out of the plastic bag. All the speculation regarding the will-it, won't-it be an AGP, has finally been laid to rest.
Well, maybe...
Overnight, Coventry Bears supremo Al (Boomer) Robinson has been on the Bears' website, and social media, confirming that the Bears are back 'on the road' due to the imminent installation of said artificial grass pitch at the BPA.
It appears that (unspecified) delays to the commencement of works have left the Rugby League club with no alternative but to negotiate a rental tenure at Rugby Lions' Webb Ellis Road ground until the end of the season.
The Bears had hoped to be back at the BPA and using the new carpet after their exile at Broadstreet RFC came to an end, but due to the delay, this is not now possible, forcing 'Boomer' to look elsewhere.
One gets the sense (purely from Al's submissions) that he may be bristling very slightly over the whole thing, but knowing him, he will just get on with it and ensure that his club doesn't suffer in any way, and will ultimately return to their BPA home to continue with their marvellous upward trajectory since Boomer formed the club from nothing twenty years ago.
Now, the slightly odd thing about it is that the Coventry RFC club, owners and main tenants of the BPA have not (at the time of writing this) yet made any form of statement regarding the pitch.
People have been speculating for quite some time whether it will be ripped out completely and a whole new artificial 'system' installed, or whether the grass pitch will be re-seeded (maybe with a little drainage work thrown in) and fingers crossed for another season – perhaps hoping for another dry winter following a slightly less dry (than last year) summer.
My own feelings are mixed.
I prefer to see rugby (any kind of football) played on a spanking, firm-yet-moist-yet-resilient, grassy sward, where players are cushioned from ground-impact injuries in the way they expect to be, and minor irregularities form which affect the run of the (rugby) ball in an interesting, slightly unpredictable way.
On the other hand, that grass pitch needs to be as smooth and divot-free as possible for those that would play the round ball game on it, and with a ten-year tenancy just signed for Coventry United's senior sides to play at the BPA (one of them at Championship level) This presents a dilemma.
AGP or grass?
I may have a preference, but my preference and that of every other supporter of the clubs playing at the Arena are, realistically, insignificant.
Usage. Utility. Return. These are words associated with the adoption of modern 'carpets' at sporting facilities.
For Cov to survive and thrive at this and, conceivably, a higher level of rugby, it has to make the best possible use of its assets. Income is God. Without cash poured in by someone with limitlessly deep pockets, Cov will not thrive as a club without some fairly radical changes going forward.
We've all seen the schematics for the stadium's above ground developments – all of which are designed to enhance matchday, and fifty-two-week, income streams.
However, these are the cream on top. The first stage must be getting the playing surface right, and this means (like it or not) an Artificial Grass Pitch of the ultimate quality is absolutely the essential springboard, and I for one am absolutely for it, even given my earlier mention of preference.
Yes, there are horror stories abounding every time AGPs are mentioned. Nasty leg abrasions, over-stretched ankle tendons, difficulties with changing footing while under huge front-row pressures. All that and more. I'm no medical expert, and I haven't played on a 'plastic' pitch (haven't played on a grass one for over forty years!), but this club has seen a massive transformation in attitudes, knowledge, and clear-thinking over the last three years or so, and I'm willing to bet that a massive amount of research has gone into this decision.
New coaches, new medical staff, new conditioning staff, new players. All have been recruited in the run-up to this decision. All will have their thoughts on AGPs. All are on board, it seems.
I'll trust them.
The future is bright. The future is Blue 'n' White (and a little bit of Red and Green).
pqs: qs: