Let's Move On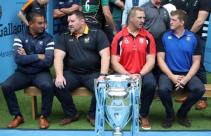 By New Cherry
October 14 2019
Johan Ackermann and Bath's Stewart Hooper had lots to talk about at the Premiership launch and the game their teams were involved in in the final round of the Prem Cup will be talked about for a long time to come. For the wrong reasons as far as Gloucs are concerned.
It is being reported that our ability to throw away a four try twenty minute lead is the biggest turnaround in a game where a side has earned a onus point and then gone on to lose. 24-26 in this case.
Fortunately, it was in a game of little importance, but our pre-season has not been ideal and now we have to focus on putting things right before a very tricky trip to Sale in the opener.
pqs: qs: