Montpellier A Must Win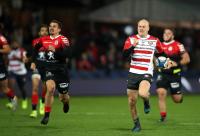 Go Joe Go
By New Cherry
November 18 2019
Toulouse did a second half number on Glaws in our first Champions Cup game and hopefully we will be able to take that lesson to Montpellier this Sunday.
No doubt our French hosts will spend this week working out how to stop Joe Simpson after his first half cameo against Toulouse when he scored two of the best tries seen at Kingsholm for some time.
He has a rare talent for looking as though he is not runjning that fast but somehow nobody can catch him - even when he sets off from his own 22.
Joe got the Heineken off to a great start but sadly our 20-9 halftime lead did not go on to produce the result we needed.
Toulouse came back out, starved us of possession and worked their way to a 25-20 win which leaves us bottom of Pool 5 albeit after only one game.
That does mean we need to win this week.
pqs: qs: