By George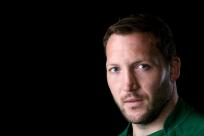 By New Cherry
June 28 2020
Life is never simple at Kingsholm. The Cherry and Whites take a bold move - and doubtless a cost-effective one - with the appointment of 37 year old George Skivington as head coach and then his previous employers promptly say " you can't do that."
The fact that London Irish want to keep hold of their forwards'coach is reassuring, but the fact they say he is contracted until 2022 throws a spanner in the works.
Irish also claim they've not heard a dickie bird from Glaws and, if that is the case, it's bad form.
The reality is that there's no going back now and the issue has to be sorted quickly for the benefit of all parties.
So, what are we left with? Hopefully a young ambitious coach who commands respec and knows this is his big chance to make a breakthrough.
He is not a big name, he was not a bookies favourite and he is not in keeping with our recent "big name" signings. Good. We have failed to deliver considering the perssonel on the books and we need a pragmatic rugby man who can build a teaneted squad intoa winning team.
You have think that big names were euled out because of the wage bill and the current pandemic issues.If history proves that was good for Gloucs and good for George we won't be complaining.
pqs: qs: